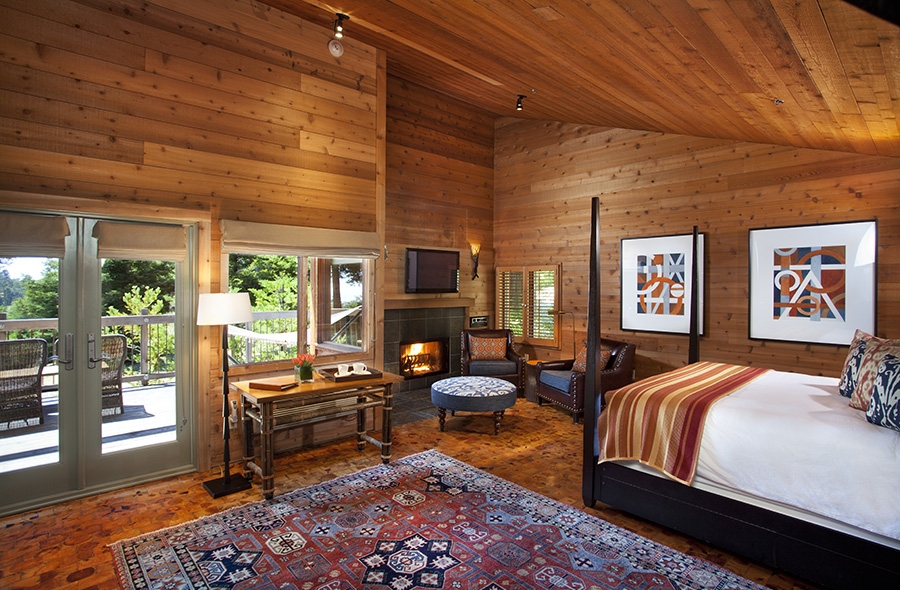 Nestled on a hillside overlooking the dramatic Pacific coastline, an adults only Big Sur resort, Ventana Inn & Spa, offers premium, luxury accommodations for those seeking a romantic getaway or a relaxing vacation in California.
Located on 243 acres within the heart of Big Sur, the Inn's unique one and two story buildings facilitate luxury accommodations that make for a once in a lifetime getaway. The Ventana luxury suites are very spacious, equipped with King sized beds and private balconies. The Big Sur Cottages & Villas at Ventana offer luxury with an accent of charm, cultivating the perfect foundation for romance and tranquility. The Ventana Inn & Spa sets itself apart from any other Big Sur resort with the upscale services & amenities that come with your stay. These services & amenities include but are certainly not limited to; custom in-house catering, wine & cheese receptions, complimentary yoga & Pilates classes, and intimate Japanese hot baths. The Ventana resort serves as an iconic destination for a romantic getaway in Big Sur with luxury accommodations surrounded by soothing meadows and the breathtaking atmosphere tucked within the woods.
Experience upscale dining in Big Sur 1200 feet above the Coast line with Executive Chef Paul Corsentino and his team who run the Restaurant at Ventana. Here, they use fresh, locally sourced ingredients to design unique, inventive recipes lending to a daring and diverse dining experience. With evocative first courses, comforting entrees and decadent desserts, Chef Paul Corsentino and his team have created ever-evolving menus that showcase the bounty of California's Central Coast.
 Ventana Luxury Spa in Big Sur
Discover serenity of spirit and peace of mind only the Spa at Ventana can offer. Lose yourself in the full-service luxury spa that offers massage, facials, specialized therapy, and body treatments in addition to yoga and tai chi.  The Spa at Ventana nurtures your spirit making it easy to comfortably unplug, unwind and escape. The outdoor, clothing optional, amenity area hosts a pool, a sauna and luxurious soaking tubs.
The California spa's expertly trained practitioners are dedicated to providing a nurturing & relaxing experience with a wide variety of signature and indigenous techniques. Enjoy these luxury spa services in the privacy of your Inn room, on the deck, or at the spa itself, with the company of your partner or all alone. You are invited to embrace the essence of the Central Coast with the Big Sur luxury Spa at Ventana.