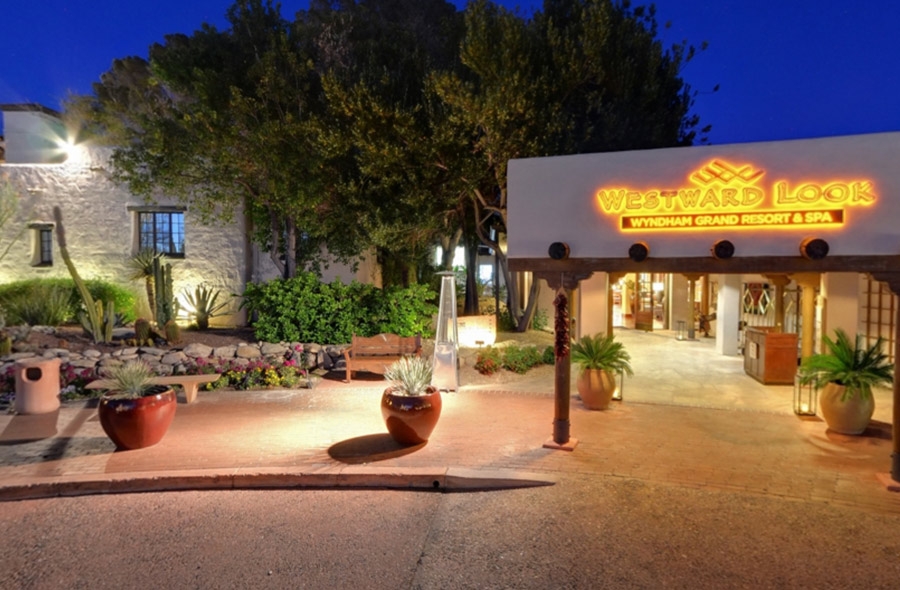 Nestled in the foothills of Tucson's beautiful Santa Catalina Mountains is the Westward Look Wyndham Grand Resort & Spa.
Sprawled over 80 acres of pristine Sonoran Desert, this Four Diamond Award-winning destination holds vacation experiences you will not find anywhere else in the world. From the moment you check in, you are taken away to a place where historic charm and modern opulence unite.
The resort, originally built around a 1912 homestead estate, is appointed with today's chic décor while still emanating historic charm. The newly renovated lobby warmly welcomes guests with a unique combination of sleek modernity and rustic earth tones. The resort's captivating Vigas Room embraces the roots of Westward Look with a stone hearth, wrought-iron chandelier, an ocotillo-ribbed ceiling and sophisticated furniture reminiscent of the early 20th century. The exquisite interior design offsets the lovely natural desert surroundings on the entire property.
Wandering through the gorgeous palo verde plant- and mesquite tree-lined landscape, you find guest room accommodations that are spacious and serene, each with its own balcony or patio, offering spectacular views of the mountains, desert, sunset or city lights. With 241 guestrooms, including 200 suite-sized accommodations surrounded by the natural environment of the Tucson desert, guests feel like they are staying in their very own Spanish casita, with the sights and sounds of the unique desert terrain greeting them from every panoramic view.
Outdoor enthusiasts enjoy a variety of recreation at Westward Look, from on-site horseback riding to tennis on one of the resort's eight championship courts. Guests meander to refreshing pools that are open year-round to indulge in some exercise or relaxation inspired under natural elements like the lush desert setting and warm Arizona sunshine. Updated pool decks and new patio furniture perfect the lounging experience.
The resort blooms with four specialty gardens, the chef's garden, a butterfly and hummingbird garden, a wellness garden, and a fragrant herb garden, each providing a bountiful harvest of ingredients that have been grown in the Southwest for centuries. Fresh ingredients grown on property are used in the elegant Westward Look Wyndham Grand Resort restaurant, GOLD.
With chic furniture that offsets the rustic ocotillo ceiling, GOLD has a stylish and inviting atmosphere for enjoying fine dining. On the patio, guests can enjoy comfortable cushioned seating surrounded by the beautiful Sonoran Desert. Guests delight in the refined, yet approachable, regionally inspired dishes, which are beautifully and artistically plated. The first-class wine selection also contributes to the prestige of the menu.
Also on the breathtaking property of Westward Look is the Sonoran Spa. Offering a rejuvenating retreat from the sensory overload of today's hectic lifestyle, the spa is a soothing environment that encourages guests to restore balance and invigorate body, mind and spirit. The Sonoran Spa features therapeutic herbs, warm stones and cleansing mud treatments. Sage, jojoba, rosemary, aloe and other native plants of the region grow in the wellness garden and are used in the therapy.
Immersed in natural remedies for deep, soothing relaxation with fragrant tranquility and rehydration that rejuvenate and renew the spirit, guests discover the perfect combination of healing touch, natural remedies and ancient wisdom.
The distinctive Westward Look Wyndham Grand Resort is tranquil, yet mesmerizing. It is private, yet wide open. With its exceptional service and unique design, Westward Look has an original Southwest style that is inviting and sophisticated.
The Westward Look Wyndham Grand Resort team prides themselves on exceeding the hospitality experience with warm and exceptional service. When guests need anything during their stay, our team members surpass expectations, making a stay at Westward Look a perfect ten. With modern features such as meeting spaces with a full range of technology, high-speed wireless Internet access and several dining and service options, the resort also provides convenient amenities that are ideal for every type of traveler.
As a mecca for vacationers or business travelers, guests at the Westward Look can experience the true comfort, beauty and richness of the Southwest.