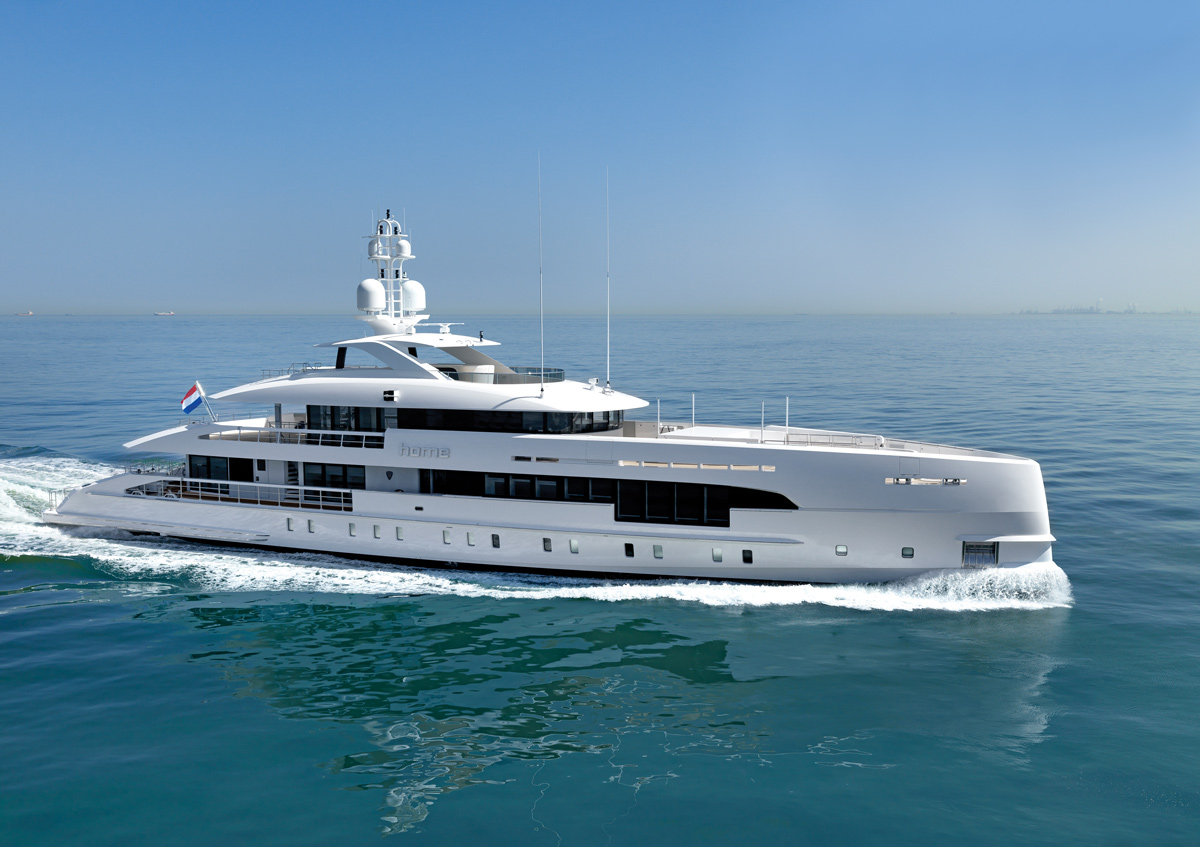 We've said it before, but it bears repeating. There is simply no greater status symbol purchase than a massive vessel perfect for you and a few dozen friends to explore the most beautiful and exotic parts of the globe. So for those in this elite club (or those ready and eager to join), we have prepared a prime selection of the most exceptional yachts for sale and yacht concepts for 2018. Fresh from the big boat shows (Fort Lauderdale, Monaco), here are our most illustrious finds.
Sinot: Nature
Pushing Boundaries of Contemporary Yacht Design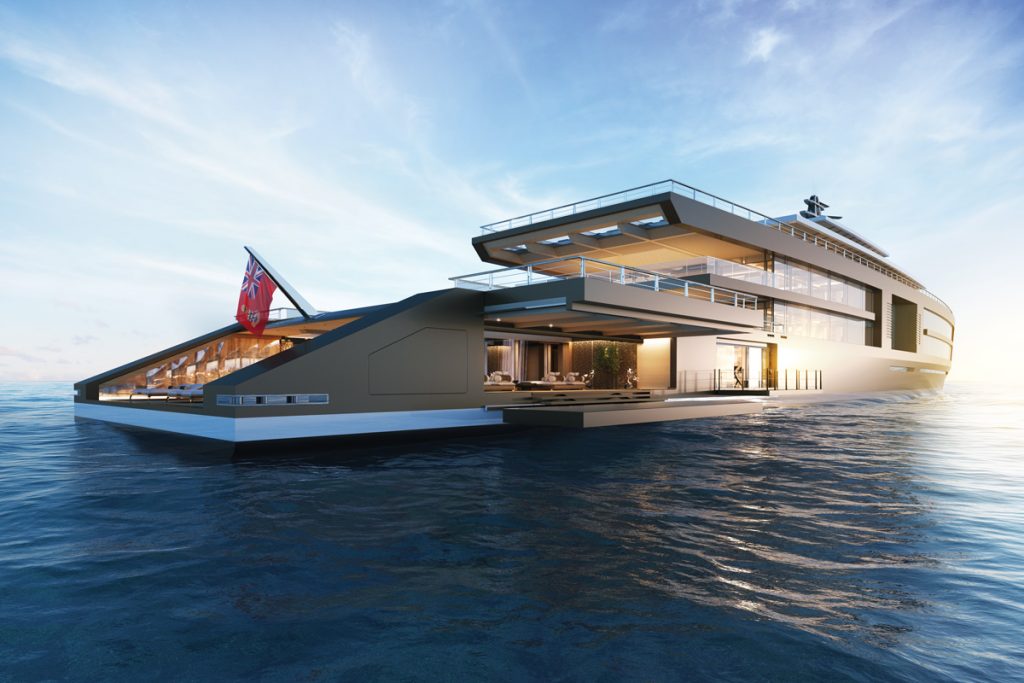 Unveiled at the Monaco Yacht Show in September, the 120-meter (394-foot) Nature is one of the most striking boat concepts we have ever seen. As the name might imply, the design works to seamlessly blend natural elements like abundant wood and an onboard garden with modern, geometrical design touches. Everything about Nature is designed to feel organic and harmonious with the environment, and the result is something that feels like the perfect synthesis of nature and design. If built, it has the potential to be one of the greatest superyachts on earth.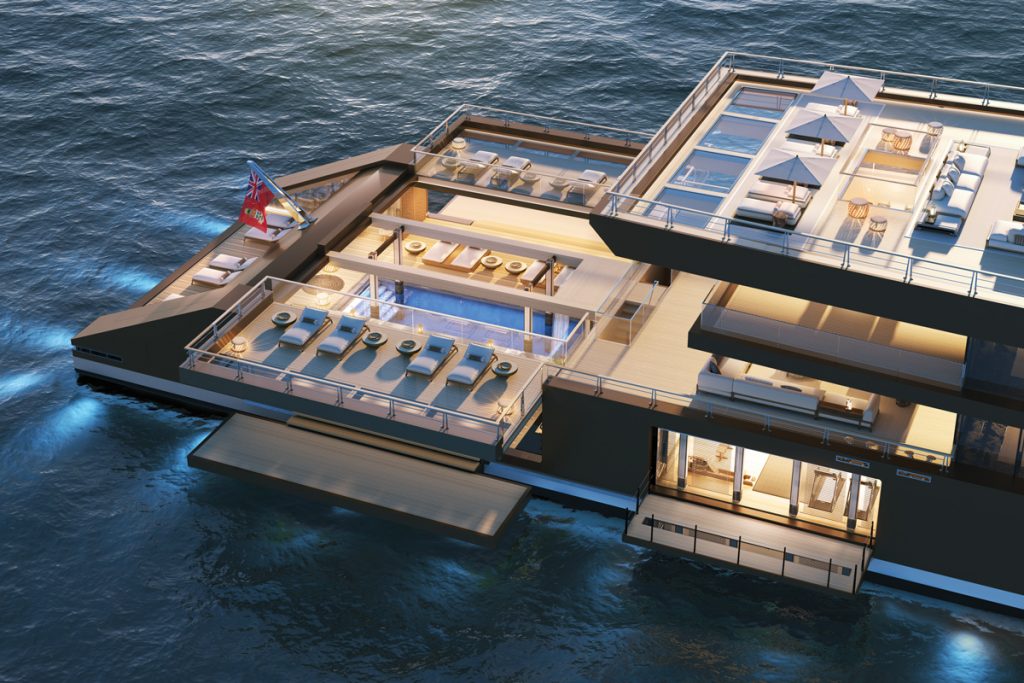 "The name of the yacht has duality in purpose," says superyacht designer and Sinot founder, Sander Sinot. The entire vessel is designed to use as much natural light as possible, and at the bow of the ship, you'll find an upper deck observatory with floor-to-ceiling windows that give an almost "infinity pool" effect, blurring the lines between where the vessel meets the water. Nature features eight luxurious state and VIP suites, a complete spa deck, massive sea-level swimming pool, and observatory. The aforementioned garden is climate controlled, while the master suite is connected by a circular staircase to a private, 9,688-square-foot, panoramic deck.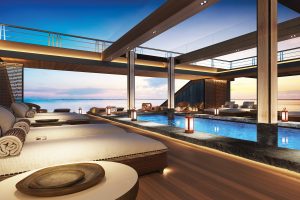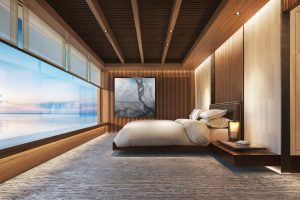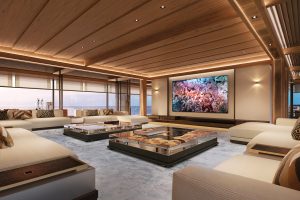 Heesen Yachts: Home
50-meter FDHF Hybrid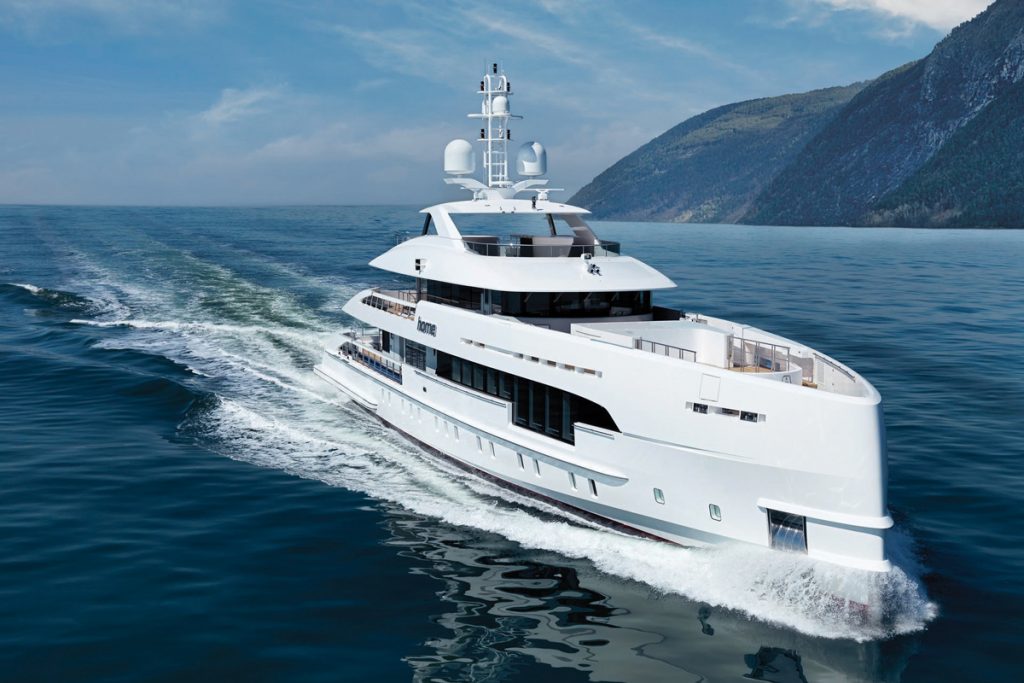 This 48.8-meter hybrid yacht was one of the standouts from the Fort Lauderdale International Boat Show where it debuted in October. Italian designer Cristiano Gatto personalized the interiors of this all-aluminum beauty to have an extremely modern and stylish feel. This is reflected in the linear styling, glass-sided veranda, use of matte finishes, and freestanding Paola Lenti furniture. Home accommodates up to 12 guests in six staterooms and implements two main engines and a diesel-electric propulsion system.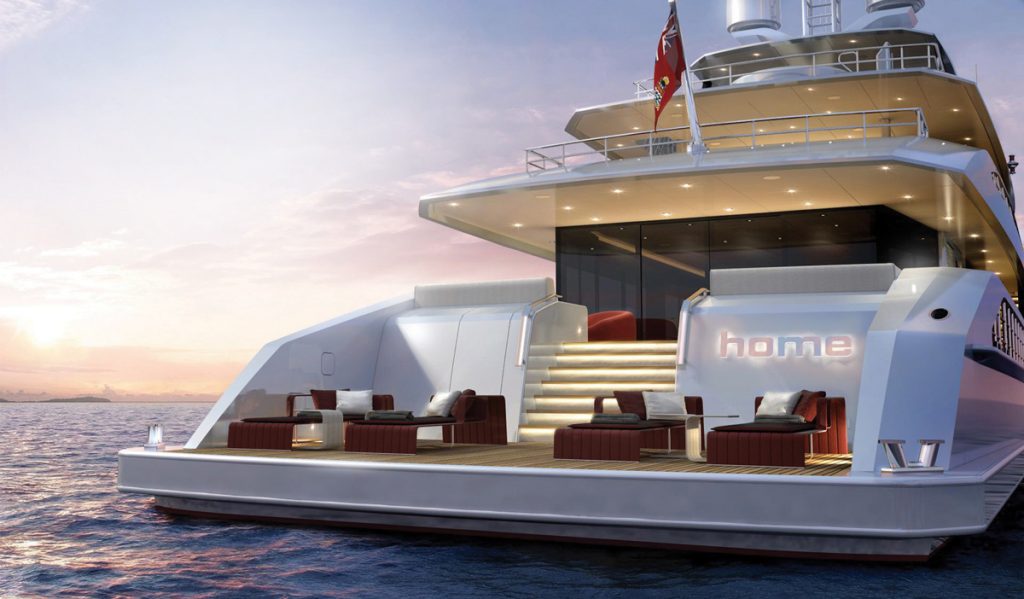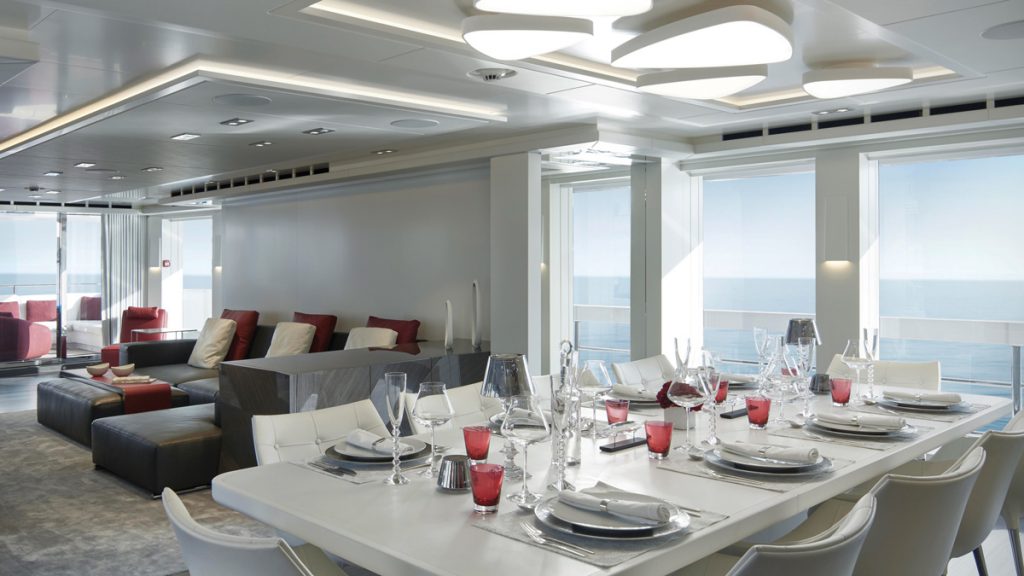 Dynamiq: GTT 115
Forward Thinking Design by Studio Porsche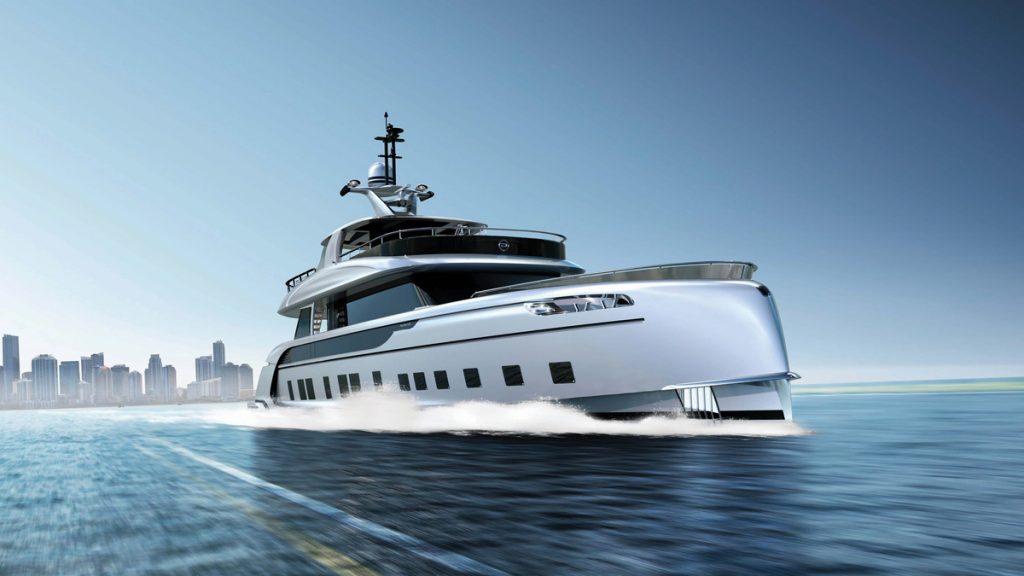 When Porsche designs a yacht, you know it's going to be special. Upon its debut in Monaco, Dynamiq CEO Sergei Dobroserdov hailed the 35-meter GTT 115 as "the culmination of a long process of design and development to introduce a new kind of superyacht to the market." The GTT 115 certainly looks like no yacht we've ever seen. With its sleek design, lavish interior, and all-aluminum frame, it apparently takes its styling cues from the iconic sports car brand.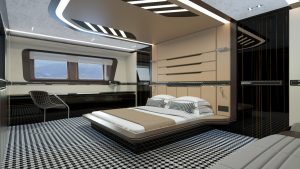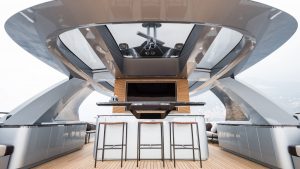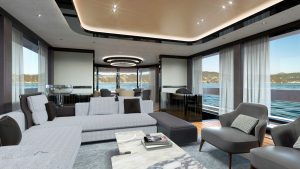 Lürssen: TV
Sophisticated Design & Engineering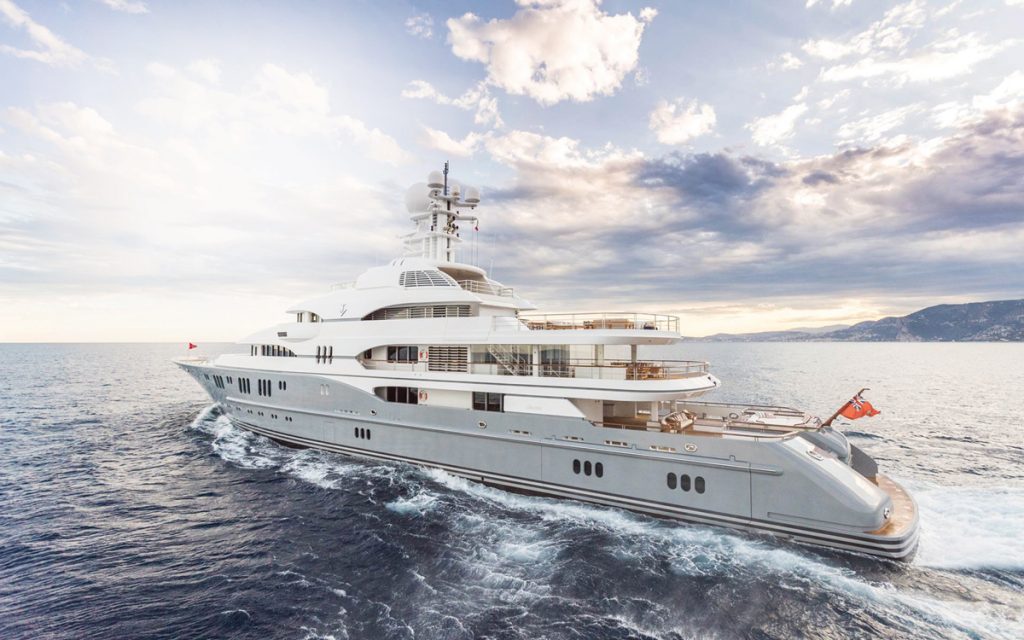 Although technically not "new" — it was built in '08 and was a finalist at the '09 World Superyacht Awards — the 78.4-meter TV is currently on the market and was the biggest yacht on display at the FLIBS. We've always been in love with this behemoth, as its Alberto Pinto interior is stunning, its design is borderline brilliant, and it has ample room for 16 guests in nine staterooms plus 25 crew members. TV was practically made to throw epic celebrations.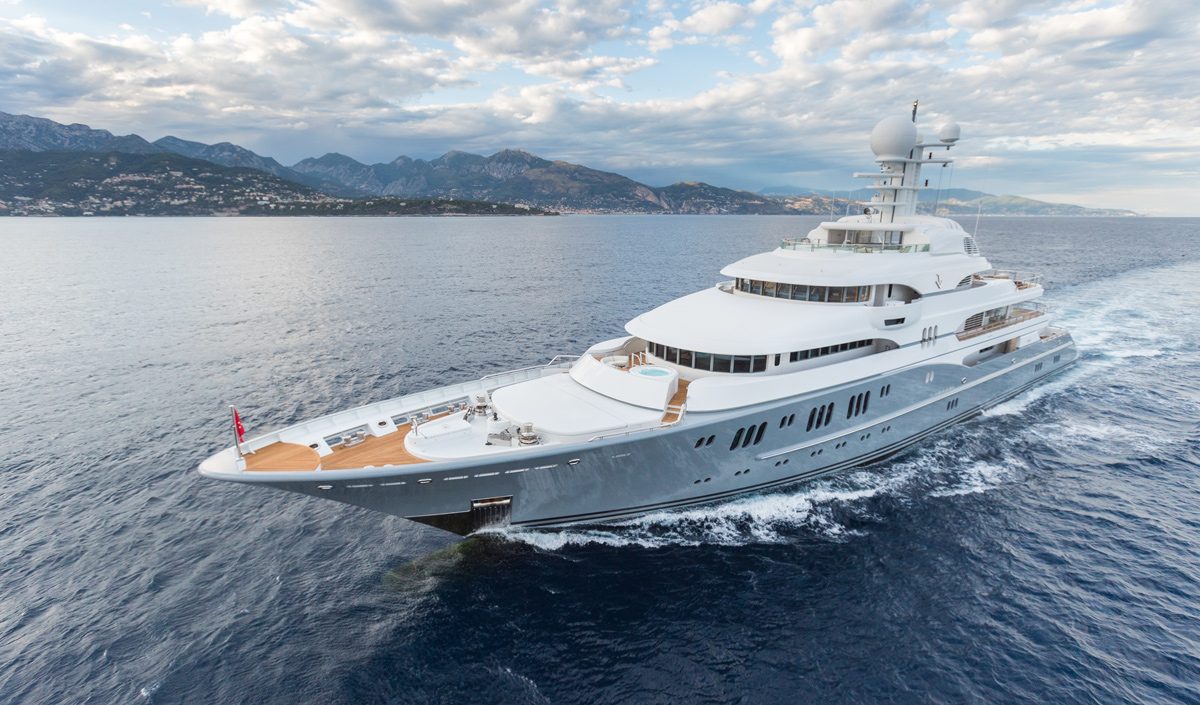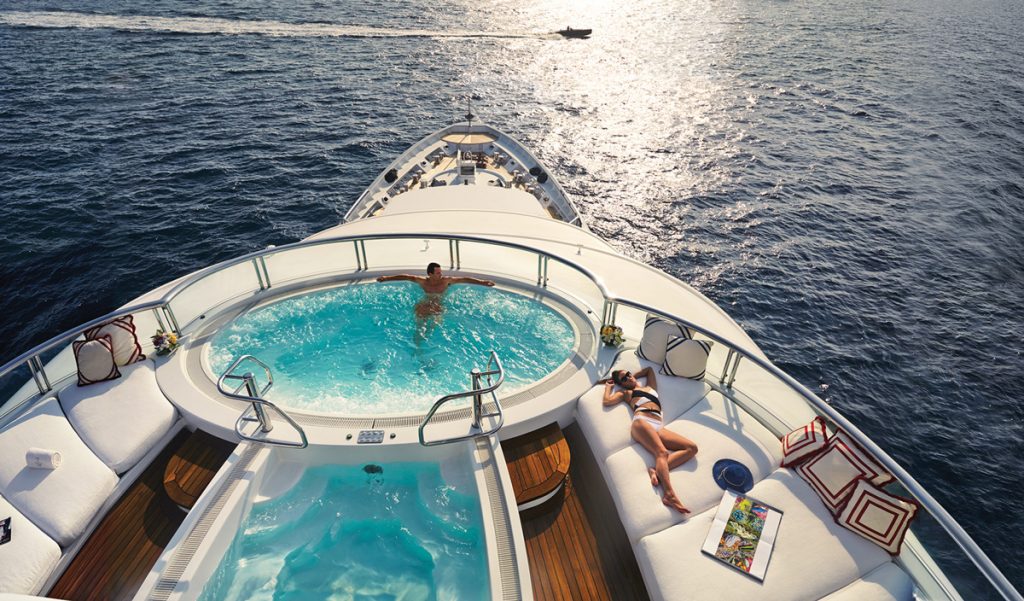 MESD 100: Superyacht Concept
By Norwegian Yacht Designer Marius Skjolde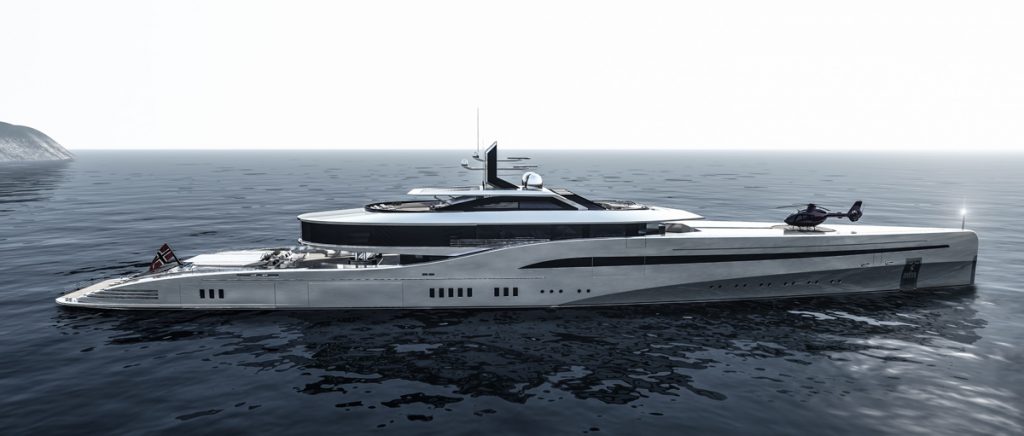 Another concept? We just couldn't resist including this 100-meter vision from Norwegian designer Marius Skjolde. Everything about this baby screams "dream yacht." It has an elegant profile, stately appearance, and ingenious design. On the upper deck, you'll find a panoramic overhang with floor-to-ceiling windows overlooking the main aft deck and beach club below. It offers several individual social areas with a bar, sea-view lounges, a fully equipped gym, spa, sauna, and more. Someone, please build this.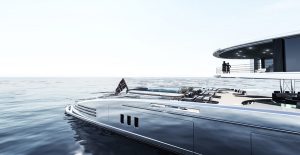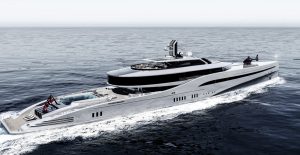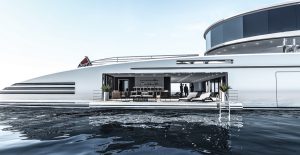 Arcadia Sherpa: Panta Rei III
Haute Couture Inside & Out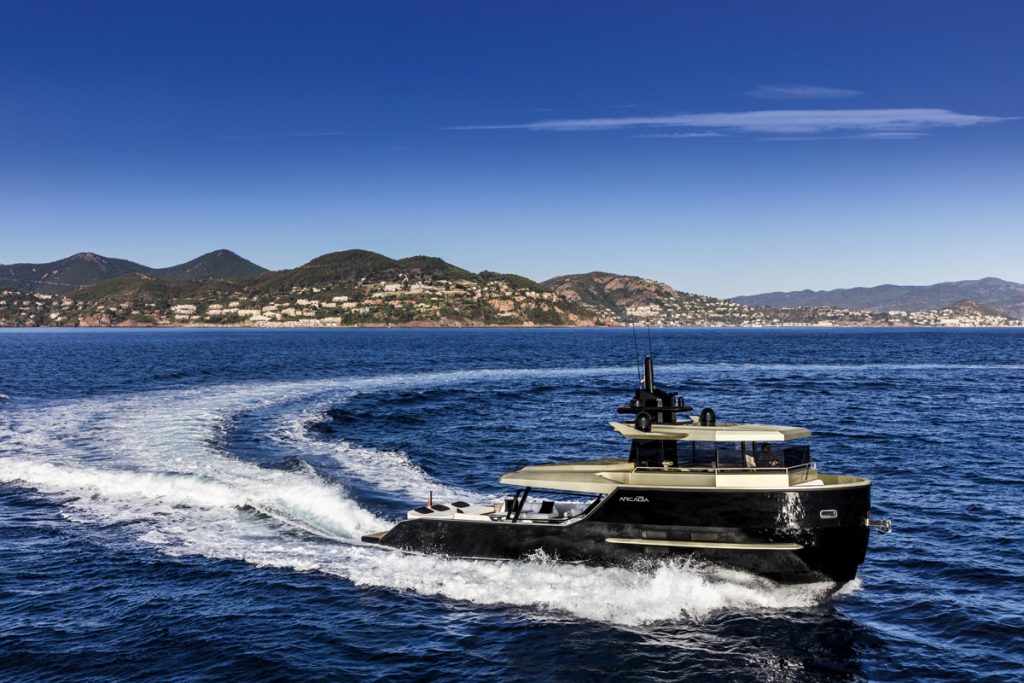 The 60-foot Sherpa is one of the most elegant and efficient small yachts around. Already renowned for its intelligent and beautiful space-saving design, Arcadia's smallest yacht recently received a one-of-a-kind makeover. At the behest of its owner, the Arcadia spent over two months meticulously recreating the aesthetics of a "silver sand" Rolls-Royce to make the Panta Rei III, unlike anything we've seen before, with hull paint laboriously engineered to both precisely match that from Rolls and withstand nautical travel.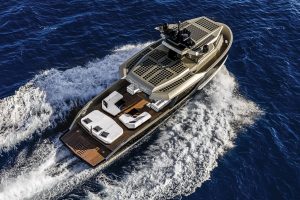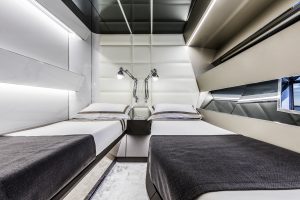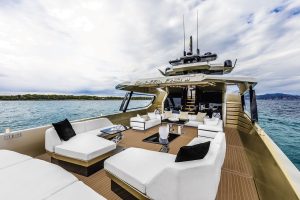 Baglietto 43m: FAST
An Iconic Model Restyled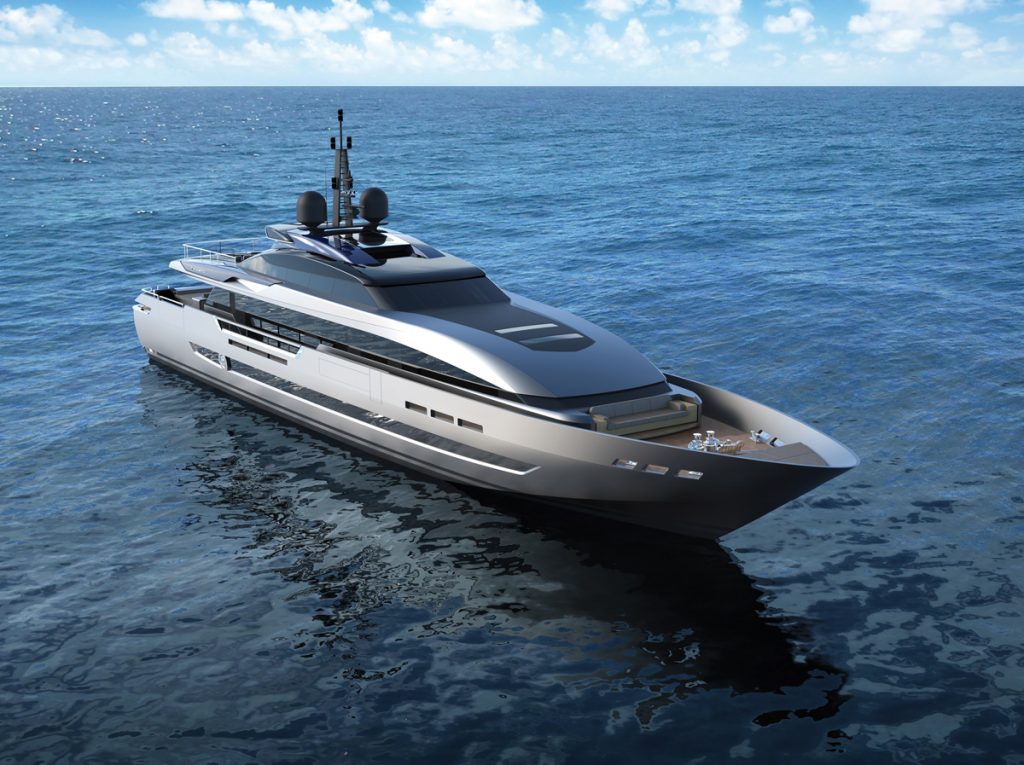 Baglietto recently restyled their iconic 43-meter yacht, and the results are spectacular. With sleek, streamlined lines, oversized windows, two terraces, and a beach club, it offers both style and functionality in a compact package. She sleeps 12 guests – all below deck — in five cabins including a spacious master suite. Interiors are both lavish and contemporary with beige and brown tones and stylish modern furnishings. The FAST also lives up to her name, with a very formidable cruising speed of 28 knots.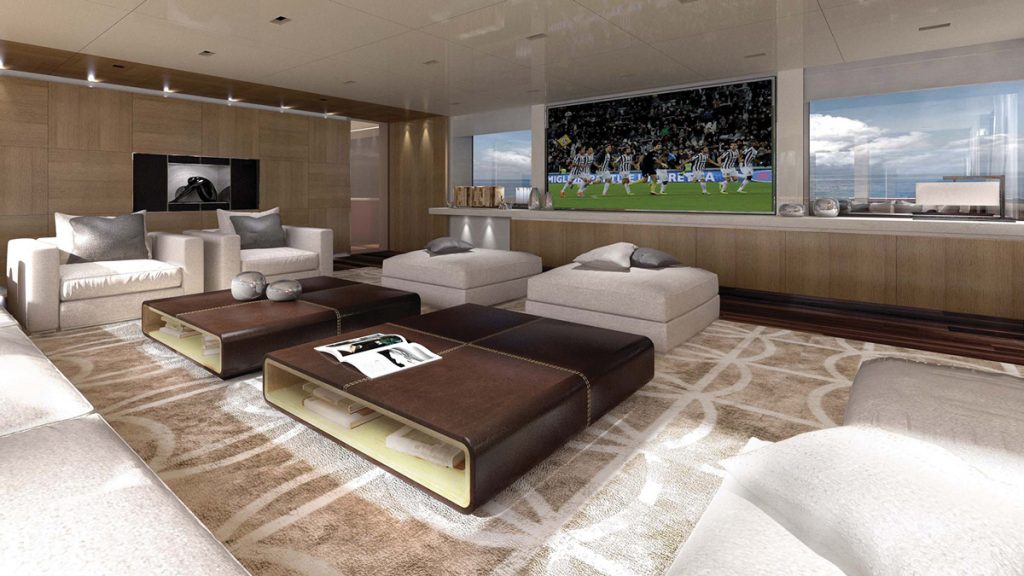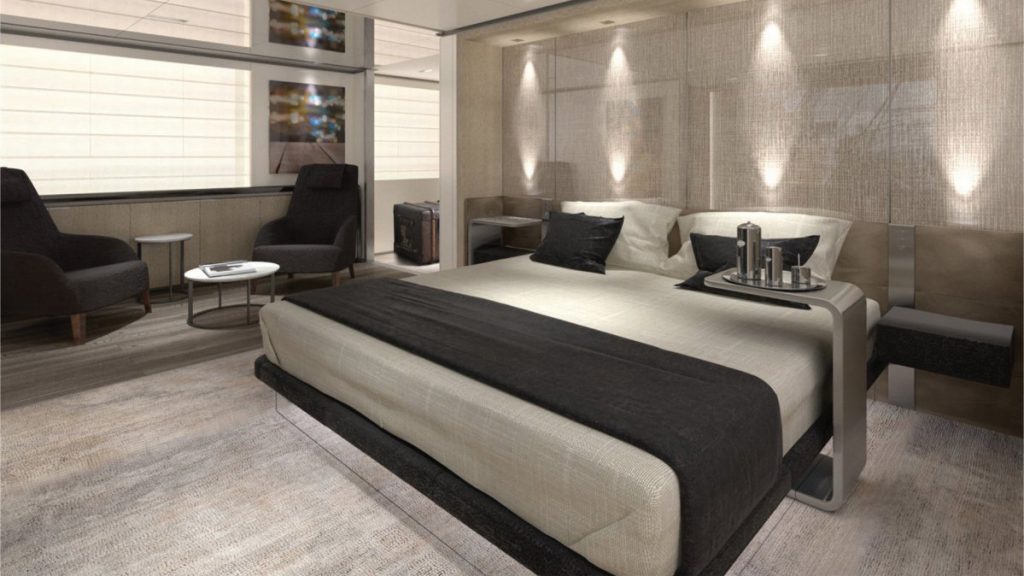 Ferretti Group: Custom Line 120
High Standards in Contemporary Concepts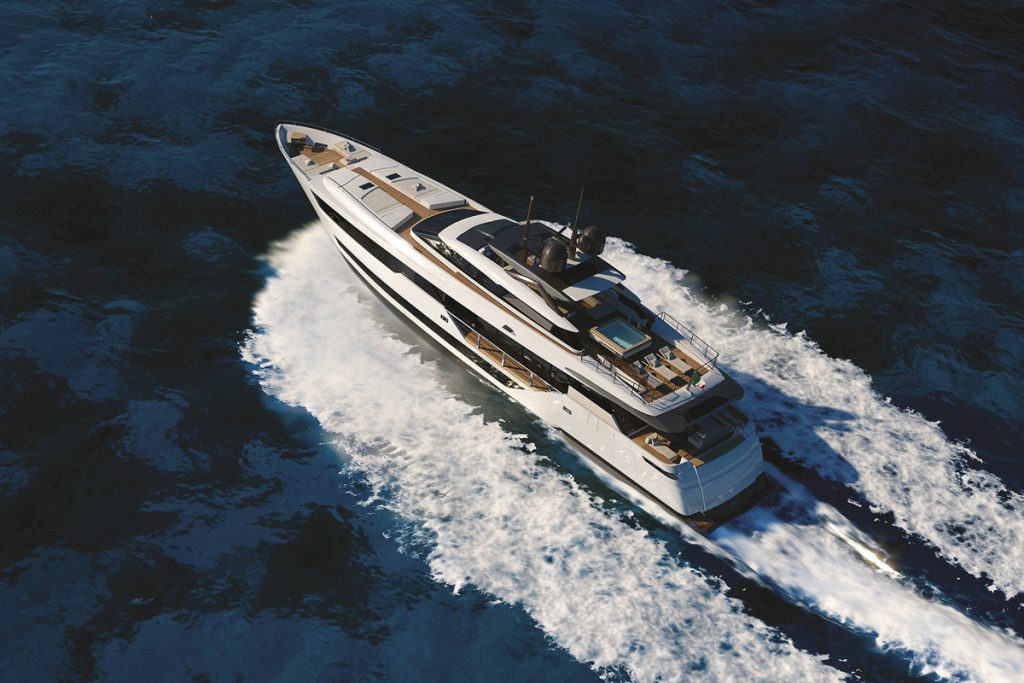 The latest superyacht from the Italian yard makes landfall in the form of the Custom Line 120, a 38.36-meter bespoke vessel developed with the help of renowned designer Francesco Paszkowski. A reimagining of life at sea, the Custom Line 120 caters to any individual yacht owner's desires while applying many of today's modern architectural elements to complete its sleek appearance and innovative hull structure. Stunning design with ample room for hosting makes the Custom Line 120 one yacht you'll definitely want docked at your slip.