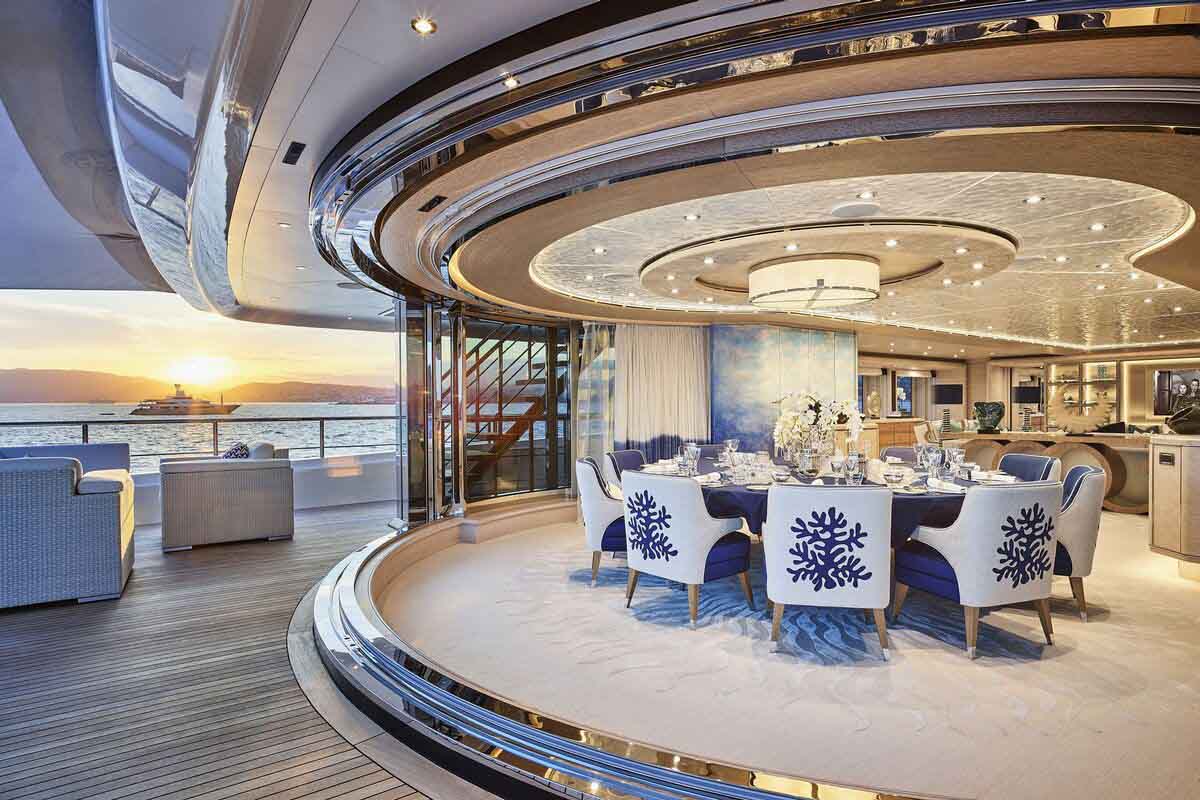 The global yacht market size was valued at $8.91 billion in 2022 and is expected to expand at a compound annual growth rate (CAGR) of 5.8% from 2023 to 2030, according to the Grand View Research Market Analysis Report. As demand for luxury tourism and escapism grows, personalized services and exclusive traveling are the primary factors propelling the sales of yachts, says the report. Improved maritime security systems, connectivity, tracking, and increased disposable incomes are further driving the market.
As manufacturers focus on performance, safety, efficiency, and sustainability, yacht interior designers are getting deeply personal with their clients, bringing emerging trends to life. Unlike fads, trends address a growing need and gradually evolve over time. They have staying power because of their collective interest and broad influence, whereas fads fade as quickly as they appear.
"From our experience, the demographic is certainly changing. There is a new wave of superyacht owners who are younger with a very different mindset when it comes to showing their wealth. Unlike their older generations, whose yachts would have been more opulent and ostentatious, they prefer an understated and quiet luxury that is pared back, minimalistic, with a distinct focus on natural materials and excellent craftsmanship. From a design perspective, we are seeing a real blend of comfortable but futuristic designs that combine the newest tech and expansive glass that maximizes the connection to the water. Blurring the lines between the outside and the inside is something we're seeing more of," explains Lyne Arbid, associate director at Studio Indigo.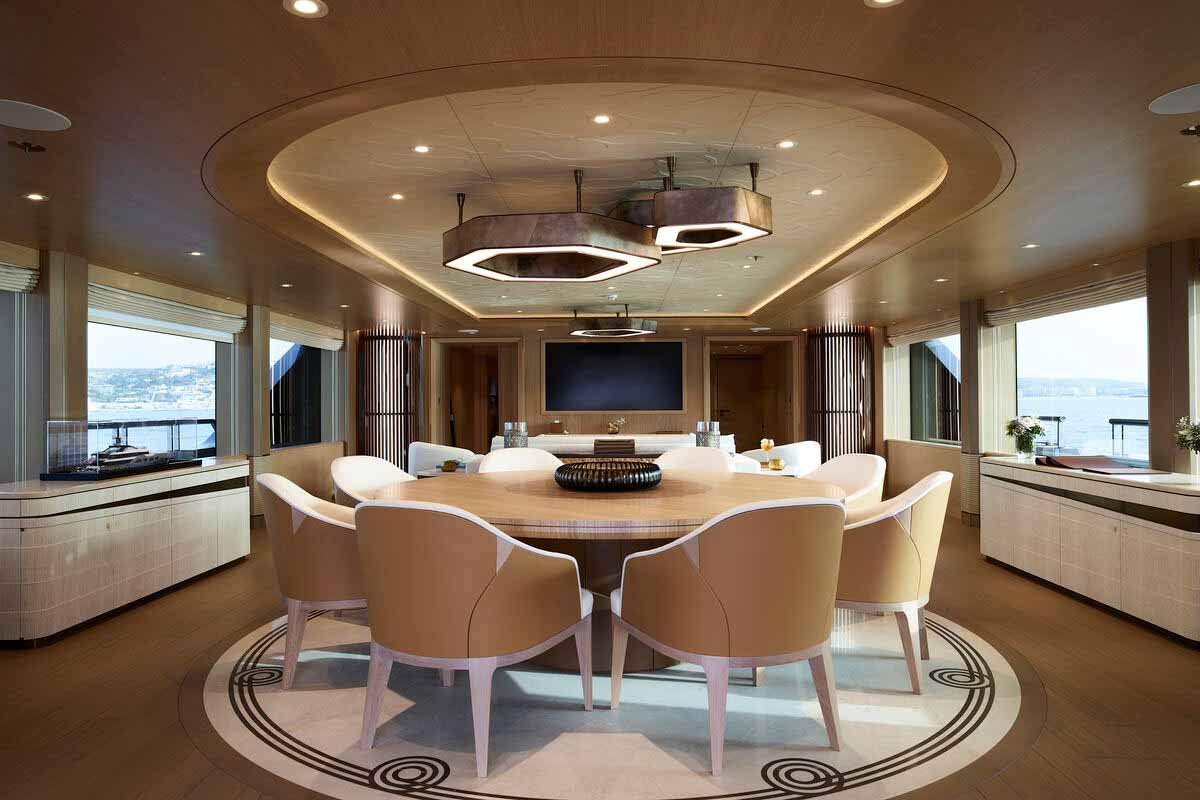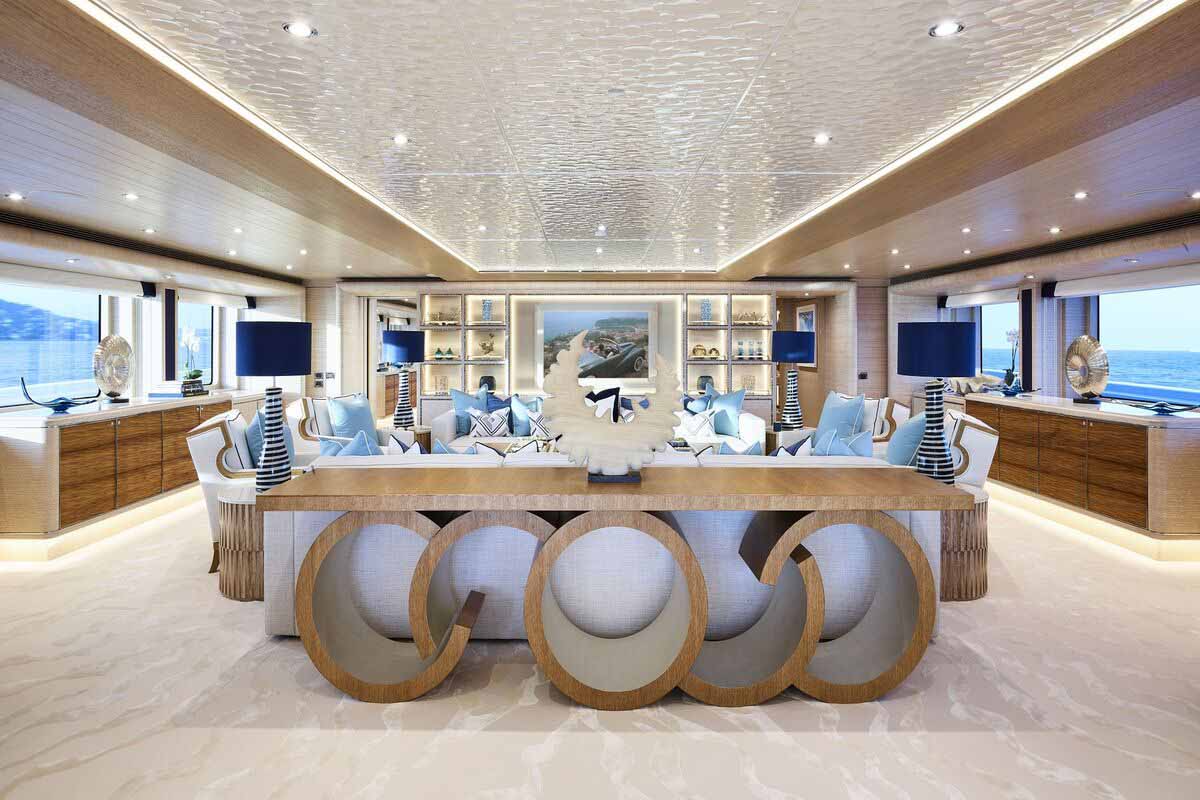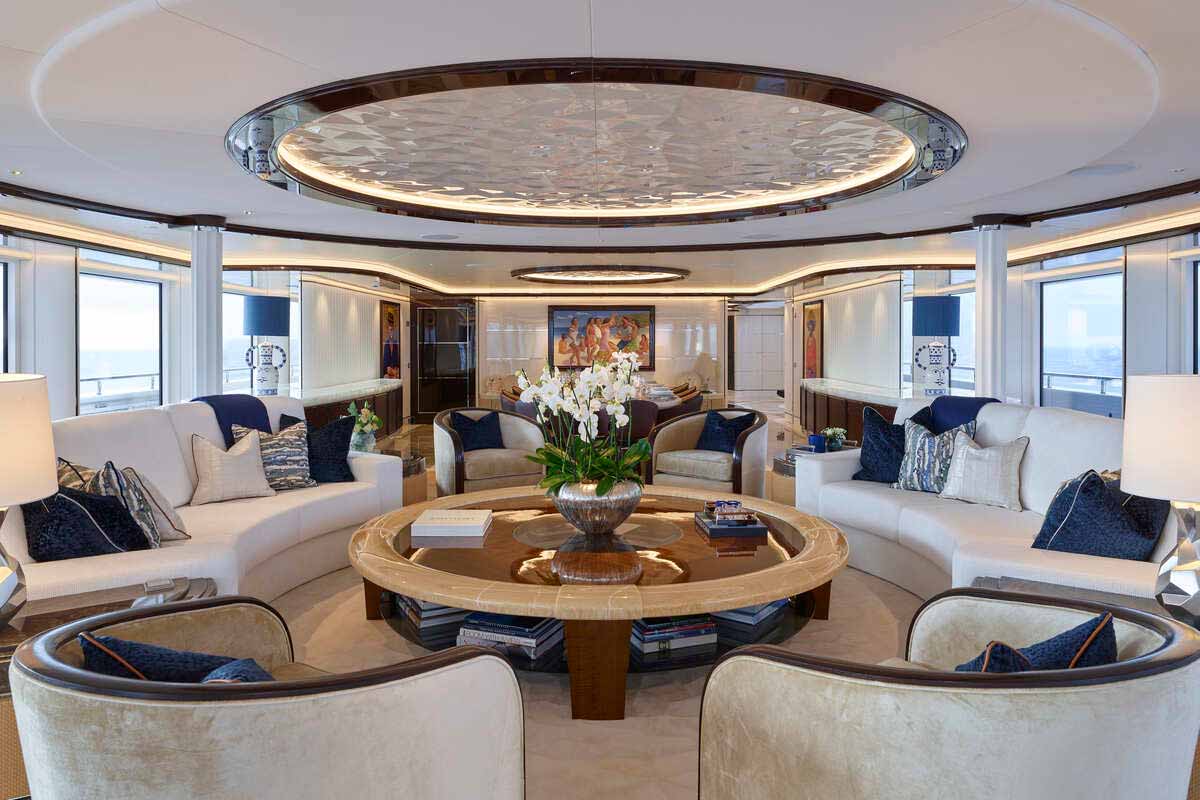 While growing trends are realized and defined, each studio takes its own unique approach. For example, Jozeph Forakis Design Studio has a reputation for creating innovative, custom-designed yachts that are not only aesthetically pleasing but also functional, durable, and efficient. Their design process is highly collaborative, with a focus on understanding the client's unique needs and preferences. "I take a new, holistic approach to every project. I seek evolution and seamless, balanced integration. I want whatever the chosen materials and manufacturing techniques are to be expressed in their own authentic, indigenous way. Overall, my design style is characterized by a forward-thinking, innovative approach that combines functionality, minimalism, and cutting-edge materials and technologies to create products that are both beautiful and highly functional," says Jozeph Forakis.
Expansive glass and open spaces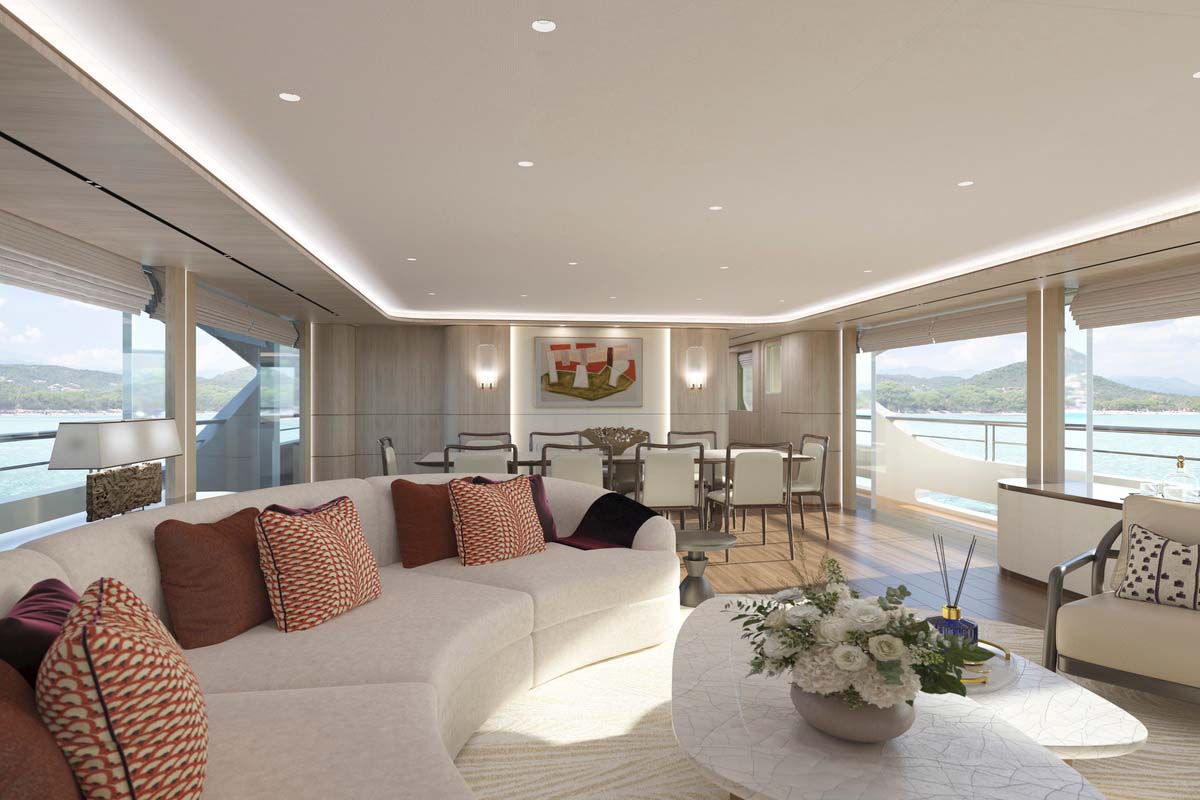 Yacht owners are seeking more contemporary, open-plan spaces, with vast expanses of glass allowing light to flood in and the guests to feel close to the natural world around them. The open floor plans feature large portlights and skylights that provide more natural light and a sense of space, making the yacht feel airier and more comfortable. To incorporate large windows, designers must use high-strength glass materials that can withstand harsh marine environments. Yacht designers are also using lightweight structural materials like carbon fiber and titanium in construction.
Natural elements and earth tones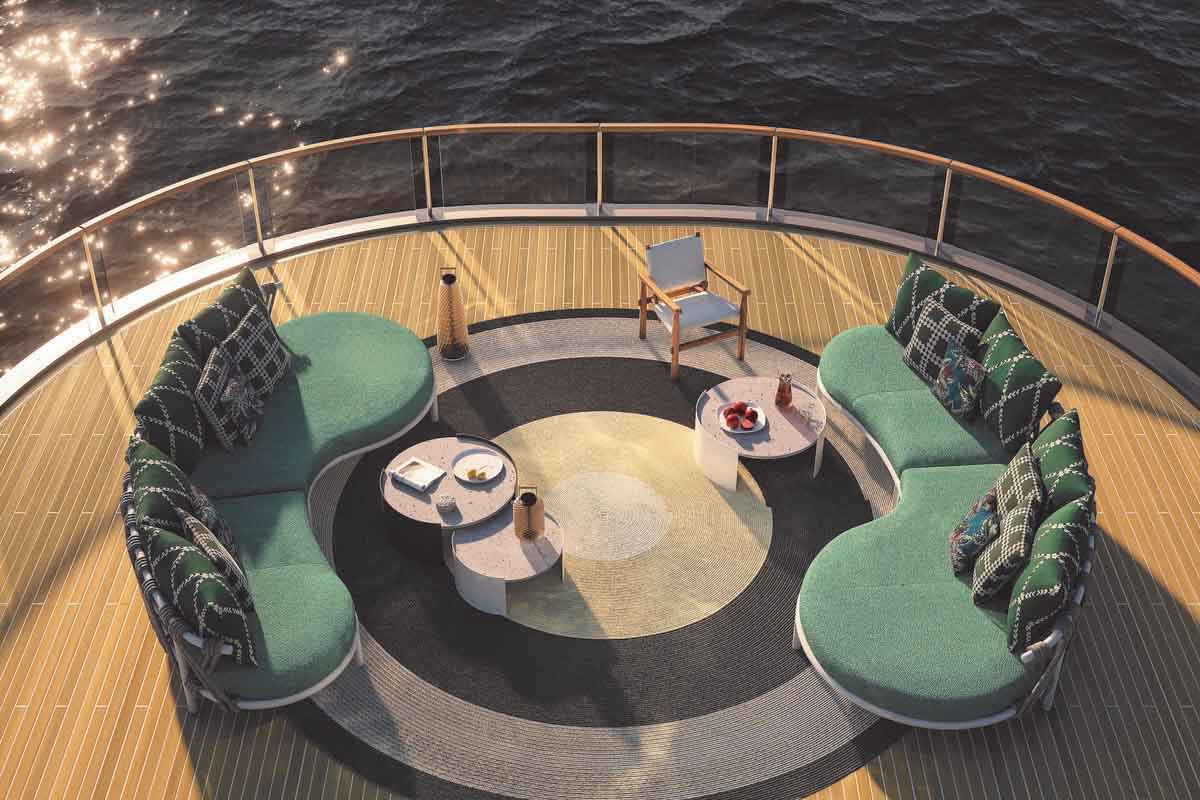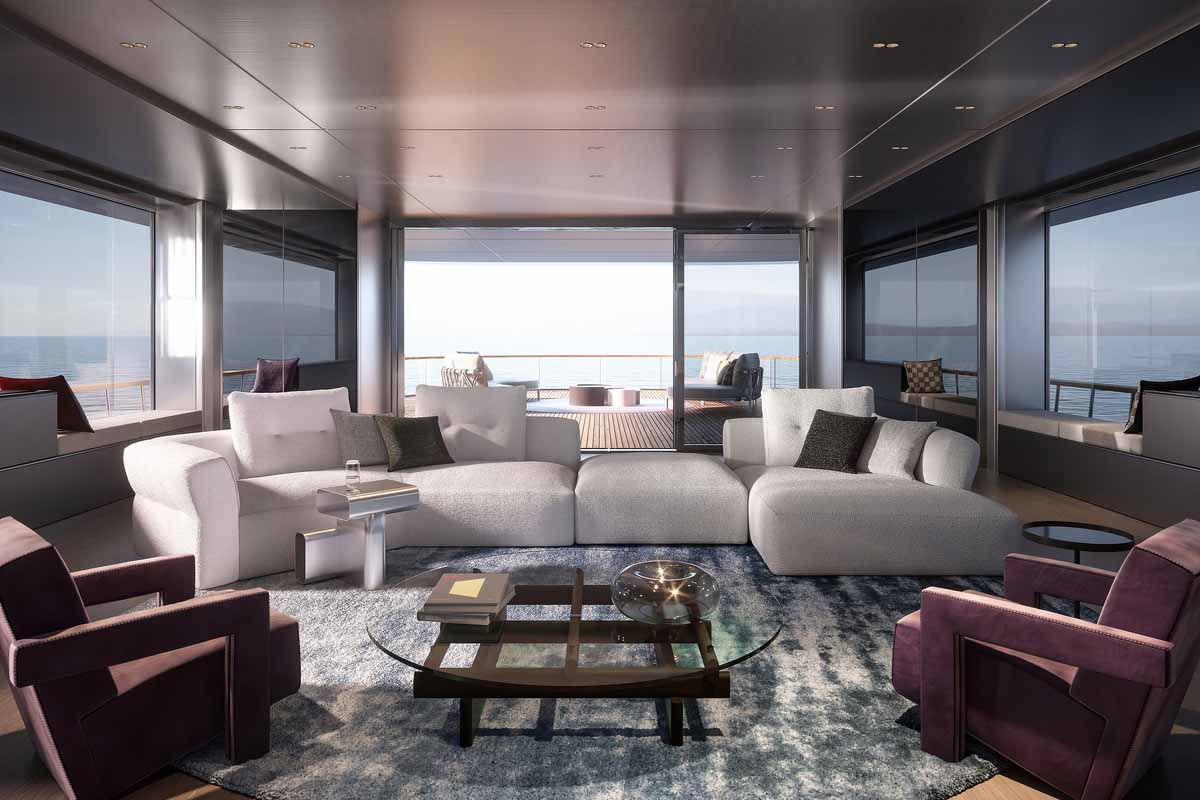 Since yacht owners have an innate connection to the water and nature, it's only natural to bring the outdoors in with stunning windows, flowing furniture, natural materials and textures, and softness to create a calm, harmonious environment on board. "We are noticing a continuous step back from the traditional shiny and ornate interiors that have adorned the waters for years, for a preference of more natural dressing briefs, pared back with warm interiors, using light woods, stones, and materials that result in clean and fresh spaces," says Jim Dixon, managing partner and creative director at Winch Design. Along with a natural, earthy feel, designers are embracing bolder and brighter hues in accent elements. "Bold colors like navy blue, emerald green, and deep burgundy are being used to add a touch of luxury and elegance to yacht interiors," says Forakis.
Leather is an all-around favorite material to work with in boats because it's incredibly malleable, allowing designers to use it in many ways for various functions. "You can create beautiful panels that add texture and richness or headboards with intricate patterns that add warmth and character. Our favorite is from Lance Woven leather – not only are the designs beautiful, but it's also very durable. And, of course, we love working with timber. Timber can be manipulated in many ways achieving very different results depending on what we are creating. In our Moonen 110 concept, for example, we created fluted timber panels to create soft contemporary curved details," said Arbid of Studio Indigo, which recently delivered M/Y Botti, a 36m superyacht, to a Palm Beach, Florida, owner. It is currently nominated for a World Superyacht Award. As experts in wooden boat design, Stephens Waring Design has long touted the benefits of timber for structural elements. However, this studio is seeing the incorporation of hardwoods and a growing trend in sustainable timber.
Eco-friendly and sustainable materials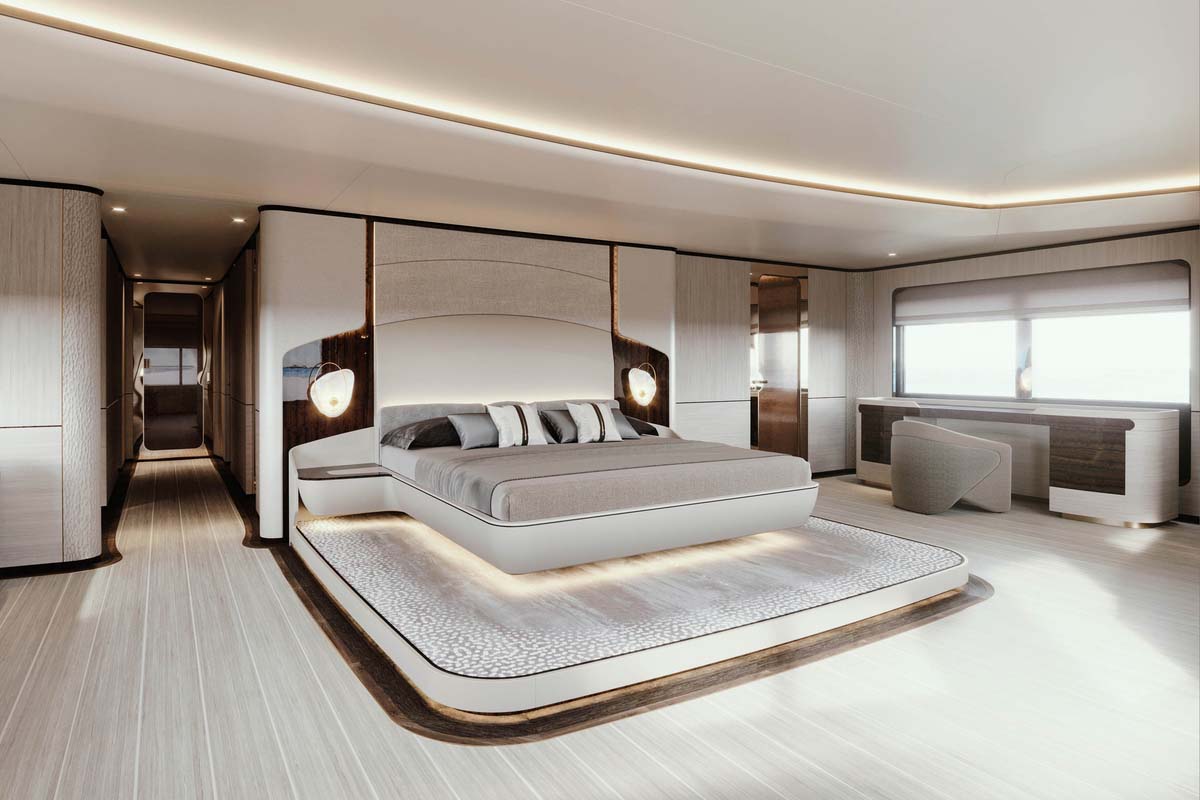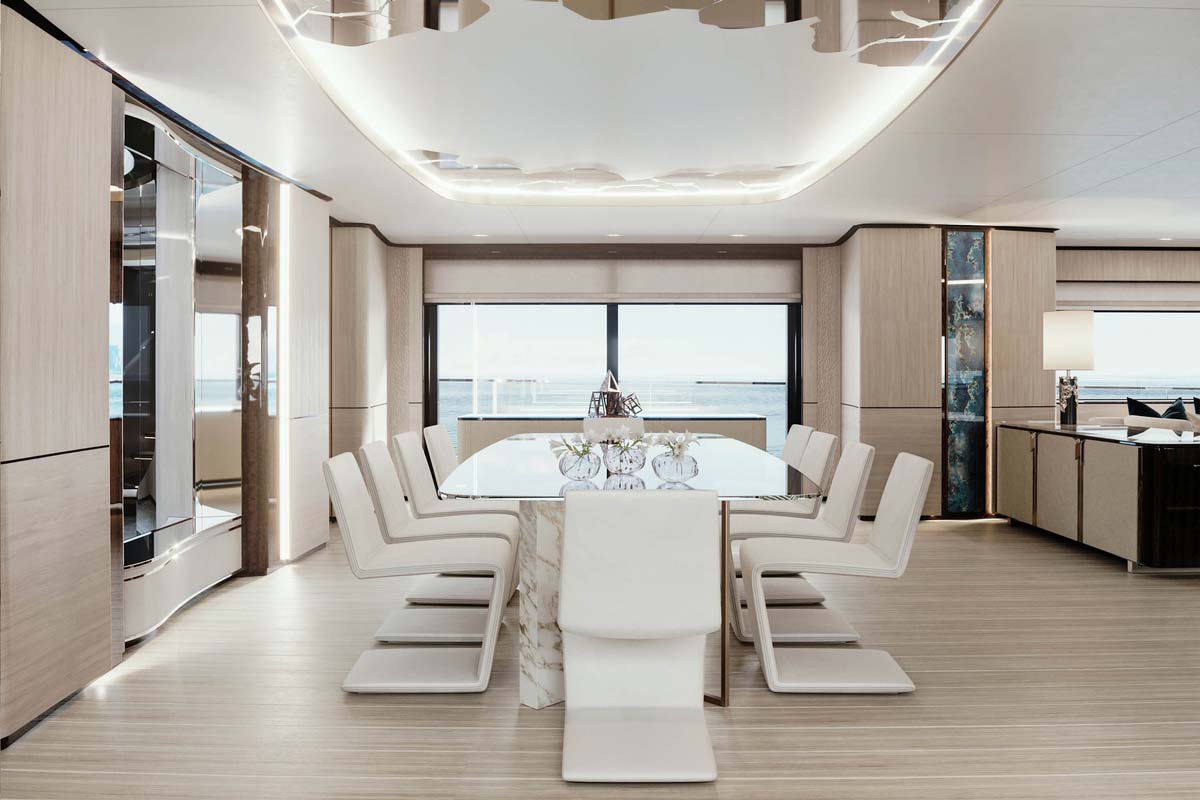 Along with natural elements, the use of eco-friendly and sustainable materials is gaining popularity. The innovation shown within the sustainable material alternatives is inspiring and encouraging for yacht designers. "Some of the interesting materials we are working with include palm leather (a plant-based replacement for animal leather), eggshell finishes across walling, furniture and artwork, foresso (a new composite sheet material composed of timber, wood waste) that applies well across various surfaces, and peppercorn finishes across tabletops and other furnishings," says Dixon of Winch Design, who most recently delivered the 60m Come Together, built at Amels and nominated as a finalist for the World Superyacht Awards, along with the 74m Amels M&Em and the Jeanneau 55, which was premiered at the Dusseldorf Boat Show at the start of the year. "Our studio has a real focus on using sustainable materials wherever possible. We have a dedicated sustainability specialist who has created an incredible resource of information on faux alternatives and how every material is sourced, manufactured, and composited, along with the advantages of each application. We are very privileged to have a great relationship with so many long-standing suppliers and liaise with them regularly to stay current on all the new alternatives being continuously developed."
Smart technology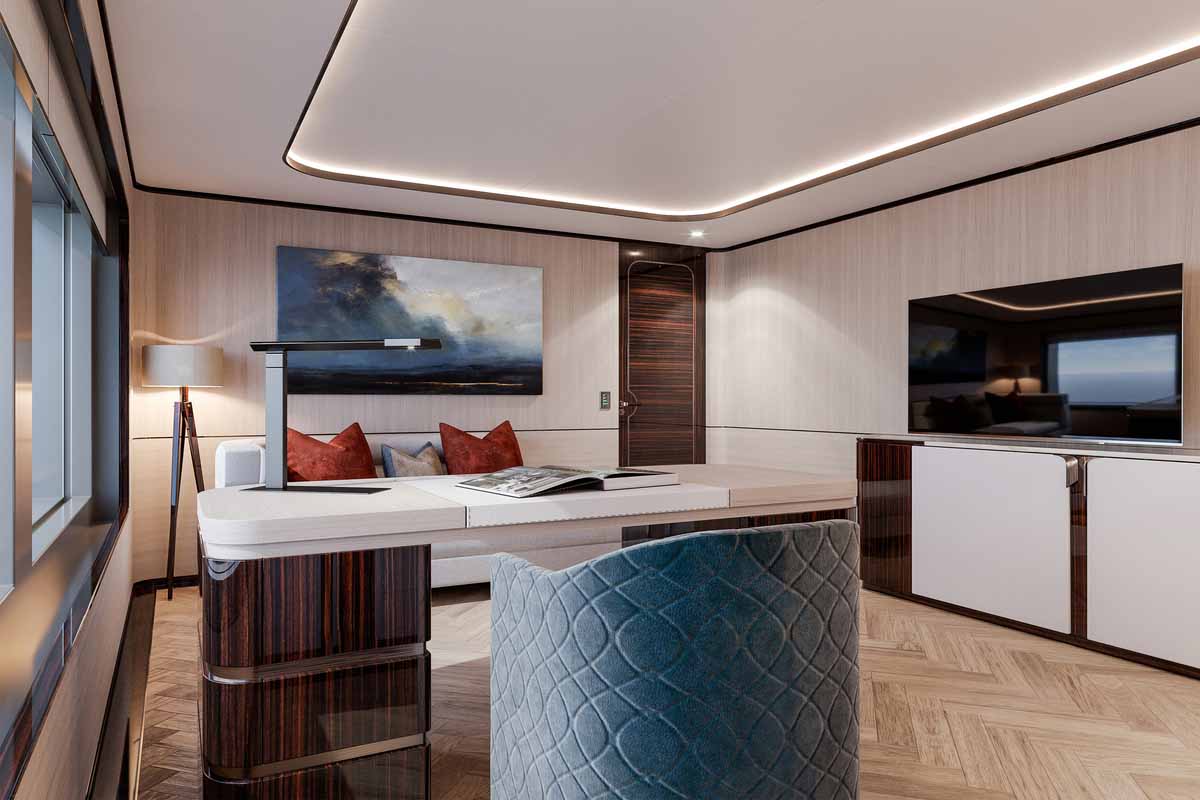 Superyacht owners are looking to integrate smart lighting, climate control, smart glass features, entertainment systems, and advanced security that can be controlled remotely. "Smart glass is a versatile material that can be used in a variety of ways in yacht interiors, which can provide a sense of openness and transparency while also adding visual interest to the interior design," says Forakis, whose PEGASUS 88m concept yacht is the world's first 3D-printed superyacht that is a solar-electric/hydrogen hybrid with zero emissions and infinite range.
Specialty items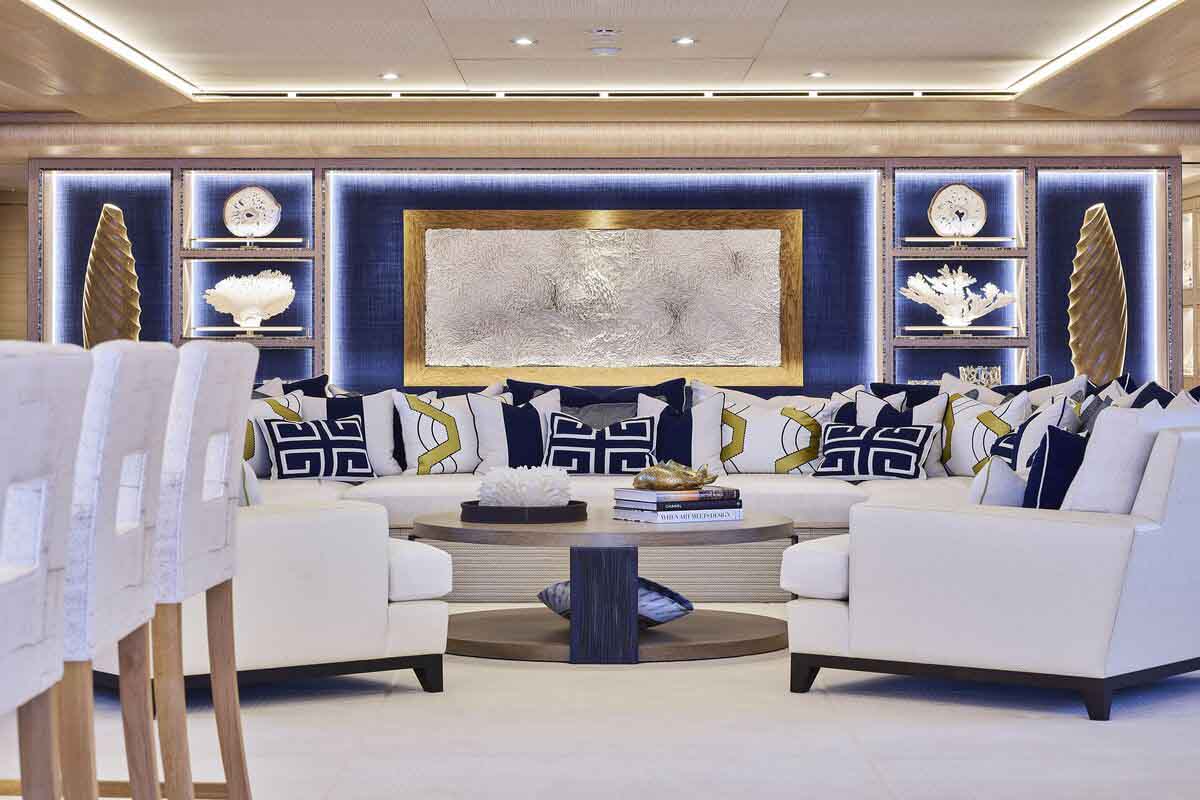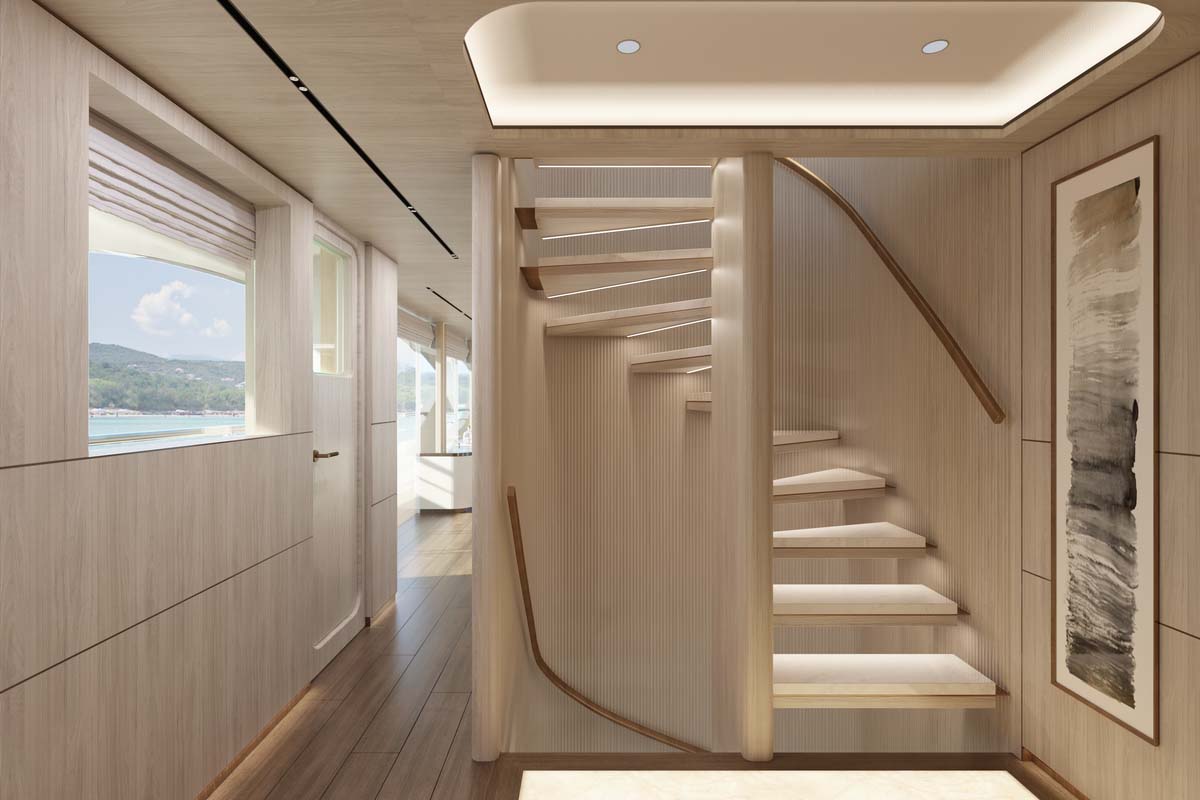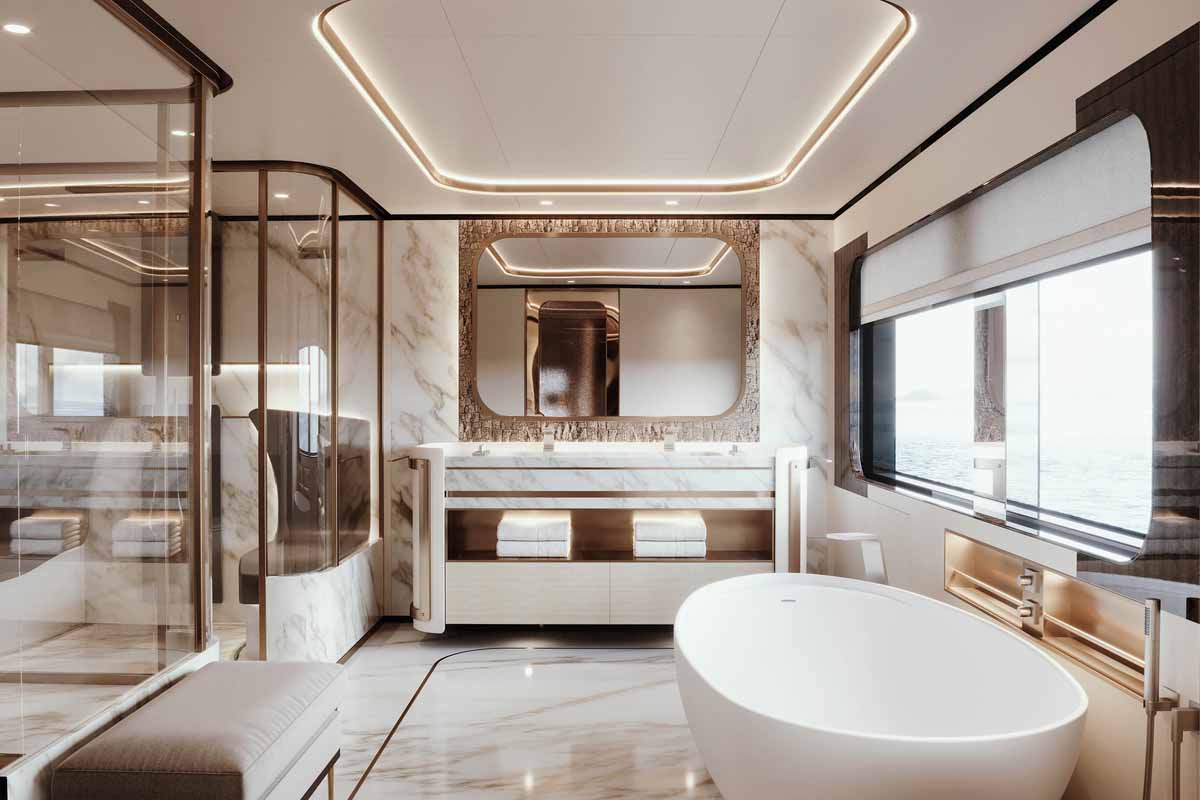 Yacht owners often invest in high-end art pieces, such as paintings, sculptures, and other artwork to enhance the aesthetic appeal of their interiors. These pieces can range from classical masterpieces to contemporary works. One item that has recently been introduced to art lovers is The Frame by Samsung, which transforms a TV into a digital frame that features professionally curated collections, including art from the Louvre. The Art Store brings the experience of an art gallery into a space.
Joseph Forakis states, "Custom carpets and rugs are often commissioned to add a luxurious touch to an interior. These can be made from high-quality materials such as silk, wool, or cashmere and can be designed to complement the yacht's overall aesthetic. Many yacht owners are passionate about wine, so designing custom-built wine cellars to store their collections on board is preferred."
Luxury yacht designers worldwide can agree that quality, class, and craftsmanship are their top priorities. It's essential to take a holistic approach to ensure that space, flow and functionality seamlessly blend with the fabric of the yacht. Studio Indigo takes on a design approach that is not formulaic or driven by a particular style; instead, they consider themselves curators of spaces that have real character and soul. Winch Design has also developed a design philosophy that is unconstrained by a 'house style' — but instead is a reflection of the client and their character. We've been seeing an increased appetite for dedicated health and wellness spaces for fitness and relaxation," said Martin Kemp of Martin Kemp Designs. Each project is entirely unique, and they take pride in having no 'one size fits all' approach to design.
Thanks to the work carried out by Cassina LAB, born from the collaboration with POLI.design at the Milan Polytechnic, Cassina is rethinking the future of design. This approach highlights the furniture company's commitment to society and to reducing environmental impact by identifying circular materials to be employed in the manufacture of products, such as, for example, recycled PET for the padding and the development of projects able to offer functions that favor well-being.
Holistic, bespoke, and deeply personal design is guiding the way in yacht interiors and is most certainly the wave of the future.