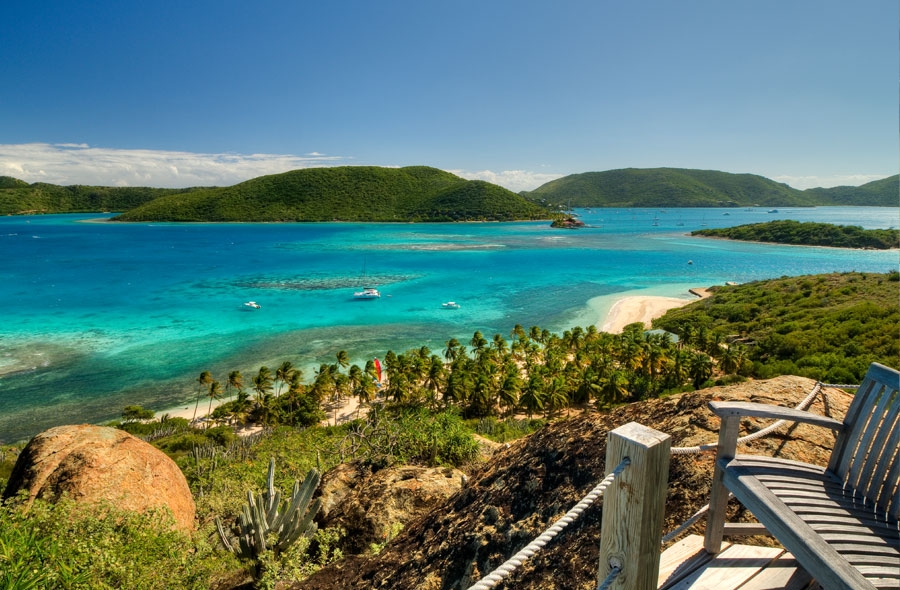 In the heart of the world-famous North Sound, located just 12 miles off the eastern coast of Tortola, Bitter End Yacht Club is the last island outpost before hitting the open waters of the Atlantic Ocean.
Situated on the northeast extremity of picturesque Virgin Gorda, sailors and yachtsmen from all over the world make landfall for a meal, celebrate a special occasion, or simply to rest their sea legs for a few days, as the next stop is the western coast of Africa. Cooling trade winds, warm water temperatures and more than 300 days of sunshine per year make this is a haven for seafarers and landlubbers alike.
A part of the British Virgin Islands, this area is considered to be a prime resort and yachting location, and is a magnet for mega-yachts, celebrities and high-net-worth individuals who come to enjoy the protected waters, anchorages and water sports. Less than a mile from Sir Richard Branson's Necker Island, Bitter End Yacht Club offers near-perfect year-round sailing conditions and presents a wide array of amenities, day trips, a palm-shaded pool and Caribbean hospitality that is sure to satisfy anyone who is seeking a vacation in paradise.
In the summer of 1964, the Hokin family, owners of a Chicago steel company, happened upon Virgin Gorda on a fishing expedition and purchased the land for a family retreat. Three generations later, they have transformed what was simply a small pub with five cottages into a world-class resort comprised of 86 rooms, open air dining through three distinct venues, a 25-slip marina and one of the best-known water sports centers in the Caribbean.
Boasting top-of-the-line sailboats, skiffs, windsurfers and other equipment, along with roomy excursion boats for exciting day trips, this is a true playground for the elite. However, the beauty here is that Bitter End Yacht Club has an extremely casual quality, a true barefoot elegance. Visitors are not busy trying to impress one another (and these are sports enthusiasts) – they're just families who want to enjoy the outdoors and a pristine slice of the Caribbean without any airs.
The true luxury of the North Sound is that you are only as isolated as you want to be. If you look out into that body of water, the world unfolds before your eyes. You are a hop, skip and a jump from the islands of Prickly Pear, Saba Rock, Mosquito and Eustatia. Additionally, there are friends wandering about their boats like a quaint village for the privileged.
During my stay, Rising Sun was anchored about a mile off the coast. Owned by David Geffen, this is the eighth largest private water vessel in the world, measuring an astounding 453 feet. Yachts from all over the planet come here because it is the most protected, non-commercial, deep water harbor in the Caribbean. You'll find no commercial traffic here, just pleasure boats for recreation. Probably the most spectacular body of water in which to perfect your high-performance sailing skills, it's an ideal location to learn to snorkel or dive, or any of a wide variety of other water sports, because it is so well protected – there is no open sea. This is what makes the area so extraordinary; it's an incredibly beautiful lagoon-like body of water, surrounded by gorgeous reefs and islands.
Architect Peter Brill, who gave up the world of city skyscrapers for the more relaxed life of sailing the Caribbean, was secured to design Bitter End's breezy buildings and cottages. Nestled into a wandering hillside of bougainvillea, hibiscus, and oleander rising high above a white-sand beach, these buildings are one-with-nature and have an elevated treehouse effect.
The design of the rooms, while extraordinarily comfortable, is not overstated and maintains a sense of connectedness to the land. The entire resort is intended to be inviting and lively, while retaining the natural beauty of the island. An environmentally friendly property, Bitter End generates its own electricity, collects and distills its own water, utilizes solar power and uses treated waste shower water to irrigate the hillside gardens.
One of many sailing races that feature Virgin Gorda is the International Maxi Race. Starting in Tenerife, off the coast of Spain, it ends right at Virgin Gorda's North Sound. And of course, it's Bitter End Yacht Club where crew members gather to celebrate and socialize.
For those who are amateurs, once a year, the top racing sailors in the world come to Bitter End to participate in the only major pro-am yacht regatta that pairs world-class skippers with anyone with a sense of adventure who wants to participate. Any guest staying at the resort during this regatta is welcome to request a position on a boat, and novices, as well as experts, are accommodated.
If fishing is your passion, this area not only boasts world-class bonefishing, but is just 15 miles from the North Drop. Known for the best blue marlin fishing on the planet, the North Drop is a precipitous plummet where the floor of the Atlantic Ocean suddenly plunges into a jet-black abyss – one teeming with marine life, including the mammoth blue marlin.
As a Bitter End Yacht Club guest, you will be angling in style on Hot Fish's custom-designed 45-foot boat, War Horse, which has a custom-made "cigarette racing" Kevlar carbon fiber composite hull, endowed with triple diesels boasting more than 1,000 horsepower. Air-conditioned and equipped with top fishing gear and captain's seats, this boat can do 60 miles per hour, leaving more time for fishing and less for travel.
All of this activity is sure to stir up quite an appetite, and with three restaurants and a bakery, you will never be hungering for the mainland. The Clubhouse menu features generous buffets and table service for breakfast, lunch and dinner, as well as cocktail service on the terrace all day and evening. Homemade soups, fresh salads, pasta, freshly caught fish and lobster, as well as poultry and steaks will keep you satisfied and energized. A generous selection of homemade desserts is always offered from Winston's Bakery, boasting a reputation for exquisite breads, pastries and luscious desserts. Located on the property, Winston's is a must-have for many a yachtsman to stock his galley.
If it's straight-up relaxation you're after, Bitter End offers guests an unparalleled spa experience. Selected as one of the "World's Best" by Condé Nast Traveler, exotic aromatherapy massages and private yoga sessions on the beach await. Add to that manicures, pedicures, facials and herbal wraps and satisfaction is guaranteed. Be it simply for unwinding, or to refresh after a day on the water, you are in good hands.
At only about 8 square miles, Virgin Gorda is still rather small; yet it is the third-largest and second most populous of the British Virgin Islands. Christopher Columbus is said to have named the island "The Fat Virgin" because the island's profile on the horizon reminded him of a fat woman lying on her side. Indeed!
Tortola's Beef Island Airport (EIS) is well equipped for private travel and connecting with the North Sound Express (NSX) high-speed ferry for a 30-minute scenic trip direct to the resort is a necessary requirement, as Bitter End is only accessible by water – a detail that surely adds to the inherent sense of privacy.
Word of mouth has given Bitter End Yacht Club a worldwide reputation and a loyal guest base of families, friends and couples who enjoy water sports and relaxation as a way of life. At any given time, approximately 55 percent of the guests on-site are return visitors. The unparalleled hospitality found there is most certainly at the core of what keeps patrons coming back time and again.
Akin to returning home, this slice of heaven is certain to make even the most haggard traveler feel welcome and extraordinarily comfortable, and the casual elegance that characterizes this island outpost explains why Bitter End is regularly hailed as one of the top full-service resorts in the world.