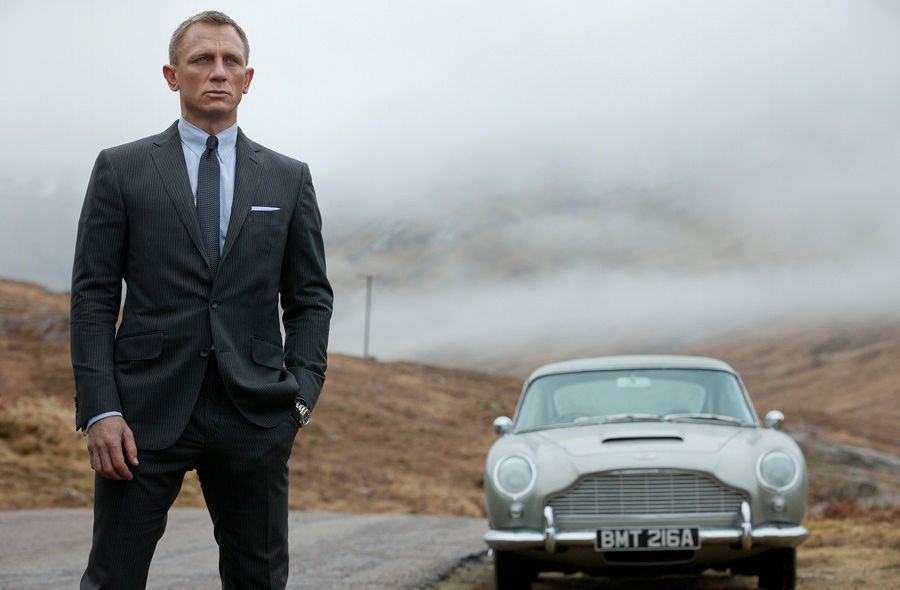 Shaken. Not stirred. But how about Googled? As we celebrate the 50th anniversary of the world's most suave, dapper, jetsetting and lethal Agent 007, James Bond, he's left little doubt as to how much the world has come to love and follow the subject of 23 films.
That includes the latest, Skyfall, starring Daniel Craig which is in theaters now. When you search the words "James Bond" in Google, you get over 311 million hits and links to choose from. Clearly, the world is obsessed with Bond, James Bond. The reason why varies depending on the personal style of the individual fan, but we have decided to showcase four reasons why movie goers flock to cinemas around the globe to engross themselves in his latest adventure involving Ian Fleming's fictional character: Fashion, cars, gadgets and exotic travel.
Let's begin with style. When you summon thoughts of James Bond, there's no doubt you envision a lean and mean lady/villain-killer, clutching a martini and wearing a custom-made classic tuxedo. No matter who has played the hero on film to various degrees of success — Sean Connery, David Niven, George Lazenby, Roger Moore, Timothy Dalton, Pierce Brosnan or Daniel Craig — the actors portraying Bond seem to wear the classic black and white formalwear with the ease of a t-shirt or comfortable pair of pajamas. James Bond just has a knack of making a tux appropriate in any setting. The Bond personal fashion mantra seems to be you can never be overdressed when you have to kill a terrorist, bed a Bond girl or save the world. Good advice for all of us, it would seem. While Daniel Craig often rocks custom-designed Tom Ford suits in Skyfall, he's brought to light the evolution of Bond to modern style trends by showcasing an impressive collection of sportswear and linens. As Bond has shown in his duels with Goldfinger, Oddjob and Ernest Stavro Blofeld, our favorite British secret service agent is fearless and has displayed that trait by deftly and artistically pairing brown shoes with a black jacket.
One thing you can most certainly say about James Bond is that cars matter. So many of the movie's plots and most memorable scenes involve James Bond in, around, or trying to get away from some of the most amazing and expensive automobiles ever designed and assembled. Aston Martins are most definitely a favorite for Bond, as the DB5 has appeared in Goldfinger, GoldenEye, Casino Royale, Thunderball, and now, in Skyfall. The Aston Martin Vantage made a bigger splash in The Living Daylights than Timothy Dalton did, and the Aston Martin DBS in Casino Royale and Quantum of Solace are two of Craig's favorite rides.
The Lotus Esprit S1 in The Spy Who Loved Me proved as adapt as a submarine as it was an automobile. Pierce Brosnan's Bond was a BMW fan, driving a 750iL in Tomorrow Never Dies, and the Z8 in The World Is Not Enough was styled by then-BMW designer Henrik Fisker, who now heads up Fisker Automotive.
Bond, or at least the producers of his films, seemed to have a passion for American cars, too.
In Diamonds are Forever, the vehicular star of the show was a 1971 Ford Mustang Mach 1, owned by diamond smuggler Tiffany Case, and a Ford Thunderbird was used to transport Bond from the White House basement to the Nevada desert to have him buried alive in an underground pipe. Picking favorite cars in Bond films is like picking your favorite five-star restaurant; it comes down to personal preference, taste and style. There's no question a Bond movie wouldn't be a Bond movie without a staggering parade of the most expensive, unique and beautiful cars ever created. We might not be able to be James Bond, but thanks to the cars, it sure is fun to go along on the ride.
The ultimate jetsetting ladies man sure does love his gadgets, and so do the fans of the Bond series. From Russia with Love unveiled the first Bond gadget, the attaché case which contained two hidden rods of ammunition, a three-piece sniper rifle, a concealed throwing knife and a disguised tear gas cartridge that incapacitates anyone who opens the case incorrectly. Good luck getting that past a TSA agent. Of course, that doesn't matter much to Bond because he's either flying private or the TSA agent in a Bond movie would be a Kate Beckinsale look-alike who would not only allow Bond through security unchecked, but would also provide a thorough "pat down" later that night after dinner and drinks.
There are literally hundreds of gadgets that have been invented and put on display in Bond movies. There's the jetpack in Thunderball, Rosa Klebb's spiked shoes in From Russia with Love, and the phone box airbag trap in GoldenEye that, if available on the open market today, would be impossible to keep in stock just from Jetset Magazine readers alone.
Watching a Bond movie is one of the most enjoyable guilty pleasures you can indulge in for under $20 bucks. When you get past the fact that the Bond girls are unattainable, the Bond gadgets aren't for sale, the Bond suits custom made for a 30-inch waistline won't fit, and the Bond cars might be too demolished for you to ever actually drive, the one alternate universe James Bond travels in is one I believe you can actually enjoy and experience.
In the 1965 Bond movie Thunderball, Pat Fearing asks Bond the following question:
"What exactly do you do?"
Bond responded, "Oh, I travel . . . a sort of licensed troubleshooter."
Well said, Mr. Bond. In fact, to literally get a taste of the James Bond lifestyle, Jetset Magazine style, maybe you just need to try to visit some of the places he's gone (of course by flying there in a Bombardier Challenger 604), and stay in some of the villas and resorts Bond has frequented over the last half-century in exotic locales around the globe. How about the Villa Le Torre, in Southern Tuscany, Italy, featured in Quantum of Solace? Or Villa del Balbianello next to Lake Como, where numerous scenes were shot for Casino Royale in 2006? The Chateau de Chantilly in France was featured in A View to a Kill, and one of the most glamorous Bond locations of all time is the Casino Monte Carlo in Monaco, used as a backdrop in Never Say Never Again and GoldenEye.Tomorrow Never Dies and Goldfinger were shot in and around the Clubhouse and on the course at Stoke Poges in the United Kingdom, and Goldeneye, Jamaica is Ian Fleming's Caribbean home where he wrote 14 of the 007 novels.
James Bond, we salute you, your savoir-faire, your moxie, skills and cool-quotient, and, of course, your 50-year history on the silver screen. You are the consummate jetsetter, and while money can't buy your life, your style, your connections, and your lethal resources, money can buy a very dry martini, shaken, not stirred, slightly chilled. And the least we mere mortals can do is to raise a glass and toast you, Bond, James Bond, with one or two tonight.