There's something special happening in the quiet countryside of Hethel in Norfolk, UK. A revival is underway in an iconic automaker's historic home town, with ambitious plans to put the hallowed brand solidly back on track. In June, I sat down with Phil Popham, CEO of Lotus Cars, to discuss the revolutionary new all-electric Lotus Evija and how an infusion of investment in the British manufacturer has created quite a buzz in the automotive world.
Popham is no stranger to helping turn around a revered brand in peril. He spent more than 25 years at Land Rover, including his last 9 years there as a member of the board (working for both Jaguar and Land Rover). After leaving the company, he joined the team of another luxury brand at Sunseeker International in 2014 and used his leadership expertise once again to help shine new light on the British yacht builder. Popham says the move to a new automaker was not on his radar, but when he was approached in 2018 about a move to Lotus Cars, he admits the chance to revive the brand was simply too good to pass up.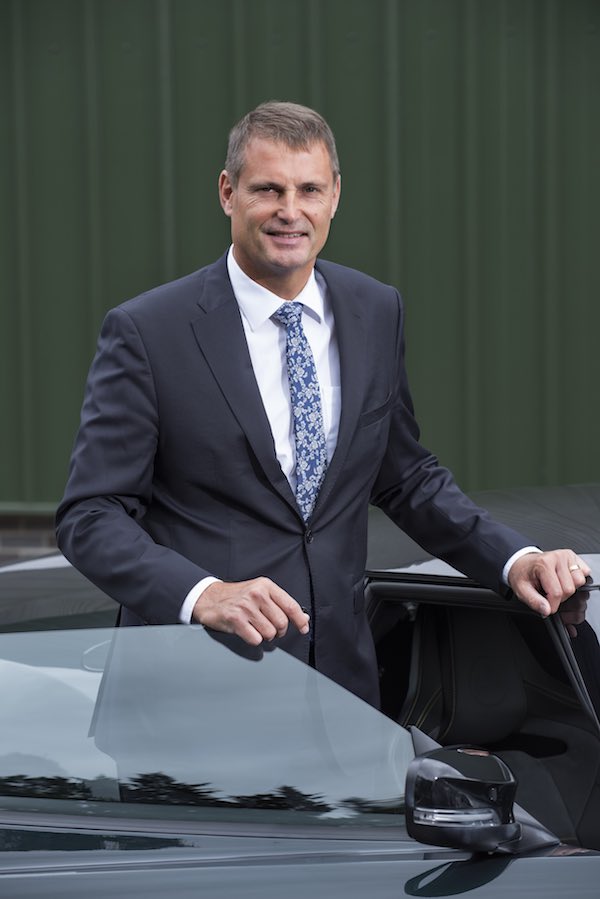 Popham has long been a fan of supercars and still recalls the Lotus Esprit hanging on his wall alongside vintage posters of the Countach and Testarossa. Having been inspired by the brand's championship racing history in Formula One, the story of Colin Chapman, and the James Bond-like nature of Lotus's iconic vehicles, the decision to join the British manufacturer seemed like a no-brainer. Yet given the company's various challenges and ownership changes throughout the years, there were valid concerns and questions that needed answering. Fortunately, a majority share of Lotus Cars had recently been acquired by Chinese automotive powerhouse Geely Group, and the new ownership offered a significant opportunity for reinvestment in the coveted car company. Sufficiently intrigued, Popham headed to China to meet with Geely chairman Li Shufu and the board. He says it took no more than an hour and a half before he was convinced.
"To have the opportunity to come in, to rejuvenate the brand, to create a really ambitious long-term strategy, knowing that it had the financial backing of the fastest growing automotive business in the world in Geely, was an opportunity that I just couldn't turn down," says Popham. "There was, to be honest, not another opportunity that I could see in the automotive industry as exciting as this one."
That opportunity would launch Popham and his talented engineering team on a uniquely daunting mission: to create a bold statement piece that would serve as a "calling card" for the future of the brand. He acknowledged that although most people are well aware of the Lotus name, not many know what they do today. There was a need to remind the public of the company's core capabilities in chassis dynamics, lightweighting, and aerodynamics, along with the chance to exhibit the brand's third-party engineering accomplishments (including the development of a Lotus bicycle). The new CEO added 250 expert engineers to the team and set off on an arduous adventure to create the world's most powerful car, with industry-leading EV technology, that would highlight future design cues and show that Lotus is serious about its long game.
The Evija, then, is more than just the UK's first ultra-lightweight electric hypercar. It's a brand statement for Lotus, loudly proclaiming "We're back!", as Popham enthusiastically tells me. And the stunning new model isn't about making huge profits or filling showroom floors at local dealerships. No more than 130 of the 2,000hp Evija will ever be produced, making this project all the more special and important for the legendary British automaker.
The car itself embodies the pinnacle of cutting-edge engineering and features world-class battery technology to help it achieve such an impressive power output. The technology was developed with help from Williams Advanced Engineering, best known for its Formula One racing team. Together with Lotus, the two brands have more racing championships than perhaps anyone in their sport, making the partnership with Williams a perfect complement to the company's new vision. Popham tells me there was a natural synergy between the teams, with like-minded engineers and a set of core values that already exist at Lotus. Working in tandem they've created the world's most energy-dense battery capable of recharging in rapid time. Drawing on their combined decades of racing experience, they've also managed to eliminate any unnecessary weight from the vehicle, helping the Evija become the lightest electric hypercar on the market.
When asked about the significance of EVs in the future of Lotus Cars, Popham replied, "We see the long-term electrification [of the brand]." He says their next car will be a gasoline powered model, inspired by the Evija, and that it will likely be the last model to not offer an electric option. Working with Geely Group has given Lotus access to a previously unimaginable level of resources, supplies, and technology. "We often compare it to a kid going into a candy store," he tells me, adding that the brand also offers value back into Geely's large portfolio by providing engineering work, as well as contracting with other Geely Group brands.
Before we ended our meeting, I asked Mr. Popham what Jetset readers can look forward to from Lotus Cars. He says in addition to a new sports car in 2021, more than a billion dollar investment is being made in the future of the brand, with well over $100M already going into the purpose-built facilities in Norfolk and plans to enter new segments and new markets in the coming years.
"It's a fantastic brand with a really exciting future that's underpinned by the ownership and investment we've got now. It's a great time to be at Lotus."