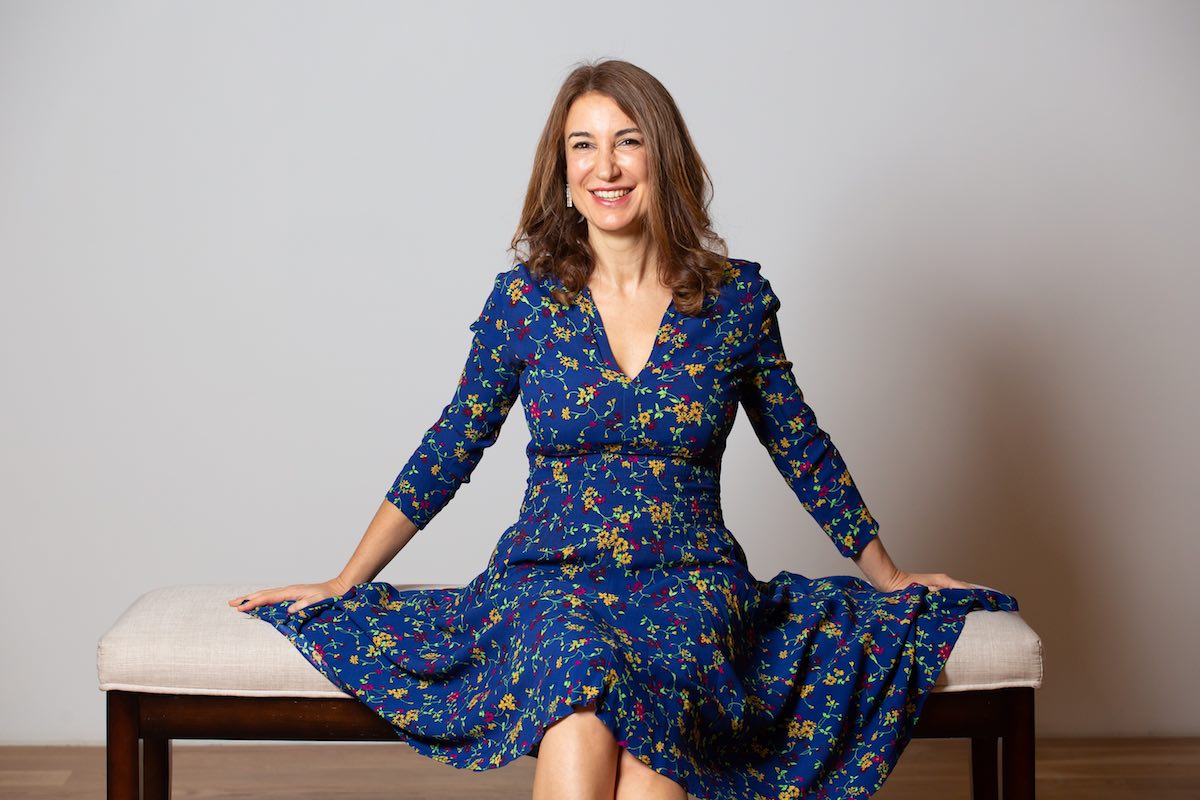 Photos by Hunter Canning
Anita Rogers, CEO & Founder of global luxury estate staffing company British American Household Staffing, shares her travel secrets whilst flying across the world to meet with clients and overseeing business projects.
Anita divides her time between New York, LA and London and is also the proud owner of the Anita Rogers Gallery in Soho NYC.
The British beauty invites you to take a glimpse into the success behind her premier agency and why the recent pandemic has given clients a new perspective and a desire for a more manageable and comfortable life at home with thanks to her impeccable staffing company.
Anita, can you tell us what your global company British American Household Staffing represents and offers?
We've always had a huge demand for childcare providers, domestic staff and also yachts but then Covid happened and suddenly everybody now wants a live-in nanny, a governess, a newborn care specialist, a chef, an executive housekeeper and also wanted to safely escape on a yacht! All this makes sense when you think about the gaps in schooling & structure that so many families have faced over the past year.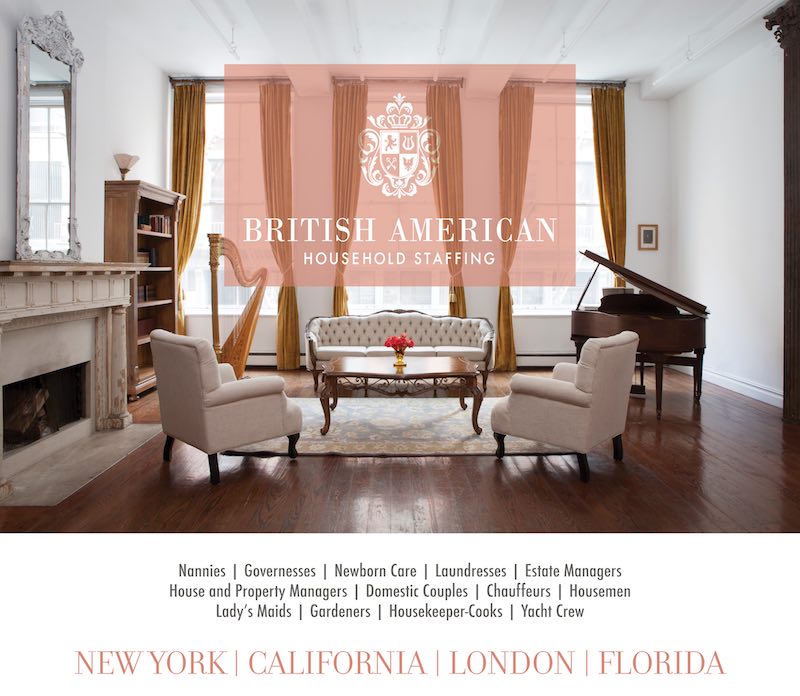 Your luxury company BAHS has an incredibly high profile and high net worth clientele, it must have its challenges and rewards.
It does. But it essentially comes down to the pride we take in pairing families with household staff to make life more comfortable, both private and professional clients who value structure within their busy schedules. We're delighted to be able to provide a service and restore normalcy and consistency to our clients' households and lives. We take great satisfaction in that.
Anita, as you travel a lot can you share what unexpected items you always pack for your business trips and why?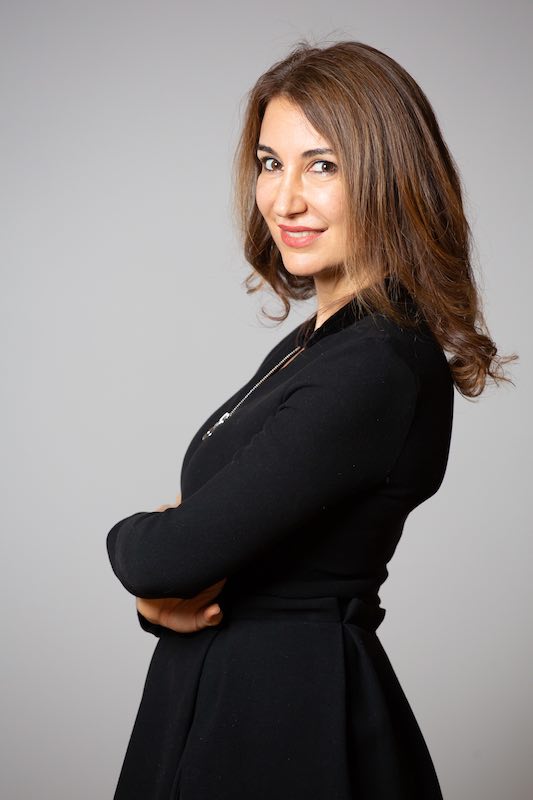 Every time I fly it's like a mini break because of my non-stop work schedule with BAHS and the gallery, so I make the most of the down time where my cellphone is off and my head can truly be in the clouds! It's my well earned time to give my feet a rest and my skin a drink! I kick off my heels and slip into some cashmere bed socks (my favourites are from The White Company) I also like to pack a nourishing treatment facial mask sachet (Sk-II Facial Treatment Mask) for when I'm settled in my seat for take off. It's full of vitamins and amino acids which are very much needed when you're in and out of meetings across busy cities like New York, London and LA.
A friend of mine is an air stewardess and once advised me to always do this on a flight because of the altitude and dehydration to our skin when in the air. I use the hours on long-haul flights to digitally detox and recharge my batteries so I feel mentally relaxed and physically hydrated and refreshed when I land. I always pack a pair of Ferragamo heels as I never know what last minute client dinners I may be invited to and they're perfect for glamming up a simple dress. I keep a Melissa Odabash bikini in my luggage as part of my emergency travel kit as I can get whisked off to the Bahamas or invited on a yacht on a moment's notice.
What is the travel tip by which you swear by that might surprise people?
As a gallery owner (The Anita Rogers Gallery is based in Soho NY and represents both primary and secondary artists) I know from personal experience that it's always best to visit historical sites & museums etc, very early, very late, or when people eat! I always go to attractions at lunchtime as there's less people as most tourists on city break trips head to lunch. So this way you get the most popular places all to yourself!
How do you choose where to dine when you arrive in a new city?
One of our wonderful clients told me that she Google's 'where do chefs eat in…' whatever place she is in. It's such a great idea and the restaurants that you find are amazing because they're the chosen ones by those Michelin star culinary chefs! That's how I discovered Bob Bob Ricard in London and Providence in LA.
What is your airline of choice?
Wheels Up. They have been aviation saviours during the pandemic and their service is impeccable. I'm constantly flying from New York to LA and to London for my companies estate assessments. Wheels Up have become our first choice when booking private jets and our most preferred when recommending to our high-net-worth clients who desire to travel in style with privacy to and from their estates that we look after.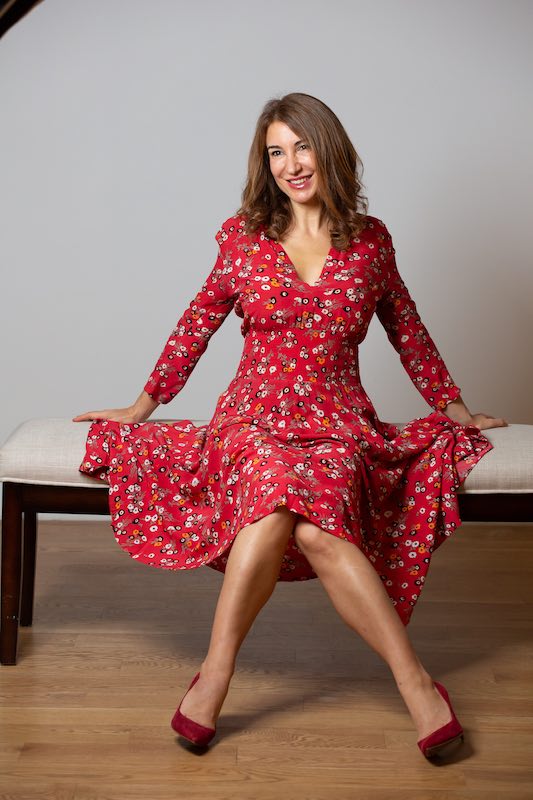 Where do you like to take clients for dinners?
Eleven Madison Park in New York. I love their menu and the fact that it sits at the base of a historic Art Deco building near the Flatiron Building. It offers exquisite service and also private dining, so I often choose to meet some of my high profile BAHS clientele who come to us wanting their estates fully staffed. It's also the perfect setting for drinks with art collectors following one of my art gallery events.
Where haven't you been since before the pandemic that you can't wait to visit again soon?
To Greece! There is no country like it, the Aegean glitters like diamonds on a deep azure water, like the quote from Homer's Odyssey: "There is a land called Crete, in the midst of the wine-dark sea, a fair, rich land, begirt with water, and therein are many men, past counting, and ninety cities."
Which resort do you visit again and again ~ and why?
Il Sereno Lago di Como – Torno, Italy. It is pure luxury and tradition right on Lake Como. I got most of my operatic vocal training in Italy and performed there for many years so I adore Il Sereno Lago di Como. As a business owner I often fly to Lago di Como for a break to recharge my batteries and sometimes I join clients, either art collectors or those who want their villas staffed. I love Italy and Italian traditions so it's a favourite of mine.
Which hotel has the most unforgettable service?
The Aman resort in India – hands down. Everything from their exquisite decor to their impeccable service is out of this world. I could happily be on lockdown there! They have their Holistic Immune Support Retreat at Aman Kyoto which I plan to visit next as I've heard it's incredible.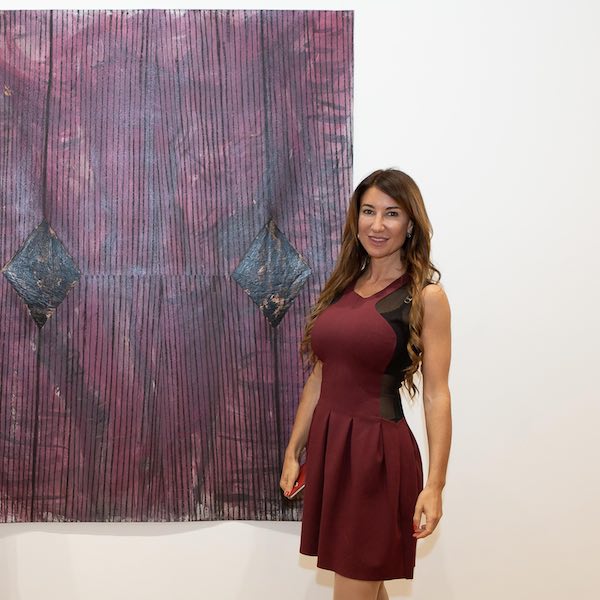 The most romantic place I've ever had the pleasure of staying was…
Marrakech – even without a special someone it is divine. So when visiting with a partner it really does become a haven of romance. It is very arty and, as a gallery owner, I get a lot of inspiration from being there where they have a YSL museum, photography museum, and Al Maaden gallery. There's something very romantic about art and places that celebrate it.
The place that felt like a sanctuary to me was…
Oaxaca in Mexico, a mountain city rich in tradition and far away from the beach goers. The only way to get there from the US is two flights, one to Mexico City and another flight to Oaxaca. The women and men dress in traditional clothes and truly embrace their culture. I went here for a getaway and it was like being transported to another era and was an extraordinary experience.
Favourite travel website or app?
I've recently discovered mrsndmrssmith.com, a valuable website and app for stunning hotel and villa information.
What place in the world do you think is unfairly off-radar for even the most elite travellers and why?
Ikaria, a Greek island is my hidden gem. It's 7 hours from Athens by ferry, far too windy to fly a plane to. It is completely frozen in time and being there is like being in Greece in the 1960s which I adore. The food is grown on their own land and fresh fish caught locally every morning. They have Greek music festivals often, where locals dance to traditional music all night and sleep all day. My kind of trip! It is a piece of paradise with pure white sand beaches that are pretty secluded. Oh and the food is exquisite! Ikarians can live past 100 often. Likely because of the stress-free lifestyle and the organic food, water and climate. Perhaps I'll return there to retire!
ABOUT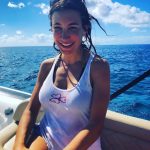 Anita Rogers is the founder & CEO of luxury estate staffing company British American Household Staffing (BAHS) that provide Nannies, Governesses, Chefs, Butlers, Housekeepers, as well as yachts and aviation for clients across London, New York, San Francisco, Los Angeles, and Miami.
Anita Rogers Gallery in SoHo, NY represents a diverse roster of emerging, mid career and posthumous artists whose work speaks to the contemporary landscape of the 20th and 21st centuries.