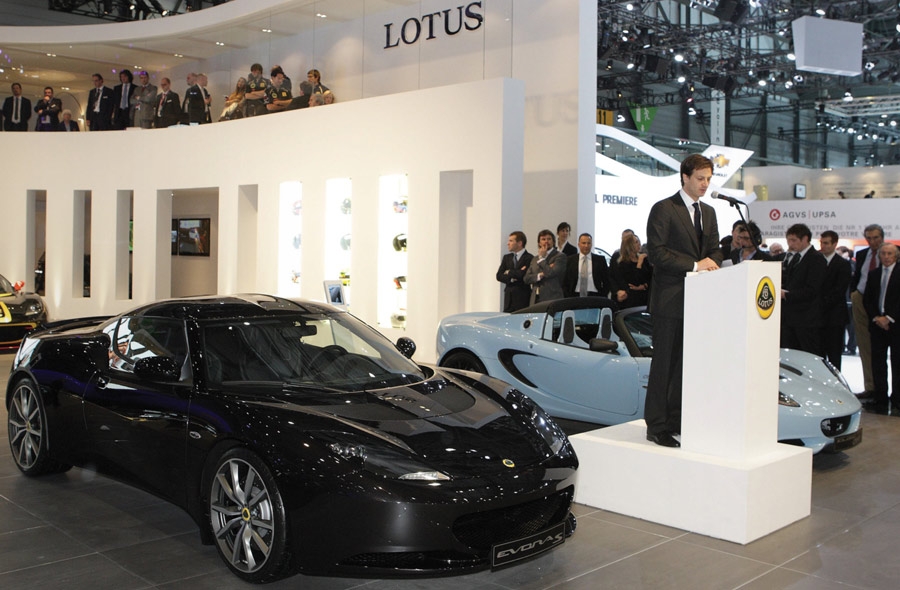 Dany Bahar has been tasked with some pretty big jobs in his career.
Recently, he was the head of the corporate projects business team for the popular energy drink company Red Bull, and then he moved on to Ferrari, where he was the senior vice president for brand management. It's quite the pedigree for a man who's just 38 years old, and now he has some pretty big shoes to fill as the CEO of Lotus.
Although the company has seen its share of success, it's never quite caught on in the United States, mostly because of the niche vehicles that made up its product line. But all that is about to change with Bahar at the helm, and Lotus is set to make a big splash in the automotive scene in the upcoming years.
Jetset sat down with Bahar to discuss his career, what it's like racing fast cars, and what the future holds for the legendary British automobile company.
How did you get started in the business?
My first proper job was in the financial sector at an asset management company, and I moved from an asset management company to a drink company called Red Bull, and from there I moved to a car company called Ferrari, and from Ferrari I moved to Lotus.
How did you get selected to become the CEO of Lotus?
You know, the sports car industry is a very small community, and you meet each other every few weeks and months in the motor shows around the world. Then obviously the owners of Lotus have spoken to us many times, and so we got closer, and then one day we said, "Why don't we try it?" And that was it. Very simple, actually. No big preparation time in between. Very spontaneous.
What was your most significant mission when you got hired?
My most significant mission was actually to put in place a team that believes in this brand and actually is capable to deliver what we promise to deliver.
A great selection of your management team comes from Ferrari. Why do you think they wanted to follow you to Lotus?
Not only Ferrari — many people came from Mercedes, from Porsche, from Bentley, from Aston Martin. But, from Ferrari in particular, I think they've seen how I worked at Ferrari. I believe they realized or relied on my judgment that a venture — such as the opportunity that we have at Lotus — will not come again in [their] career. And I believe that the people that are chosen to follow me are also in the same character. They are all hands-on people, and they all are people who want to make a difference in their professional lives. I guess they were intrigued about the proposal to say, "Let's try to turn around a very iconic British sports car company."
Who is Lotus' No. 1 competitor today and what is your goal — do you want Lotus to be compared to Porsche, for example?
Yes, definitely. Today we are a very special company and we don't have many competitors because we are a very niche product and we offer products actually for people who like to race tracks and all of these things. However, this is a very small group. And the reason why we want to introduce new products that actually are targeted to a broader audience is that you obviously have many more people you can address — and in the future, our competitors, depending on the product, more Porsche, more Ferrari, more Aston Martin.
Your team put together a very significant new development program, and you are going to launch six new cars, plus re-launch some of the cars you've designed. Can you elaborate on the plan?
We presented our future product range at the Paris Motor Show in October 2010 and we have introduced six new cars to be launched [in] March 2013, with the first product called Espirit, followed by the product called Elite, followed by the Etern four-door sedan, [then] a four-door city car called Ethos, and the last in the row is the Elise, to be introduced in 2015. We have also introduced that we are going to work on our own engine development, a V8 engine, a bespoke Lotus Engine, which is absolutely on the way. It's already on the [dynamometer] — it's testing. So what we presented one and a half years ago is still our master plan, and we're still following that, and we're still within the timelines that we proposed.
We heard a rumor that Lotus is to be publicly traded soon. Is it true?
Soon … I don't think "soon" is the right word. But, I believe that obviously if you are able to turn around this company successfully, I guess every shareholder will want to have his money back, and one day you can get your money back either by going public or by selling the company to somebody else. So, I guess one day this might happen, yes.
Where do you build your cars right now, and do you plan to build your cars in the U.S. in the future?
No, we build all of our cars at our headquarters here in the UK. It's all made in England. It's all handmade, and we will keep it as it is. We will always introduce machinery and semiautomatic if you want help, but at the end, these cars are mainly assembled by hand.
Can you tell us about the different Lotus branches?
Our branches are divided into two divisions. One is the cars business and one is the engineering business, where we supply and provide services to other big car manufacturers — these are the main two areas. Then we have two other areas. One is the motorsports division that actually works on Formula 1, Indy car and all other series. And then we have the merchandising and licensing division. These are the four profit centers within the company. We have subsidiaries in the U.S., in Germany, in China, in Malaysia and that's it.
How is Lotus currently doing with the slow economy?
Well, you know … luxury goods, or how can I call it … "niche products" I don't want to say are immune against crisis, but somehow protected because you address a little amount of people and you always find that number of people who buy your products. This is not just for the sports car business, but it's probably in general for the luxury goods business. Some markets are affected and some are not. Thank God we are not affected by this. We've grown. We've grown about 8 percent from the previous year, and we will grow another 10 or 15 percent this year, so thank God we are not affected. We might be selling less cars maybe in terms of numbers, but we are selling more expensive cars and therefore our revenues and bottom line numbers are looking better than the previous years.
What is Lotus' approach to the American market?
Oh, it's the biggest market. It's one-third of the worldwide sales. It's the biggest market for all of the sports car manufacturers. It's been challenged by China at the moment, but one day the American market will recover and will become the strongest and toughest market. And we have to be there, and we're there and it requires a priority from all the car manufacturers and not just us.
How do you market your cars in the USA?
Through motorsports.
How many cars do you plan to sell in the U.S. in the next five years?
Within the next five years, per annum, we plan to sell to about 1,000 to 1,500 cars.
Which cars are to be introduced in the U.S. within the next few years?
Same cars as in Europe. All of our cars that we present are global cars, as you call them, and will be introduced market by market, including the U.S.
Since the Paris Auto Show September 2010 launch, Lotus has been using a lot of international celebrities to launch the rebirth of the brand. What is with Lotus and the celebrities?
Well, you just have to go back a few years and look at where Lotus was in the '70s and '80s, where Lotus was featuring in James Bond movies and movies like Basic Instinct, movies like Pretty Woman and many other movies as well. So, there was always this perception that it is something that is different and more special than an ordinary sports car. And we have seen this with our launches in Los Angeles — for example, in 2010, and then you can imagine such a small company like we are. We don't have the marketing budgets of the big, big, big companies, so these guys are coming to us because they feel associated, they feel as friends to us. Not just because we are paying them, because we could not afford it anyways.
Who is the celebrity you think contributed the most to the Lotus launch?
Oh I cannot say that. You just have to see our Los Angeles event and you can name them from Sharon Stone to Demi Moore to the Baldwin brothers …
Where does your love for racing automobiles come from?
That's a really good question. Actually I really don't know. I think I started to be passionate about cars in general and in particular sports cars … I would say when I was about to turn 30. Less than 30? I didn't have a specific liaison with cars or with the team cars.
Lotus and Formula 1 are closely linked. In 2011 the name Lotus made a comeback at the highest level with Renault Formula 1. What is the future of Lotus in Formula 1?
Lotus was always about Formula 1. The company was actually founded to go racing and therefore our link with Formula. But in general, with motorsports [Lotus] will always remain. And it will always be the activity to actually support our sales and it is the main marketing activity for us in the future. So we will be there for a long time hopefully.
It looks like Lotus Renault F1 is going to finish fifth in the 2011 Formula 1 season. Are you happy with these results?
No, we're not happy, because we were aiming for fourth place, but given the circumstances, I think we will be all right to finish fifth and to be pleased with this result.
Lotus is going to be racing all over the world in the next several years and is now involved in so many projects, including the Indy CAR and the Indy 500 in the USA. Can you tell us about all the racing programs and why is it so important for Lotus to be present in so many racing series?
Lotus today is the only car company — still today, it's a small company — but it is the only company that won all the major world championships that actually exist. Formula 1, Indy 500, World Rally, GT Racing, Le Mans car. There is no other car company that won that. So you can see that motor racing was always actually the core ingredient of the success of Lotus in the past, and therefore, we decided because it was good 30 to 40 years ago, why should we change this? And I believe all that we are doing with the new product is that we are trying to get the brand back to where it belongs, and this also includes motorsports activities, and therefore we've started a motorsport in many different areas from Formula 1 to Indy car to GT to Rally to Le Mans, and one day, we would like to be as successful as the founder of this company was 30 years ago, 40 years ago.