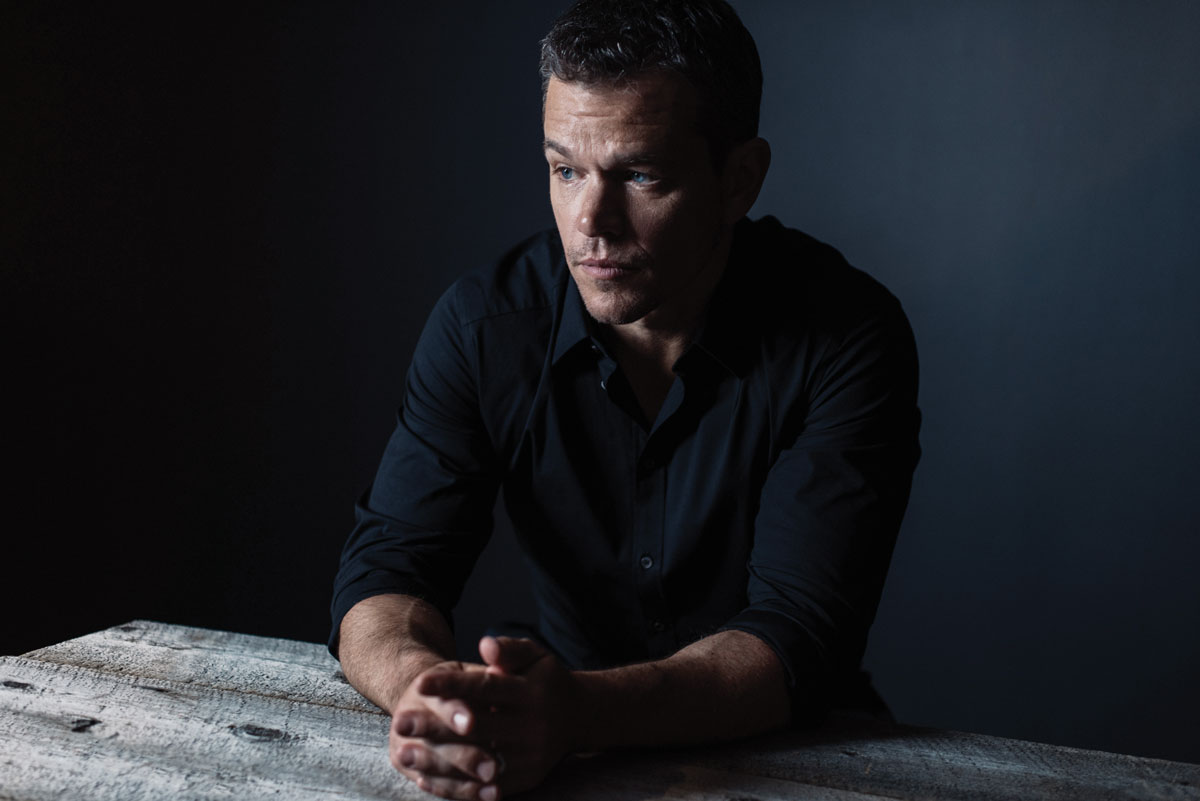 Photography by Jeff Vespa
Even if you don't know much about Matt Damon's biography, you probably know where he was born. Just like his peers Mark Wahlberg and Ben Affleck (the latter of whom he will forever be linked to), the actor is proudly from Boston and exudes its quintessential down-to-earth toughness. There is something ineffably unmistakable about people from the city (especially South Boston), but their blissfully defiant, world-beating mindset is best encapsulated by Damon's cohorts in the movie that changed his life forever twenty years ago: Good Will Hunting. But just like his character in that film, Damon seems more cerebral than one might first assume, as if he's quietly pondering life's grander mysteries while carrying on as a charming everyman-turned-A-List movie star.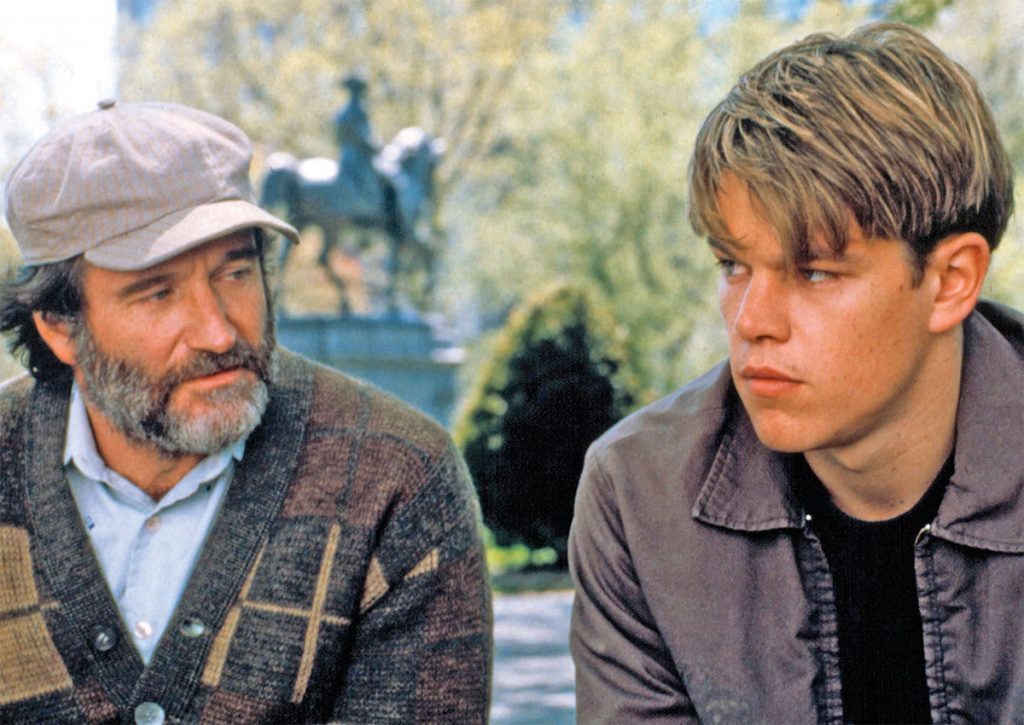 Determined, politically active, and never one to back down from a fight, the former Harvard student, and the five-time Oscar nominee has an air of subtle profundity to him. "He's very sneaky how talented he is as an actor," says George Clooney, Damon's old friend and director of his latest film Suburbicon (out October 27). "You don't see him sweat at all." At 46 years of age, he has now been performing the vast majority of his life, giving subtly solid performances in over 60 films. As viewers, we tend to take his sneaky talent for granted, but it is likely why so many top directors like Clooney adore him. From Spielberg to Soderberg, Eastwood to Scorsese, the preeminent auteurs of our time can't say enough about Damon's talent, no-frills demeanor, and work ethic. He shows up and does reliably great work every time without any hassle or pretentiousness.
Today we take Damon's comforting screen presence for granted so much that we might overlook the painstaking work it took for him to get here. Of course, almost everyone knows the story of Good Will Hunting. It's a practically mythological tale of how Damon and his fellow struggling actor buddy Affleck lived together off Kraft Mac-N-Cheese in a crummy apartment while writing the screenplay that would win them the Oscar and catapult them both into the realm of Hollywood royalty. Everyone loves the idea of a couple of average guys, "dreamers from Southie," breaking into one of the most elite circles in the world. But people forget that the script was actually born from a writing exercise in one of Damon's English classes while he was attending Harvard years earlier.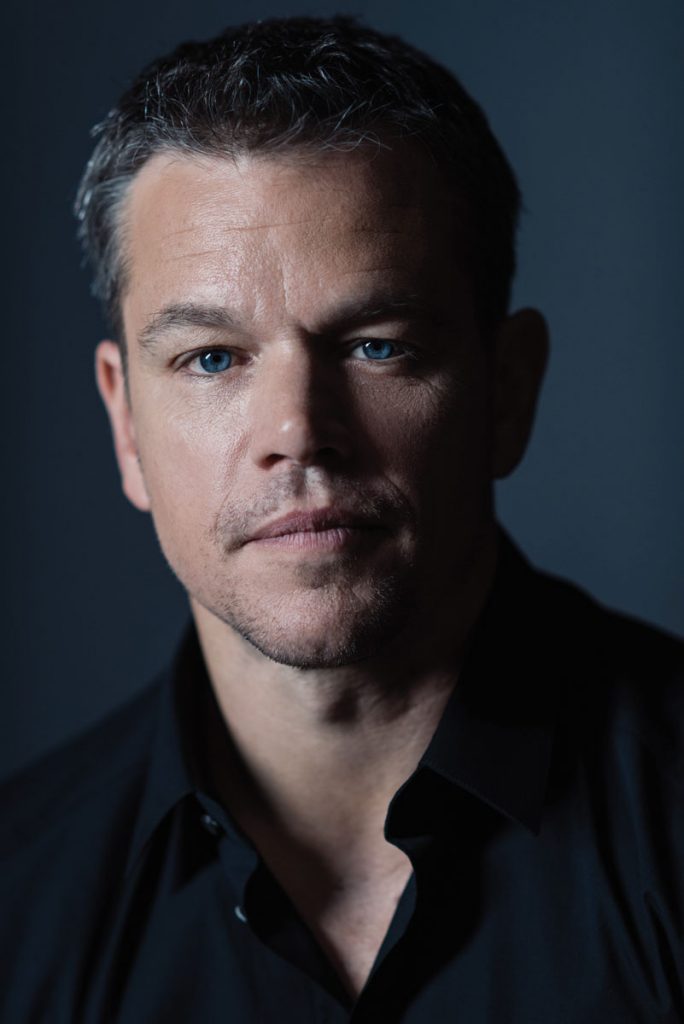 That Damon ever got accepted into Harvard in the first place speaks to his intellectual and creative capacity. But just like Will Hunting, he always yearned for more. For him, acting was forever the ultimate prize, and as the story goes, he would routinely skip his Harvard classes to take on auditions. Eventually, Damon dropped out entirely when he landed a role in 1993's Geronimo: An American Legend, a film he thought would launch his career…but ended up going nowhere. Damon describes these early years as "fighting for table scraps," and was constantly battling the actors who would eventually define his generation, guys like Edward Norton, for work.
"You'd go in and fight each other," Damon says, "and if you got hold of a role, you'd have to make enough of an impression to get another job." When he lost a very juicy part in 1996's Primal Fear to Norton, Damon says he "knew it was an instant career changer for whoever got it." He was right, as Norton ended up landing an Oscar nomination for the performance, his first major film role. But Damon would get to make his impression soon when he landed a part in the Denzel Washington film Courage Under Fire that same year. To play the movie's malnourished Army medic, Damon had to shed an astonishing 60 pounds in a short period. ("All I ate was chicken breast, he says. "It's not like I had a chef or anything…I just made it up, and that was incredibly challenging.")
But his efforts and toil paid off, as the film got the attention of much of Hollywood. Before he knew it, he was shooting Good Will Hunting alongside the late, great Robin Williams. The film received nine Oscar nominations (including one for Best Actor for Damon), and the rest is history. If you ask the average American male what his favorite films from the late Nineties are, chances are they mention at least one of the three movies Damon made in the subsequent two years: Saving Private Ryan, Rounders, and The Talented Mr. Ripley. And by the turn of the century, the man had managed to gain respect as both a dramatic character actor and a traditional leading man.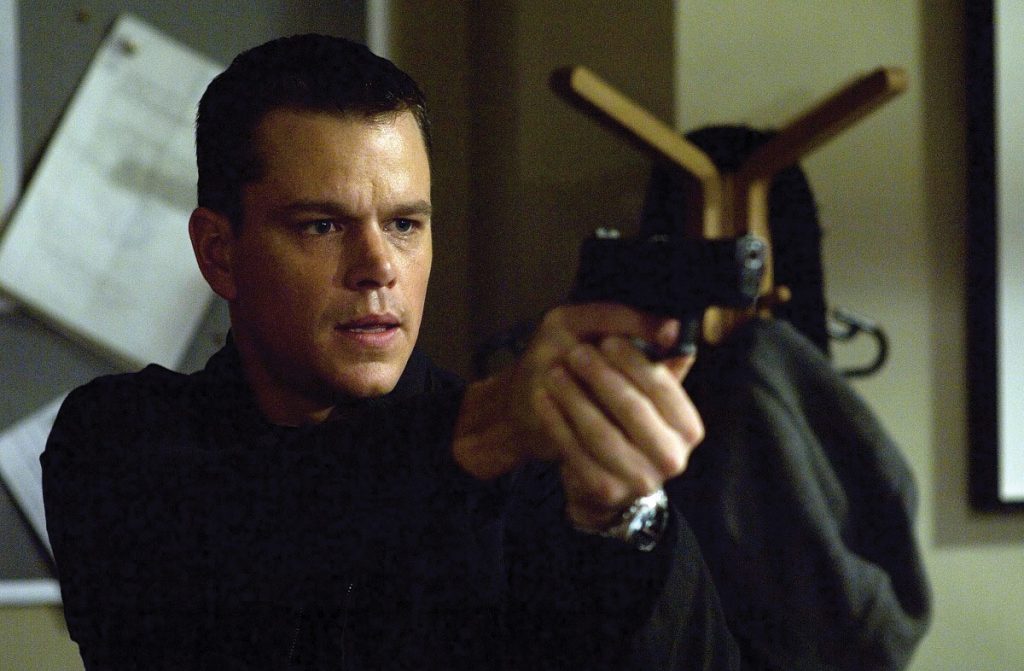 Then in 2002, The Bourne Identity made him a global action hero. (To remember how improbable this was at the time, go back and watch the brilliant scene in The 40-Year-Old Virgin where Paul Rudd describes his incredulity about the matter.) Five years later, Forbes named him "Hollywood's most bankable actor." But Damon continued to avoid the typical path and make bold and interesting choices with films like Invictus, The Informant!, and Behind the Candelabra. By the time he received his third acting Oscar nomination last year for The Martian, one might have wondered what kind of role Matt Damon couldn't pull off. But even he admits that both of the films he has coming out this year were challenging to just get off the ground. "I'm really proud they got made," he says. "To be a part of [these two movies] and know that they came out of the Hollywood system is great because it means we're not totally dead yet."
First up, Suburbicon. The film is a dark but humorous satirical look at a seemingly idyllic suburban community housing an insidious underbelly. Damon plays Gardner Lodge, on the surface a loving husband and father who on a whim hatches a plan to stage a home invasion for the insurance money and run off with his sister-in-law, played by Julianne Moore. The movie is full of plot twists and tonal shifts and weighty subject matter that make it one of the most ambitious projects its director and star have ever tackled. The film forced Damon to play a character who is both extraordinarily complex and difficult to empathize with (not unlike the now-iconic Tom Ripley).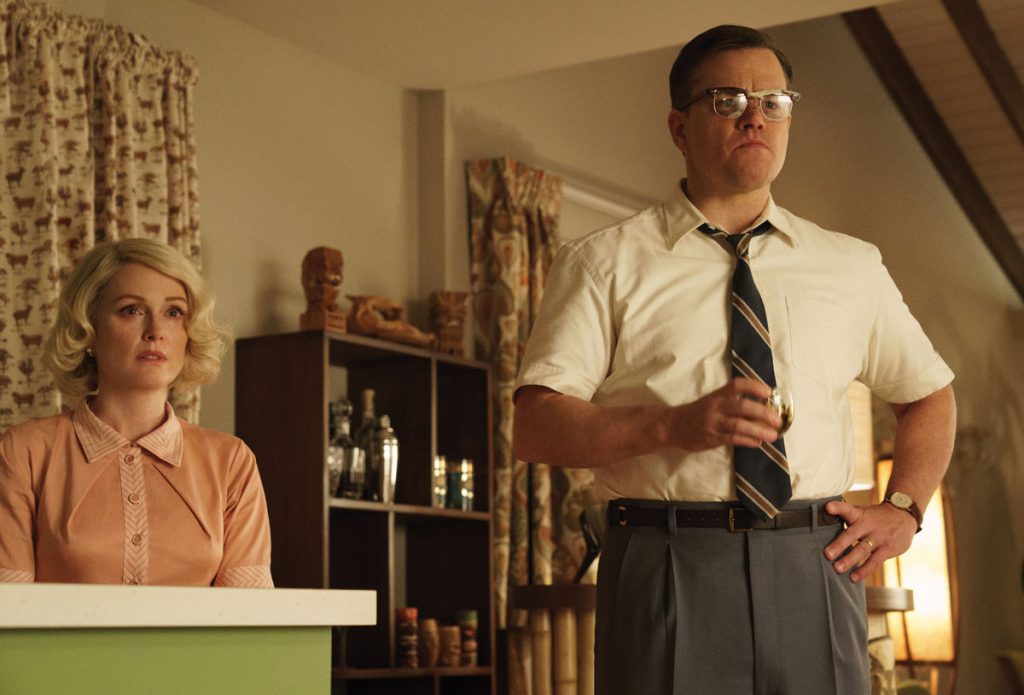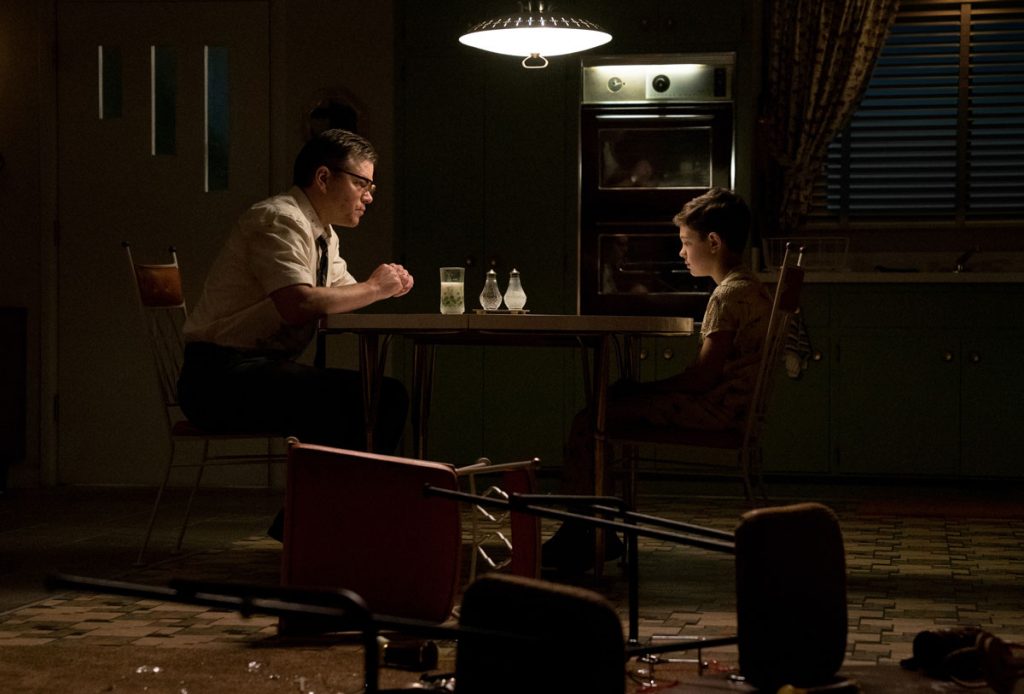 Very few actors would be willing to take on such a role, and even fewer could pull it off. In doing so, Damon has only further endeared himself to his longtime friend and six-time collaborator Clooney. "I don't know a better actor I've seen in my life," Clooney says. "He's…eminently watchable…and, quite honestly, he's great to work with." Damon is equally complimentary of his old friend and says that great directors are the one thing he looks for when searching for a role. "That's all that matters in film," he says. "A mediocre director will ruin a great piece of material."
"I don't know a better actor I've seen in my life." George Clooney on Matt Damon
No one would ever call the director of Damon's second film of the year mediocre. Out December 22, Downsizing is directed by universally respected two-time Oscar winner Alexander Payne (Sideways, The Descendants), and Damon is clearly a fan. "[My] job is so much easier with a director that's so sure-handed," Damon says of Payne, "Because you always know where you are; you always know exactly what it is that you need to convey." The film has one of those brilliantly absurd high concepts we don't get to see that often in grown-up films anymore. In it, Damon and the always enjoyable Kristen Wiig play a couple that agrees to be shrunk down to about five inches tall so that they can live a much more Jetset lifestyle (you see, their $52,000 bank account equates to about $12.5 million in "Small World").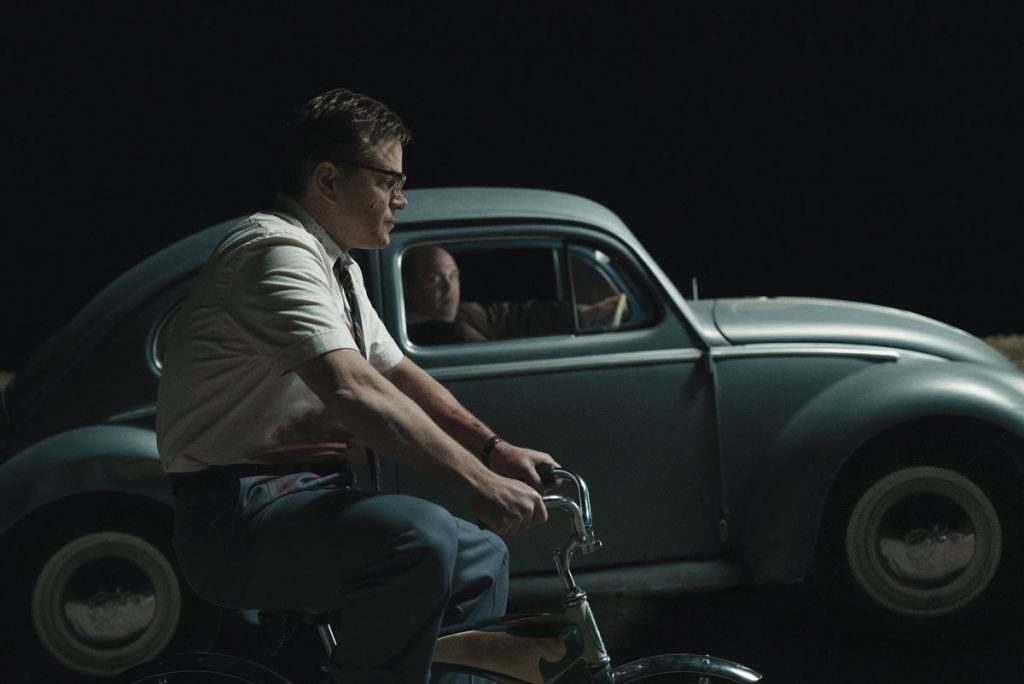 If this all sounds incredibly absurd, it's because it is. But its also unlike anything you've ever seen before, and Damon and Payne ground the film in just enough reality to sell the concept. Along with Suburbicon, it marks the fourth consecutive film Damon has made without a break ("Two solid years of work," he says), and the actor admits to being both exhausted and anxious to spend more time with his wife Luciana and their four daughters. ("I have to be with my family," he adds.) So aside from a bit part in the female-led Ocean's Eleven spinoff, Ocean's Eight, Damon currently has no acting roles on the horizon. (When asked about a fifth Bourne film, the actor says "maybe someday.")
But Damon does have four upcoming projects he's producing (he now has 20 production credits to his name, including last year's Oscar-winning Manchester By the Sea), and far more significant things than movies to focus on. As the co-founder of Water.org, he has been working to help people across the world get access to clean drinking water. The way he sees it, his efforts extend beyond a fundamental moral imperative. "It's smart money," Damon says, "I mean, for every dollar you're putting in to the water sector, you're getting back seven…it just makes sense." Harvard is starting to make sense now too.