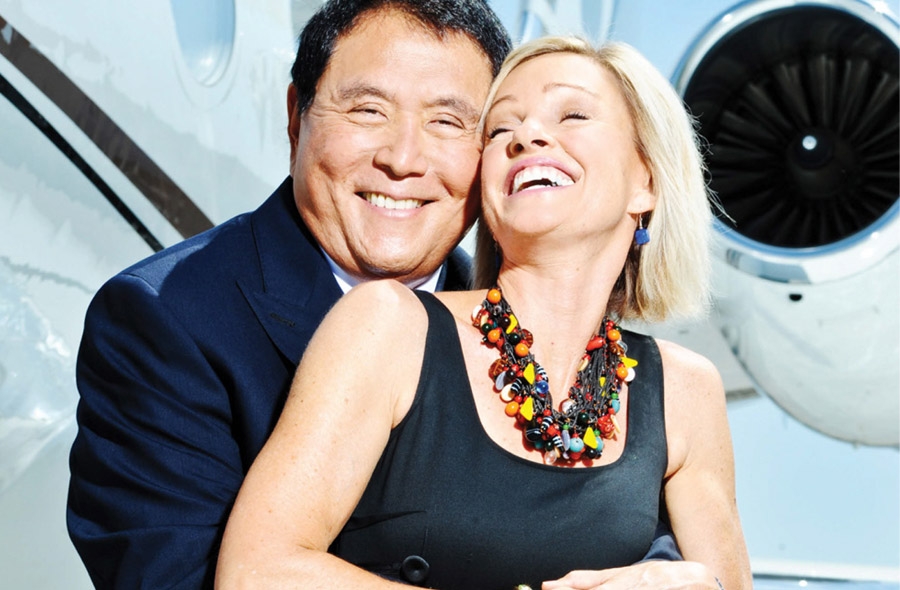 Say the name Robert Kiyosaki to a friend, and there are one of two possible outcomes: The friend shrugs his shoulders and says, "I don't know who that is," or he flips head over heels with excitement and proclaims, "I've read every one of his books! He's amazing!" There really is no in between.
And yet, that doesn't make much sense. Robert is an accomplished author with several published books under his belt, and one with a title so popular it's become a part of America's cultural lexicon. He's worked (and continues to work) with huge names such as Donald Trump, plus he has radio shows, websites and even does a few speaking engagements now and then. So why doesn't everyone know him by name?
Fact is, not everyone has heard of Robert, but almost everybody knows his most famous piece of work, Rich Dad, Poor Dad, which has sold so many copies that it's the No. 1 personal finance book ever produced. Since then, he's gone on to write Cashflow Quadrant, Unfair Advantage: The Power of Financial Education, Rich Dad's Conspiracy of The Rich: The 8 New Rules of Money and written two books with Donald Trump: Why We Want You To Be Rich, and the latest one, Midas Touch: Why Some Entrepreneurs Get Rich — And Why Most Don't. His name may not ring a bell, but it sure does get cash registers to make some noise.
Robert wasn't always successful, though. As the story goes, his biological father was the head of the Hawaiian school system, and well educated. Financially, he did all right, but it seemed like there never was enough money for his father to be happy. Robert's best friend lived down the street, and his dad was quite the contrast in personalities. Although he didn't have a good education under his belt — or a lot of cash — he was always striving to better himself and his family by asking, "How can I afford it?" As Robert watched his biological, "poor" dad and his friend's "rich" dad get older, he saw that the rich dad ended up succeeding in life and becoming financially well off by the time he passed. His poor dad, though, died with nothing much to speak of financially, and lots of regrets to show for it.
Robert learned these concepts, but it was years before he actually put any of them into practice. After high school, he joined the Merchant Marines and moved to New York City, then went to flight school to fly for the Marine Corps. This took him to Vietnam, where he flew a helicopter gunship and, at the end of his service, was awarded an Air Medal for his valor.
It was 1973 when he came home from overseas, and he was greeted by his father, who was now in his 50s and unemployed. "That kind of turned my whole point of view," Robert says. "I think I got a glimpse into the future. I could see my generation not having jobs." Although his father wanted him to go back to school to get his degree, and his peers from the military were flying for the corporate airlines, he decided to take his own path and become an entrepreneur.
He fought the impulse at first by taking a job at Xerox, because his Rich Dad told him that all jobs were about sales, so he might as well learn the ropes. That worked for a few years, but it wasn't meant to last. In 1977, inspiration struck and he decided to go out on his own. "Around '77 I started the first nylon velcro surfer wallet business, because going to a sailing school in New York, we all carried nylon wallets," Robert explains. "Everyone kept asking, 'Where did you get that wallet from?' We sewed it ourselves because we made it from sail cloth from our sails. So we thought it would be a good business."
It was for a time, and in just two years Robert and the other owners of the company were millionaires. But being young and flush with cash isn't a great combination for long-term growth, and most of the cash went towards the obvious: "[We bought] fast cars and we started dating fast women," Robert says. "And the women were much faster than the cars." The business went down, came back up, and went down again, and that's when Robert's future wife, Kim, entered the picture.
The pair met in Hawaii, but at the time, Kim was getting ready to move back to her hometown of New York City. Robert used all his salesman skills to try to get that first date with Kim, including some unorthodox methods. "He even asked my best friend at the time, who was an old girlfriend of his from eight years earlier, for a referral," Kim says. When she finally caved, they decided to go out to dinner at one of the best restaurants on the islands, which conveniently enough was on the bottom floor of his condo complex on Waikiki Beach. "The valet meets me at the car, shows me to his apartment and he's got the little Mercedes convertible, so it looks really good," Kim recalls. "But he was flat broke."
This happened to be one of those magic moments in life where everything comes together at the right time. Robert had just returned from a trip over to China to see where his wallets were being produced. Turns out that it was a full-blown sweatshop, and it made him sick to his stomach. He decided he needed to get out of the business, and that's right when he met Kim. "I said, 'I think I'm going to teach what I know, rather than make money off what I know,'" Robert recalls. "And by 1985, we started our first business together as a couple."
Times were tough for a while, and money was pretty tight. The couple even resorted to sleeping on friends' floors when they couldn't pay the rent anymore, but through it all, they stayed together. "There were times we both wanted to split up," Kim admits. "By going through it, it made us a lot stronger as a couple — and as individuals."
For the next decade, the husband-and-wife team worked the plan like the Rich Dad had taught Robert, and by 1994, they were making $4,000 per month without stepping into an office. They were effectively retired. And once word got out that they were able to make money while sitting on the sidelines, the calls came pouring in to do special talks and presentations. The gears started turning, and that's when the idea for Cashflow 101 came to fruition. Cashflow is a board game that Robert and Kim designed, and it has been described as "Monopoly on steroids." Basically, the game teaches players how to live the Rich Dad lifestyle, in a fun and educational way. The couple sold a lot of copies of the product, but the demand for their knowledge seemed to be insatiable.
That's when Robert decided to write his first book so that he could get the word out to the people. Problem was, in Robert's words, "The first book sucked." Sure, it hit a few best-seller lists in Singapore and Australia, but he couldn't find a book publisher to give him a deal to save his life in the states, forcing him to self-publish the book. A few years later, he was sitting down and wrote out those fated words: "I had a rich dad, I had a poor dad," and that's when he knew he had gold. By 2000, Rich Dad, Poor Dad was on the New York Times Best Seller list, but it was still a grassroots seller. The Kiyosakis had been marketing this book themselves, because without the help of a big-name publisher, there was no one else to promote it.
When the call came to appear on the Oprah show, the Kiyosakis were ecstatic. This was a national stage where they could sell their book and potentially offload millions of copies. Robert took the stage with Oprah in 2000 and preached his gospel of not going to school and how to make it in business as an entrepreneur to enthusiastic cheers from the crowd. After talking about his theories and his book's teachings, Oprah asked, "Where can people go to get this book?" To which Robert replied, "It's available at bookstores nationwide!" Except it wasn't.
Remember, there was no publisher, and no distribution for the book. Kim and Robert had boxes sitting in their garage, and they would ship them out direct via the mail and UPS for every person who bought a book. Robert knew this, of course, but he also knew that if he said the book was in bookstores, the demand would cause the retailers to stock the publication. Sure enough, just a few days later the phone calls came in, books were shipped to bookstores, and the rest is history. And it's all thanks to Oprah. "At the end of the show, Oprah says, 'Hey Rich Dad — I just sold a million copies of your book,'" Robert recalls. "Our net was about $5 a book because we self-published. I said, 'I made $5 million in one hour. I've never made that much money in an hour.' That's how Rich Dad blew up: it was the Oprah effect.
With the book on the New York Times Best Seller list, the Kiyosakis' dreams of being wealthy were soon realized. To capitalize on their success, they turned the original book into a franchise, and shortly thereafter, more books were published and a business was established around the concept. Kim even wrote her own book, Rich Woman, which has spun off into its own brand of books and products as well. Today, with the e-book industry just starting to take off, they've decided to re-release their publications so that a new audience can view them on their iPad, Kindle or other tablet device. This isn't to say that they live a controversy-free life. It would be hard not to when you base a business on the concepts that are found in the Rich Dad series, such as "don't go to school" and "mutual funds are garbage," which fly in the face of conventional logic. Yet with today's economy diving deeper and deeper down, the Kiyosakis are doing better than ever.
Then there's the Donald Trump connection. The husband and wife met Trump through the speaking engagements that came along after Robert and Kim started seeing success. "I would be the lead speaker, and he would be the cleanup batter at night," Robert explains. "We used to meet in the green room and we just started talking." It turns out that Trump and Robert both have many things in common, and their two philosophies align as well. They first published a book together in 2006 titled Why We Want You To Be Rich, which performed well, yet they felt there was still more to teach. Recently, the duo decided to pair up again on another project, this one called Midas Touch: Why Some Entrepreneurs Get Rich — And Why Most Don't. "Our concern is that unemployment has never been higher, and so many young people come in from school and can't find a job. It's tragic," Robert says. "There's a lot of business books, but very few books on entrepreneurship." This book solves that problem, but at the same time it doesn't pull any punches — some people who read this book might get their feelings hurt.
The book focuses on a few core concepts, with the visual metaphor being your hand with each digit representing a different value. As the book progresses, readers are shown what they need to do to really make money with their own business, with both Trump and Robert taking their own positions on each topic. Both are known for their strong opinions, so what they recommend may not sit pretty with everyone, but they feel these are proven techniques that they have used to get themselves where they are today.
For example, Robert is a big fan of having debt, something that most financial advisors would recommend against. "Debt is the way to get rich," Robert says. "They don't tell you that in school." And he practices what he preaches, too. If the couple takes in $100,000 in sales one day, $80,000 will be reinvested into other opportunities or used as leverage with a bank to get more money. It's controversial, but it's one of the reasons why they are so successful today. "Our message is just about you taking care of yourself," Kim says. The Kiyosakis aren't done yet; they still have much more left that they want to accomplish. They want to keep the Rich Dad brand going further and further, because they want everyone to know that their system works. By teaching the younger generation about their way to get rich, they could potentially save another generation from going through the deep recession that the country is facing today. For them, having a large awareness is really the key to being happy, and when that day comes, they can sit back, relax and retire. For good this time.