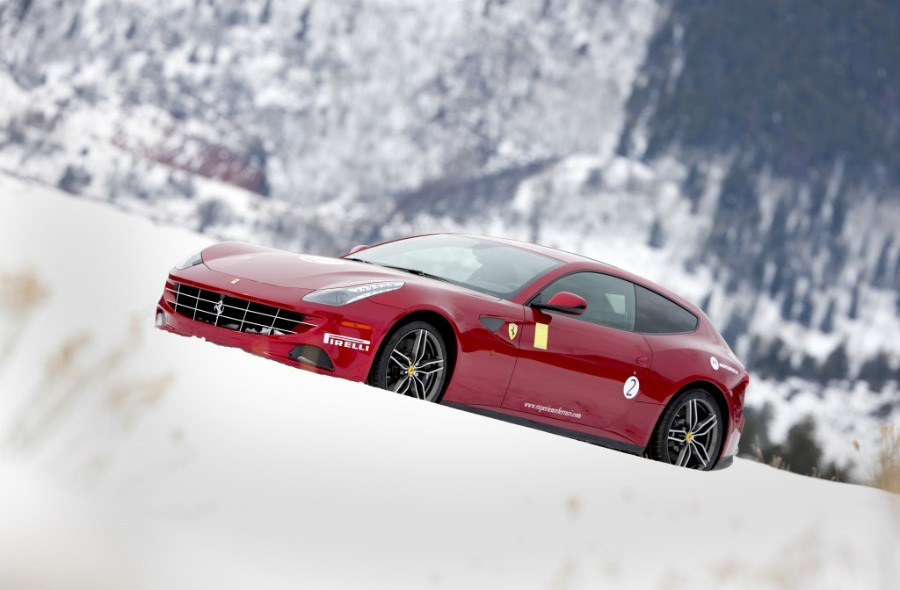 Corso Pilota On Ice Driving School in Vail, Colorado featuring the four-season Ferrari FF.
Performance without compromise is the Ferrari way, so why settle for a utilitarian vehicle when snow begins to fall? With four-wheel drive to conquer low-grip surfaces and accommodations for four passengers and even ski equipment, the FF is the ultimate vehicle for the Corso Pilota on Ice.
Corso Pilota, Ferrari's official driving school for owners, kicks off in North America with Corso Pilota on Ice in Vail, Colo., from January 12-13 and January 19-20. It will be followed by sessions in the spring in Mont Tremblant, Canada, and ending at Circuit of the Americas in Austin, Texas, in November. Courses are offered throughout the year to accommodate clients of all levels with the full-model line-up who want to master the full performance capabilities of their vehicles.
Based at the Four Seasons Hotel, in the heart of Vail Village, Corso Pilota on Ice participants will start by learning how to maximize the Ferrari FF's astonishing four-wheel capabilities while experiencing the spectacular Colorado Rockies.
Together with a team of expert instructors and one-on-one guidance, drivers learn to navigate the region's picturesque yet challenging mountain and canyon roads. In addition, clients experience vehicle dynamics including slides and aggressive braking maneuvers on a purpose-built snow and ice track in Steamboat Springs. When not behind the wheel, a range of winter activities are offered including a skiing package and an epicurean evening.
Corso Pilota on Ice demonstrates the all-season athleticism and versatile luxury of the 12-cylinder, 651 horsepower Ferrari FF grand tourer. Equipped with Ferrari's exclusive and proprietary "4RM" all-wheel drive system, the FF embodies Ferrari's race-bred driving characteristics while providing the added traction necessary for low-grip situations.
For more information, please visit www.experienceferrari.com.