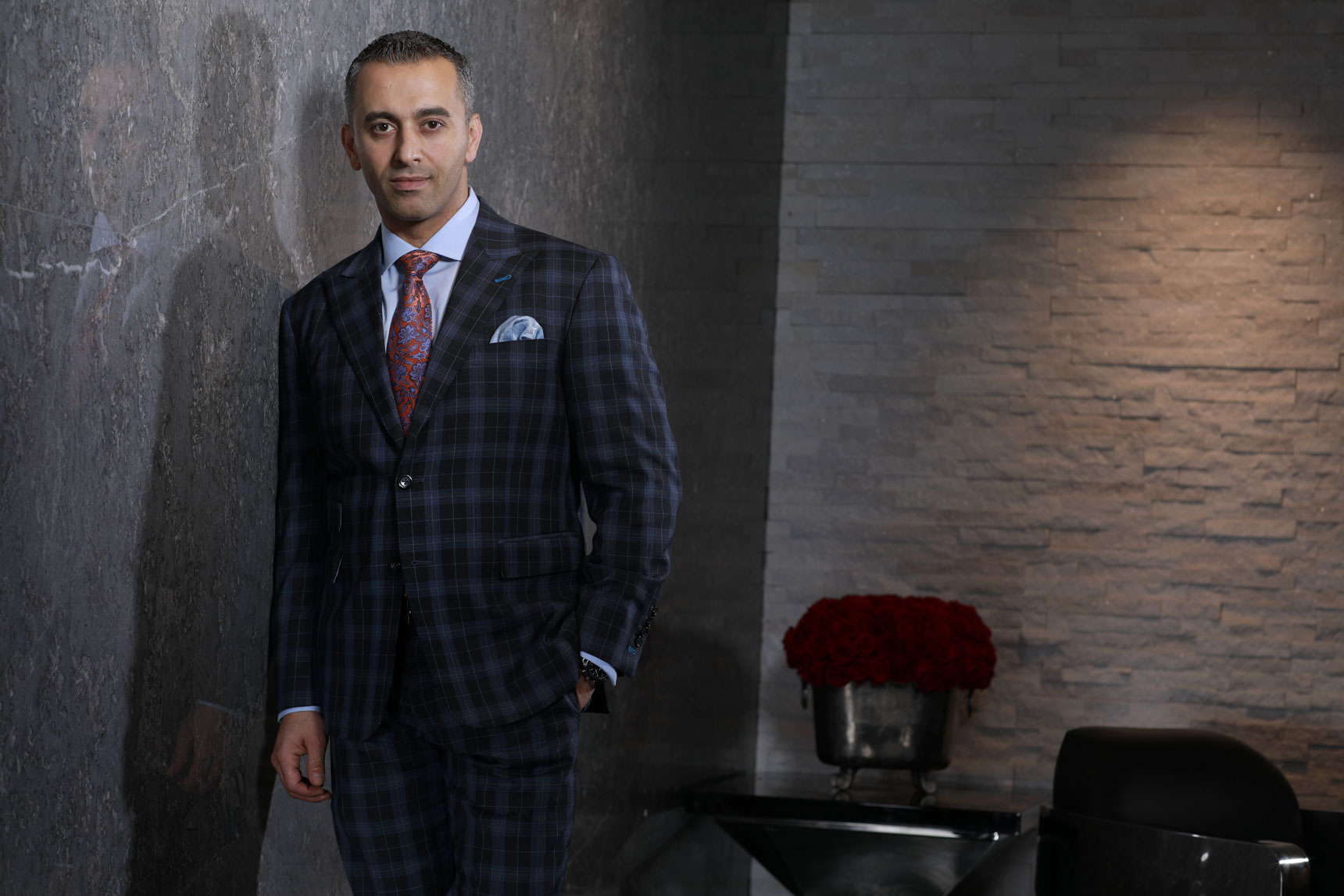 They say the suit makes the man. If that's the case, then Jerry Bakchyan has made many, many men. The founder of perhaps Los Angeles' most renowned bespoke suit store, JB Clothiers, for over 20 years, Jerry has been making men look and feel their absolute best. His elite clientele includes everyone from CEOs, entrepreneurs, doctors, and lawyers to celebrities, athletes, and entertainers, while his DTLA shop has been used to film countless major Hollywood productions like Ray Donovan. Jerry's organization boasts a flawless five-star rating on Yelp (nearly unprecedented in today's day and age), and time after time, JB's clients continue to write rave reviews of the experience he provides.
When you speak to Jerry, it's easy to understand why his clientele cherishes him so fervently; his passion for his craft and dedication to his clients is readily apparent. "To me, it is never about the sale," he says. "Every person who comes to me for a suit, I want them to feel like it's the best suit they have ever worn, because it is." JB Clothiers implements over 3,000 fine fabrics in the design process —most imported from Italy and England — and the level of care in which they use those fabrics to craft something that fits exquisitely and perfectly compliments your frame is nothing less than a time-tested art form. And Jerry and his trained staff are true sartorial artists in their craft.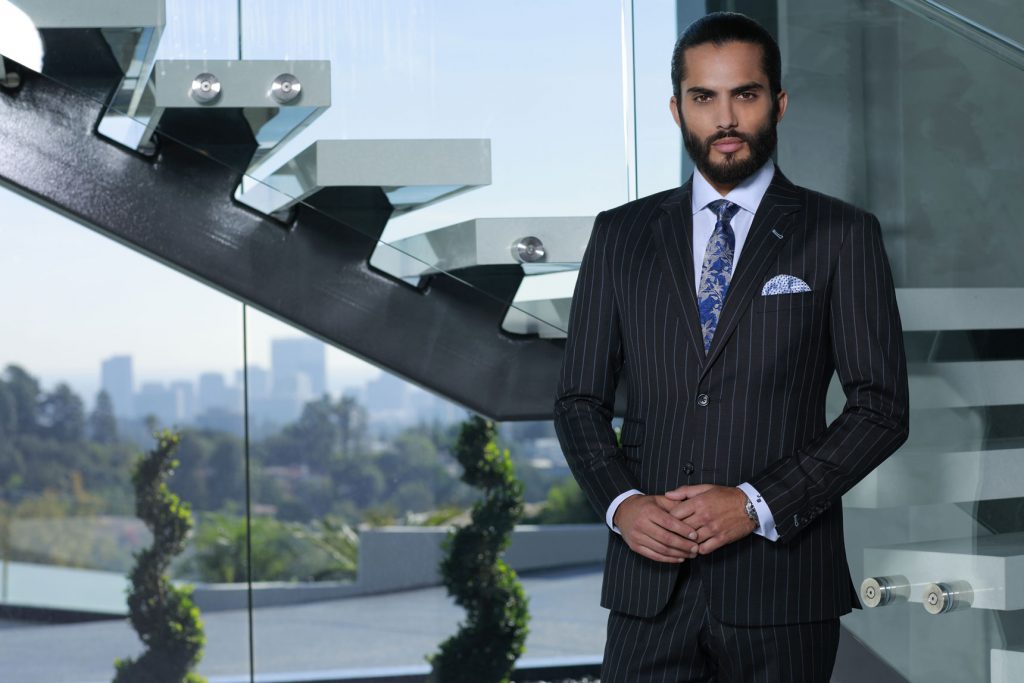 When I ask Jerry what it is that inspires him about the art of fashion, he gets very passionate. "The level of elegance it brings to one's life is incomparable," he says. Jerry's commitment to his craft dates back to the fateful moment when he was a teenager and was fitted for his very first suit. "When I put it on I had a feeling that I simply couldn't compare," he tells me. "It made me feel more important, more powerful, people paid attention to me and listened when I spoke." From that point on he knew he had to help others experience the same ineffable sensation. After spending some time in the banking industry, he decided he needed to follow his heart, and he has been helping men look and feel their very best for the last two decades.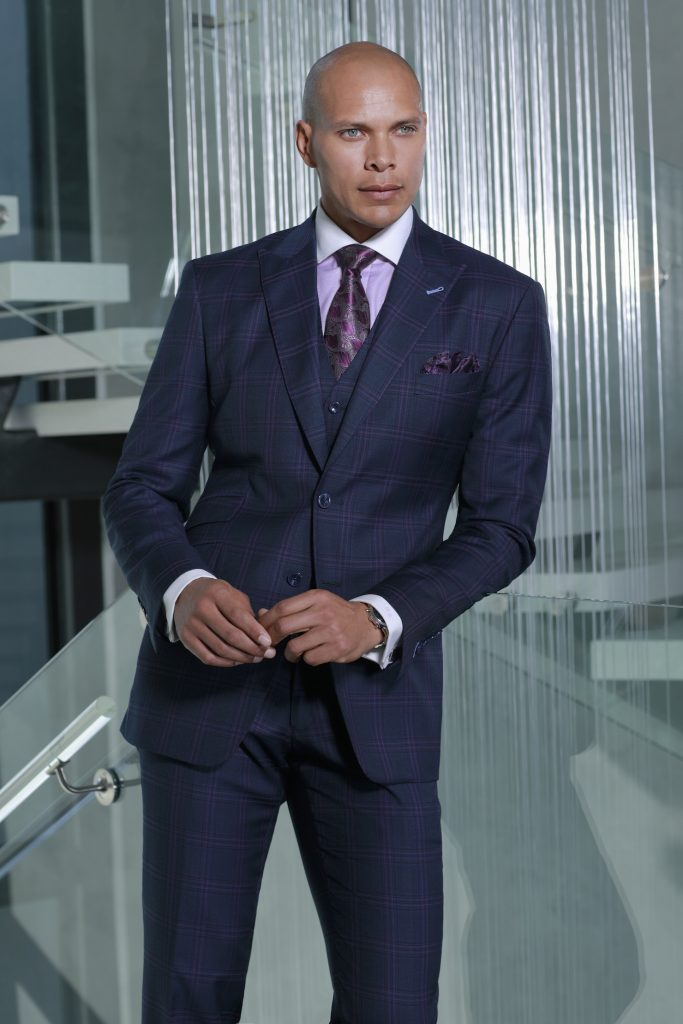 Because as a man there really is no sensation quite like being fitted for a suit. Sure, anyone can go to Hugo Boss, or Tom Ford, and buy a beautiful ensemble off the rack and then take it to their tailor for alterations. And the suit they buy will look and feel like an elegant garment of quality…but it's just not the same. Those suits were designed with ideal men and mannequins in mind, whereas a bespoke suit was crafted with one person and one person alone in mind…you. A bespoke suit feels like an extension of your being, perfectly crafted to the shape of your body; it is yours and no one else's.
Anyone who has ever been fitted for a bespoke suit knows the indelible feeling that Jerry describes above. It's one of those simple pleasures that are just supremely enjoyable for men, like getting a first-class haircut or having a hot shave. But the experience is taken to an entirely different level when one gets fitted at JB Clothiers. "We call it 'The JB Experience,'" Jerry says, "and the idea is to create the most welcoming environment possible throughout the entire duration of the process." That means blanketing you in luxurious amenities like scented candles, light music, and a fully stocked top shelf bar, as well as demonstrating a level of sophisticated and fastidious devotion seldom seen anywhere else.
As Jerry tells it, the JB Experience first begins with a consultation at his spacious Downtown LA store (he says he chose the location years ago because of its emerging art and fashion scenes — a pretty prescient move in hindsight). "We sit down with you and go to lengths to discover the reasons why you have come to us. Your fashion goals, your lifestyle, and the image you wish to present," he says. Where exactly will the suit be worn? Is it your first suit? Or your fifteenth? How active is your lifestyle? What are you trying to convey when you wear it? All of these questions and more will be taken into consideration.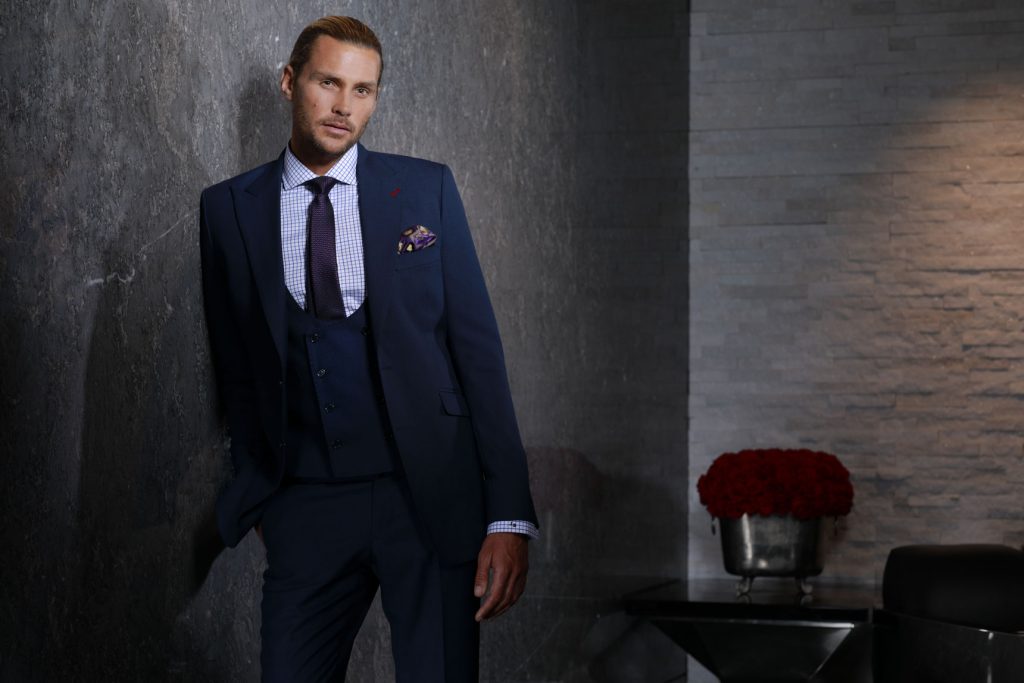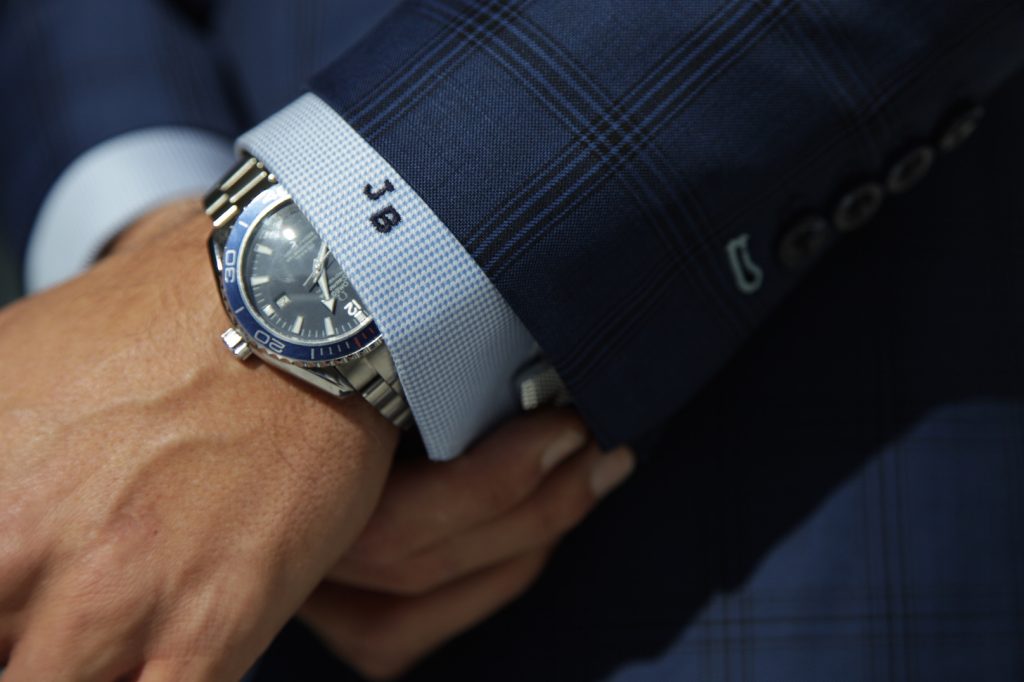 Then they determine the style (two-piece, three-piece…), and go through those 3,000-plus exquisite fabrics, finding the perfect one/ones to complete your masterpiece. Next, they take 34 precise and unique measurements of your body. "That is part of what you cannot get with an an off-the-rack suit," Jerry tells me. "Every stitch of what we create together is specifically for the client and their body." And in about four to five weeks you are called in again once your masterpiece has been created. You then try it on and make sure the fit is nothing short of perfect. "The reactions I hear when my clients try on their suits for the first time is a reminder of why I do what I do," he tells me, smiling. "It's a really beautiful thing to experience a man looking at himself with confidence!"
Unless further alterations need to be made, Jerry will then begin recommending different ties, shirts, and pocket squares for versatility. "I want you to get as many different uses out of your new suit as possible," he says. Jerry and his team take the customer on a vast tour of everything in their arsenal, carefully selecting the perfect compliments for their new wearable work of art. "I will not let the client leave the store until my standards are met," Jerry says, "to me that is what it is all about."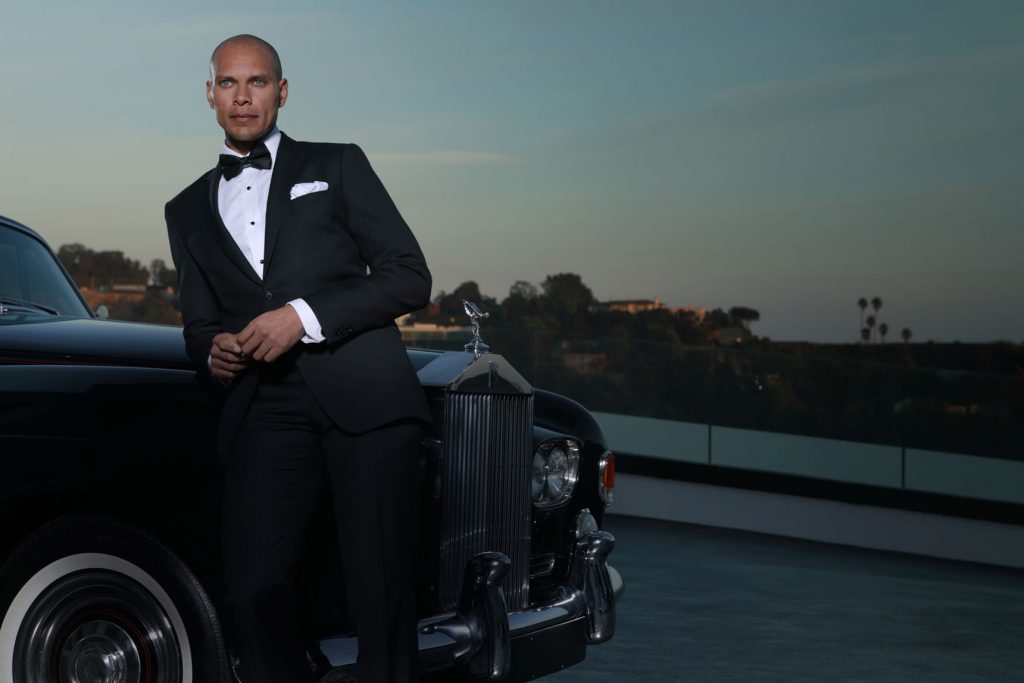 For Jerry, that means providing all of his clients with free lifetime alterations, something that almost no one in the industry does. "When a client wears my suit, he is representing my brand," he tells me, "and if he gains or loses weight, and the suit doesn't fit properly, and someone sees that then my brand is diminished." Therefore, Jerry is willing to eat the cost to make sure that your suit always looks the same way it did that first time you tried it on, a testament to how far he is willing to go for his clientele.
After spending a little time chatting with Jerry, I begin to see why he is ranked number one in the largest Yelp market in the world, or why business titans or celebrities continually praise his work. (Long before I was given this assignment, I would hear the name "JB" reverberating over and over again in elite LA circles.) When I ask Jerry what the future brings, he hints at opening several more locations in Southern California (if only to be able to fulfill demand — JB has on average a 2-3 month waiting list), and to hopefully continue to inspire new generations of clothiers. "I want to find young, talented individuals who share my passion for the bespoke men's fashion industry and help mentor them to join the JB Clothiers team," he says.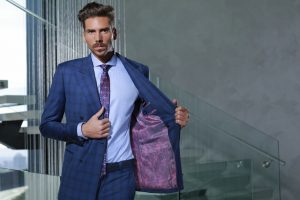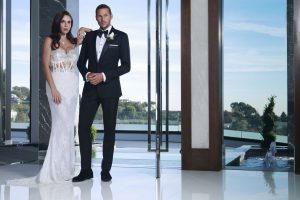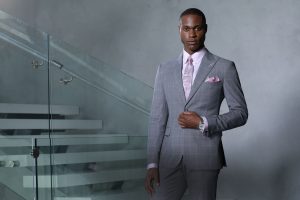 When I press him on his overarching philosophies in business, he says the answer is simple. "Take care of your clients, period." Don't think about anything else…do it right from the beginning, so you don't have to do it twice, and treat people the way you want to be treated…it's not that hard." For Jerry, that level of devotion has ensured his name will continue to be the first one people think of when talking suits in the City of Angels. "I have clients I have been dressing for 21 years," he says, "now I am dressing their next generation." It would seem that he has certainly earned their loyalty.
Note: If you're interested in discovering the JB Experience for yourself, mention Jetset to be bumped up on that famed waiting list when scheduling your first consultation.