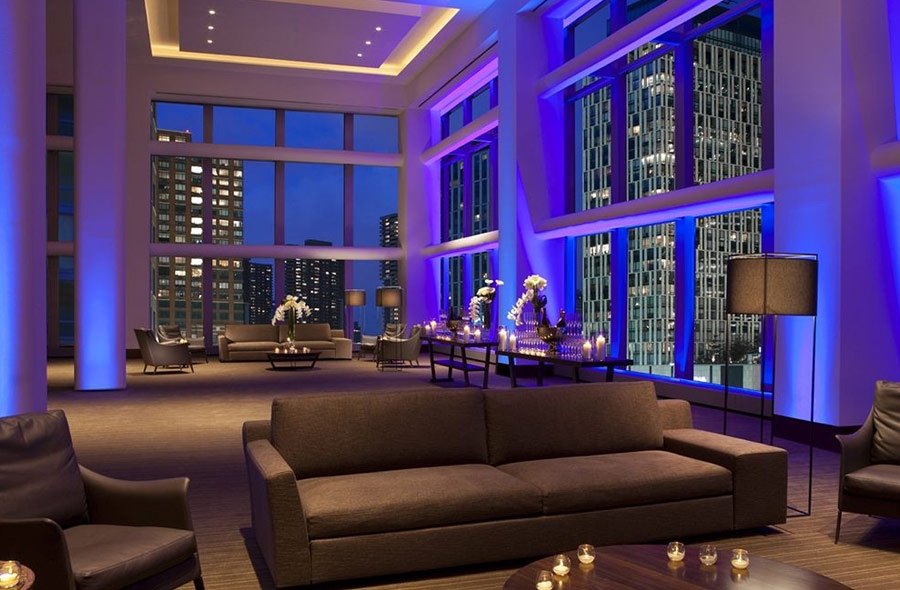 On a seemingly endless list of the best things about visiting New York City is the fact that every trip uncovers a new and exciting hidden gem.
Maybe it's a restaurant that just opened that you stumble upon while strolling through a neighborhood. Or a boutique or antique shop that holds the perfect treasure you never knew you really wanted. Or, in the case of Conrad New York, a beautiful, contemporary, all-suite luxury hotel in the heart of Battery Park in lower Manhattan that features impressive views of the Hudson River and impeccable service and amenities that make a stay there a truly enjoyable experience.
You'll start being impressed the moment you arrive, as you are welcomed into a soaring, sunlit 15-story atrium highlighted by a dramatic blue and purple Sol LeWitt painting that rises 13 floors above the registration desk, and is one of over 2,000 paintings showcased throughout the property. The LeWitt piece alone required 100 gallons of paint and 3,000 hours to complete, and, like everything about Conrad New York, it showcases a true attention to detail that you'll notice throughout the property throughout your stay.
The hotel strikes a perfect tone of elegance, sophistication, style and lack of pretense, and whether you are in New York for business, shopping, sightseeing, a Broadway show or something else, it's impossible not to appreciate the fact that all 463 rooms are spacious suites. As any discerning traveler knows, that fact alone is a rarity in itself in a world-class city, and each guest suite includes two flat-panel televisions along with one-touch technologies. The rooms have been meticulously designed with a deft mix of style and comfort. The bathrooms are exceptionally spacious, which truly makes a difference as you prepare for dinner, a show, gala or event.
I had the opportunity to stay two nights at Conrad New York while I was in town for the launch party of newyork.com in May. Our first night came after a full day of traveling, and after a swift and efficient check-in, we headed to the hotel's signature restaurant, Atrio, for dinner. Having the option of enjoying a truly fabulous meal without having to leave the property is another thing that makes Conrad New York special.
Executive chef Antonio Cardoso brings over 14 years of culinary experience from a myriad of restaurants and luxury hotels. Born and raised in Lisbon, Portugal, his Portuguese heritage wields a strong influence on the flavors of his cuisine, with garlic and olive oil among his favorite seasonings. The wine list is extensive, featuring selections from around the globe, and our 2.5 hour dinner was a memorable experience that really set the tone for our entire stay. Dining at Atrio is a must when you visit Conrad New York, and, if possible, you should cap the evening off at Loopy Doopy, the rooftop bar with 180-degree views of the Statue of Liberty, Ellis Island, New York Harbor and the Hudson River. In-room dining features a full menu of choices around the clock, and is exceptionally fast and efficient.
Other fantastic amenities include a boutique, complimentary shoeshine service, a 24-hour fitness center, and, a destination unto itself, Salvatore's Salon, an old school barbershop and hair salon. Salvatore's attracts all kinds of movers and shakers in the political and financial world of New York, and is an unbelievable convenience for any guests of the hotel who need a haircut, blowout or style and don't have the desire or time to leave.
Luxury hotel options abound in New York City, but if you like the feeling of being able to uncover a hidden gem in a nearly-new hotel smack dab in the middle of a vibrant section of the city that is a short walk or cab ride to SoHo, Tribeca, the Meatpacking District and Wall Street, Conrad New York is a great choice for your next trip to the Big Apple.