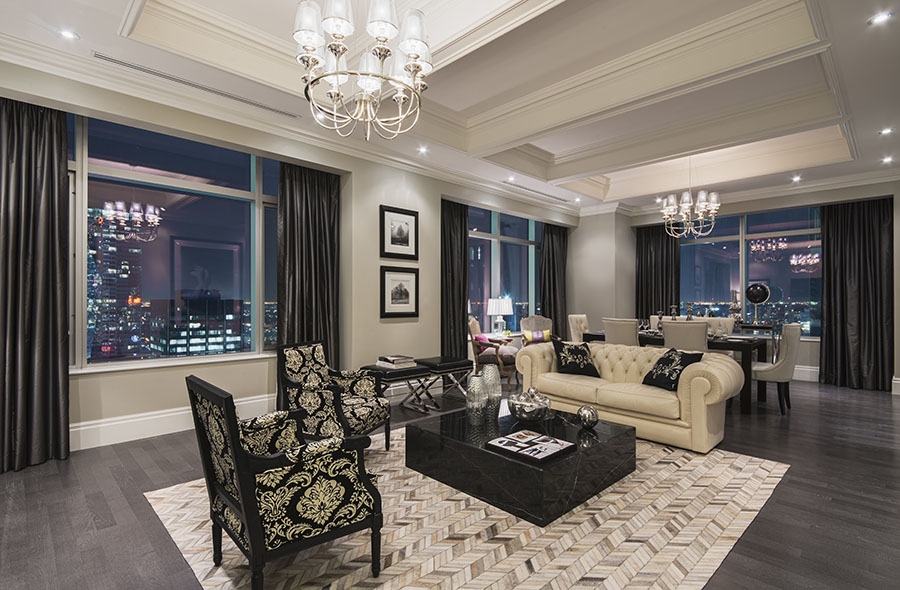 A convincing argument could be made that the launch of Trump Residences Toronto also played a role in Toronto's birth as a 'leading global city.'
Think of it – when Trump Residences Toronto was originally announced a decade ago, planned as one of Canada's tallest buildings and Toronto's first 5-Star Hotel and Condominium Residence, Toronto was in many ways still a North American 'regional business centre' – think Philadelphia, Boston, Charlotte, or Atlanta.
Not a world-class centre of business, the arts, entertainment and culture such as New York, London, Paris, Hong Kong or Tokyo, as Toronto over the past ten years has since become. Not, as various magazines and surveys have since heralded "The world's most livable city."
But where was the genesis of this? For any such drastic transformational change in the look, feel, reputation and brand of a city upon the world's stage – there had to be a spark.
There had to be a perfect moment in time when one of the world's leading global luxury brands looked at Toronto and said: "Yes, this is the city. It's time for this city".
That spark and that company was Trump, along with global visionary Alex Shnaider, and the Company that made it happen was Talon International Development, through its imagination and foresight to build Trump Residences Toronto.
Remember, ten years ago, before the notion of Trump Residences Toronto, the idea of a condominium and hotel in in the same building Toronto had never been seriously conceived, nor acted upon.
Condominium purchasers living in the same development with hotel guests? Residents and guests in the same structure? How would this work? Don't those groups of people keep to themselves? Aren't they both private, 'do not disturb' sign personalities?
Well, it turns out, as Trump and Talon very correctly predicted more than a decade ago, those 'types' of people actually like being around each other. Many even know each other – do business with each other, work those 'deals' together, and more often than not, even socialize together.
And when owners of private and exclusive condominium residences are on the road traveling on business, they are staying in 5-star hotels. So then, this all begins to make perfect sense: luxury condominiums and 5-star hotels, both in the same building. Both catering to the same groups of people, who not only know each other, but like each other.
Remarkable.
So how did the transformation of Toronto into a leading global city begin?
Talon began with the location, a parking lot in one of the city's most central locations – the corner of Bay and Adelaide Streets central amongst the city's financial district. The location was just steps from the King Street and Bay Street intersection, named as the most condensed business address in North America, surpassing even downtown Manhattan. With more than 360 floors of office space on the four corners of just this one intersection, in Canadian ice hockey terminology, this was centre ice indeed.
The Talon vision, along with Shnaider, was to develop a combination 5-Star luxury hotel along with Canada's finest private condominium residences, well above and beyond anything the country had seen before in quality, luxury, finishes, amenities, services and exclusive privacy.
A truly world-class address equal to anything offered in London, New York, Paris, Hong Kong, Singapore, Tokyo or Monaco. A development project that would elevate Toronto into the upper echelon of global cities. Raising the bar beyond what anyone in Toronto had previously envisioned. What they created can only be termed spectacular, an unparalleled atmosphere of luxury for both residents and guests. As you would expect from any product which has the Trump brand name attached, only the finest finishes and superlative craftsmanship are included in each of the private and exquisite residences.
Each suite offers large floor-to-ceiling windows providing unmatched vistas of the downtown cityscape and an infusion of natural light. With grand open concepts and spacious and flexible floorplans, suites range in size from 1,300 square feet to more than 11,000 square feet for penthouses. As testament to the exclusive nature of the residences, only two, four or six suites are on each floor to allow for maximum privacy.
Residences feature dramatic entryways and grand foyers with natural stone flooring, cornice moldings and 10.5 foot to 13-foot-high ceilings. Suites also feature spacious designer gourmet kitchens with custom Downsview Kitchens cabinetry, granite or quartz-surface counters, kitchen islands, breakfast rooms, generous closet space, oversized sinks and top-of-the-line integrated Miele appliances and Rubinet faucets.
Beyond individual residences, the amenities at Trump Residences Toronto are another aspect of what sets it apart from any other condominium in Canada. Included is a two-level spa, state-of-the-art Fitness Centre, infrared sauna, and clean stream 'spa tub'. There is even a 65-foot long saltwater infinity-edge lap pool featuring three Omni-directed underwater dispersion speakers by which to enjoy soothing music swimming high above the bustle of King and Bay Streets.
Homeowners at Trump Residences Toronto also enjoy exclusive offerings such as a residents-only Sky Lobby on the 32nd floor, access to a separate ground-floor elevator lobby and some select suites in the 57-storey tower enjoy private elevator lobbies.
The Talon concept of combining 5-Star residences with a 5-Star hotel in Toronto presented the natural advantage that condominium owners could have private and exclusive access to all the services and amenities provided for guests of the hotel.
The Trump International Hotel and Tower brought a 5-star hotel to Toronto for the first time. Trump Residence Toronto owners may enjoy the Forbes Five-Star 24-hour hotel services including dedicate concierge, in-room dining and full catering by which to host private dinners in-residence.
Owners also enjoy preferred access to the Calvin Bar and the acclaimed America Restaurant on the 31st floor. And, in an offering one would only expect from the Trump brand, purchasers of one of the Penthouse Residences at Trump Residences Toronto also receive a Rolls Royce automobile.
This is the level of luxury that before Trump Residences Toronto was only available in some of the world's most famous cities, but Toronto has now moved into that rarified air, and there are now statistics, which back up that claim.
According to a May, 2015 report from Christies International Real Estate, Toronto has become the hottest-selling luxury residential real estate market in the world. The city saw a staggering 37 per cent surge in high-end residential real estate purchases from "high net-worth individuals' in 2014, according to a Christies survey of 80 global markets.
Toronto has been catapulted into the Top 10 "Best of The Best" cities of the world, along with Hong Kong, Dubai, New York, London, Los Angeles, Miami, Paris, San Francisco and Sydney. In fact, the growth for demand for multi-million dollar homes and $1 million-plus condominiums in Toronto in 2014 far outstripped sales gains in London, New York and San Francisco.
However, what is even more attractive to potential purchasers is what separates Toronto from those other 'Best of The Best' cities – that there currently is a ground-floor opportunity for luxury residential real estate in the city, now the fourth largest Metropolitan market in North America.
While London, New York, Hong Kong and the rest of the best have been a magnet for luxury real estate for decades, Toronto's very recent ascension represents the optimum combination for residential real estate investment – one of the world's most recognized attractive markets for luxury real estate is currently available a cost significantly below that of other luxury markets. However, it is an opportunity that is sure to change in the coming years as more luxury residential real estate comes onto the market.
In fact, 2014 represented only the 2nd best year for luxury sales in Toronto's history, with local real estate experts saying the record could have been easily shattered if supply of luxury real estate had been able to keep up with international demand.
Led by Trump Residences Toronto, the city has become a major magnet for wealthy foreign buyers looking to relocate or to add to their extensive real estate holdings. Many overseas purchasers are in fact looking to move their families to Toronto because of the reputation of Canada as a country of world-class leading universities and healthcare institutions, stable government and financial institutions.
All of this, the new global standard of luxury real estate available in Toronto, the rise into that exclusive class of leading global cities, and the new status as a magnet city attracting leaders in business, investment, culture and the arts, had its beginning somewhere, and Trump Residences Toronto was there at the very start.
Bringing to Toronto a new vision in residential real estate and a new standard of luxury, services and amenities never before imagined in the city. It is clear Trump Residences Toronto can safely claim its idea, and its determination to deliver the finest condominium residence in Canada, sparked a seismic shift throughout an entire city, sure to have a lasting and positive impact. For more information on Trump Residences Toronto visit www.trumptoronto.ca