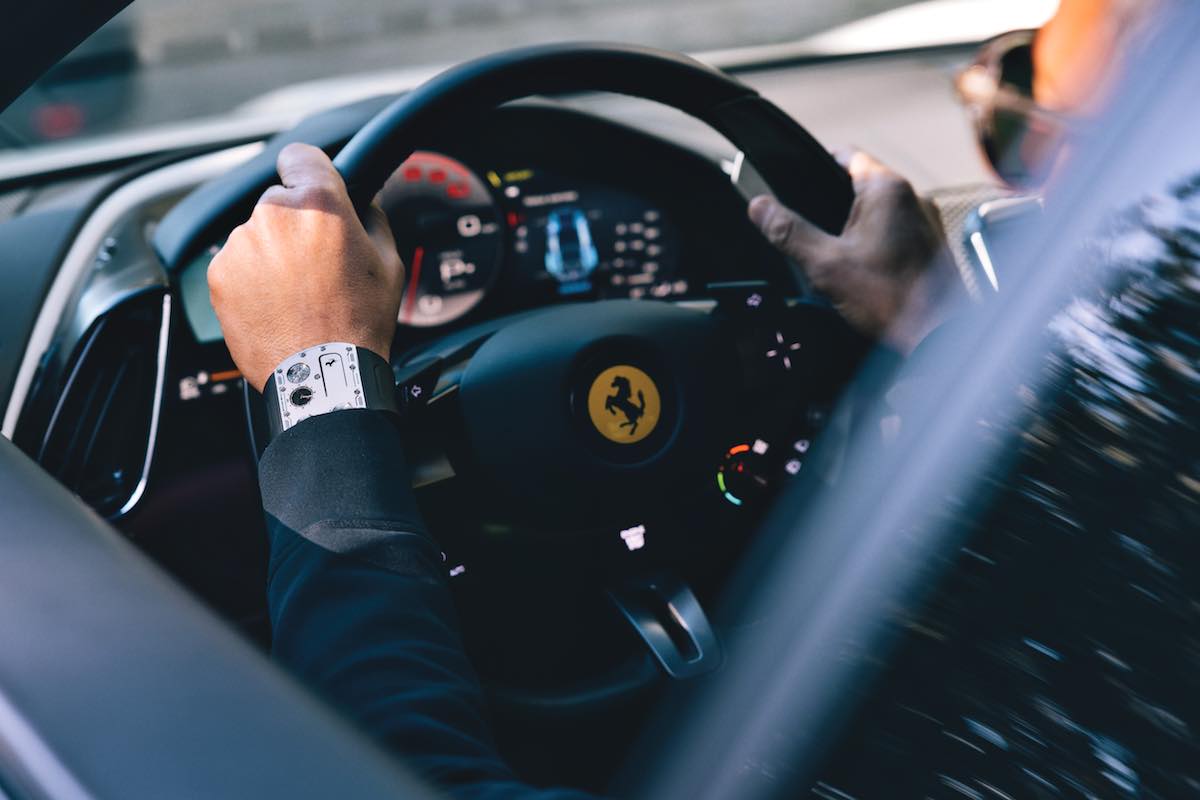 Timeless in design and manufactured with the highest quality standards, the unrivaled craftsmanship of these collaborations was developed by some of the world's most accomplished artisans.
Let's begin with a sophisticated collaboration between Richard Mille and Ferrari that is already smashing previous milestones and setting a new standard for ultra-exclusive watchmaking. The legendary Swiss watchmaker, Richard Mille, introduces its newest timepiece, the RM UP-01 Ferrari. This groundbreaking model features a stated case thickness of 1.75 mm and is now the thinnest mechanical timepiece in the world. The monumental RM UP-01 Ferrari is the first timepiece of its kind to emerge via Richard Mille's multi-year relationship with the renowned Italian automotive brand.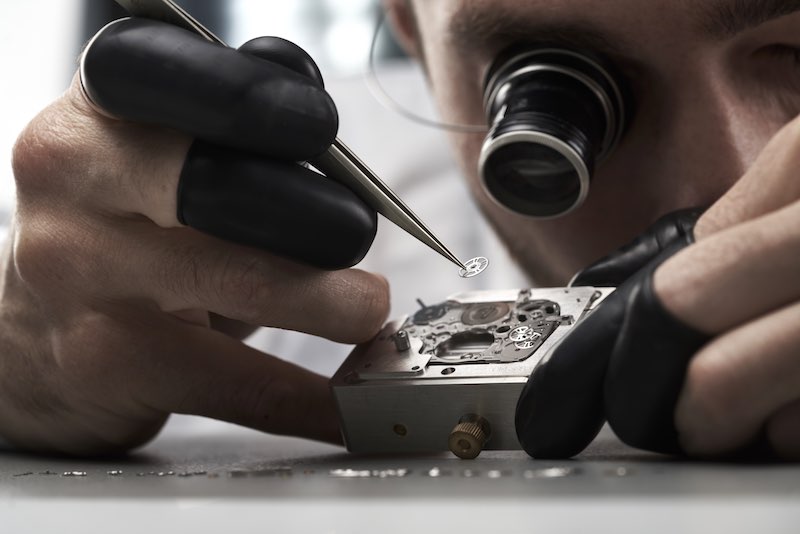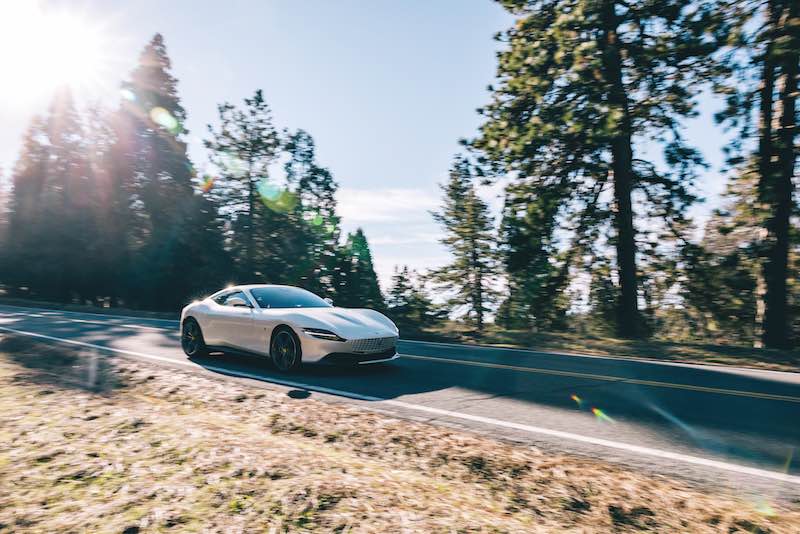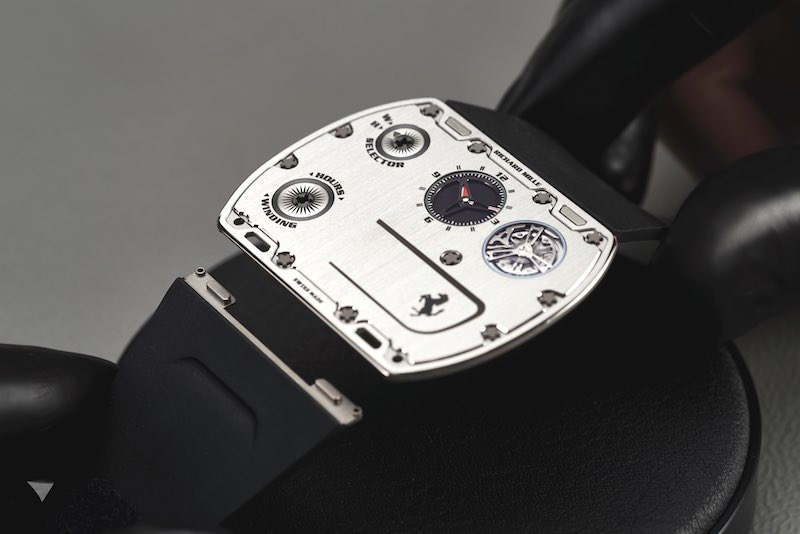 "Ferrari and Richard Mille share a lot of values: obsessions with efficiency, technical prowess, and a strong, loyal following of fans, plus the fact that we're independent brands," said Richard Mille's marketing director Timothée Malachard. "We have quite similar values in terms of being made by hand and built by hand." The collaboration between the Richard Mille and Ferrari teams is visibly expressed in the watch's choice of materials and execution. The RM UP-01 is a model resulting from many year's work, dozens of prototypes, and more than 6,000 hours of development and laboratory testing.
"When we presented this watch concept to Ferrari when we met in the summer of 2020, we said this is a project we are starting to develop, and we think it makes real sense to do this with you," said Yves Mathis, production director at Richard Mille. "So, they were involved already before we signed the contract." The deal was officially sealed in January 2021.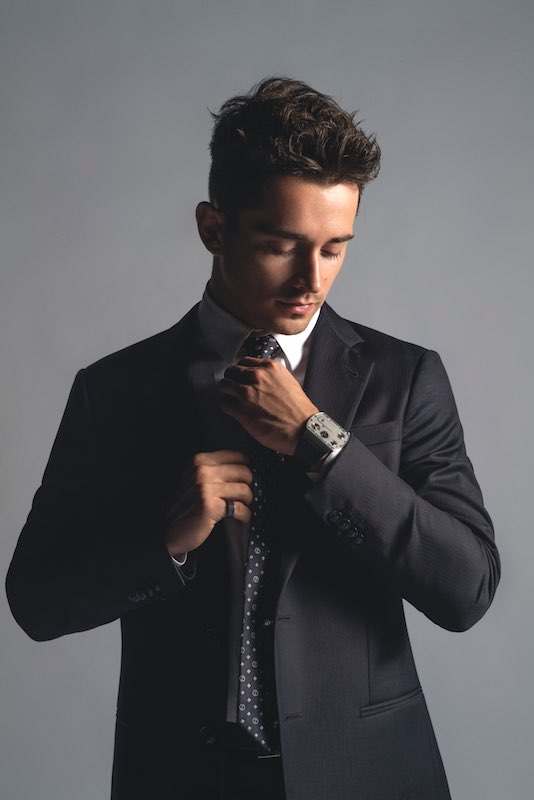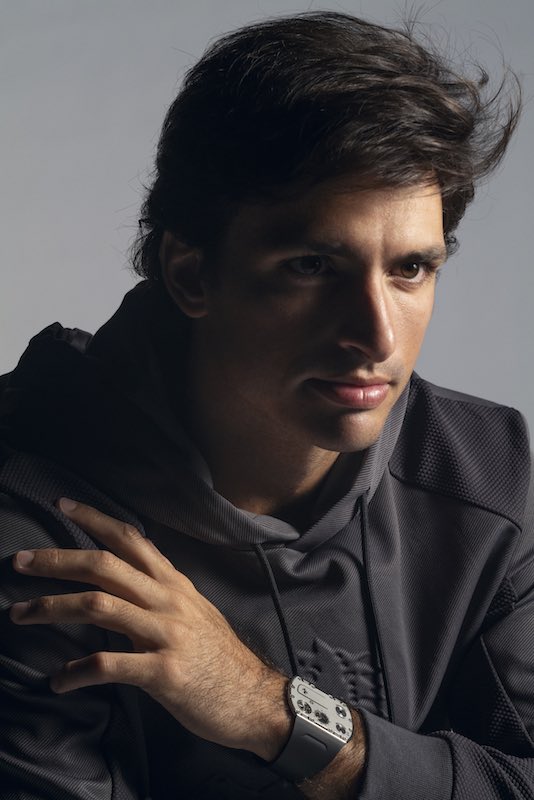 Ferrari's team had a hand in the fonts for the numbers, the style of the hands, the case material, and the laser-engraved stallion, which is so finely detailed that you can see its musculature under magnification. The manually wound RMUP-01 movements, co-developed with Audemars Piguet Le Locle, boasts an ultra-flat rotating bezel and 23 stunning jewels. The RM UP-01 Ferrari will be limited to just 150 units and will cost $1.88M.
In the spirit of high-fashion collaborations, a record number of heritage fashion houses and the sportswear industry have been making headlines over the past few years. "But this year's tie-ups feel a little different," said Julie Pont, creative director of the French fashion insights agency Heuritech. "It's sportswear going back to its 1920's roots, with everyday clothes that enable you to be elegant and comfortable. The boundaries between fashion and sportswear have become more difficult to distinguish."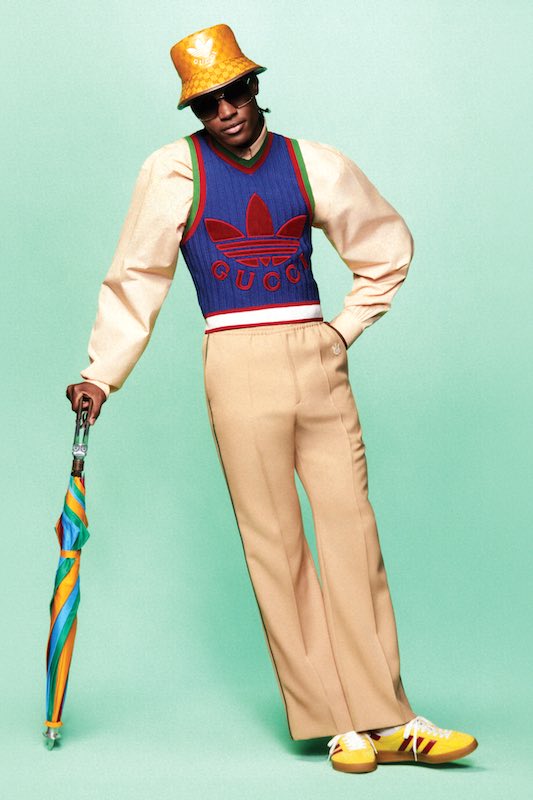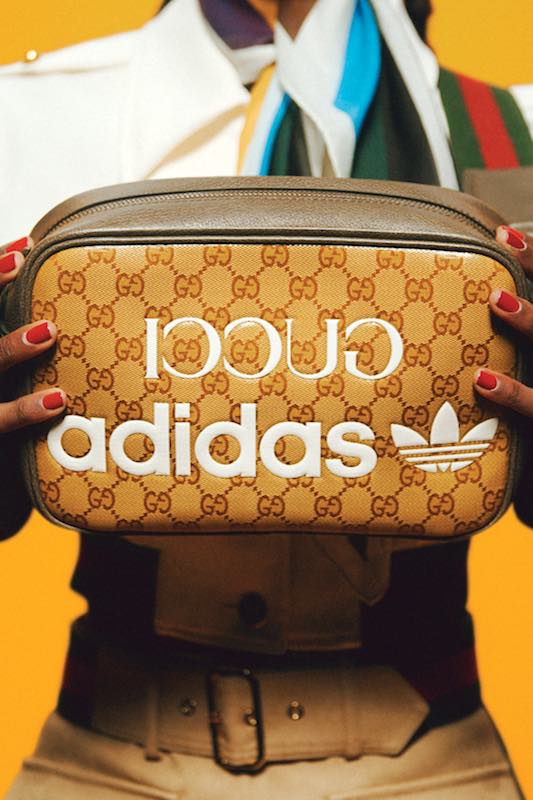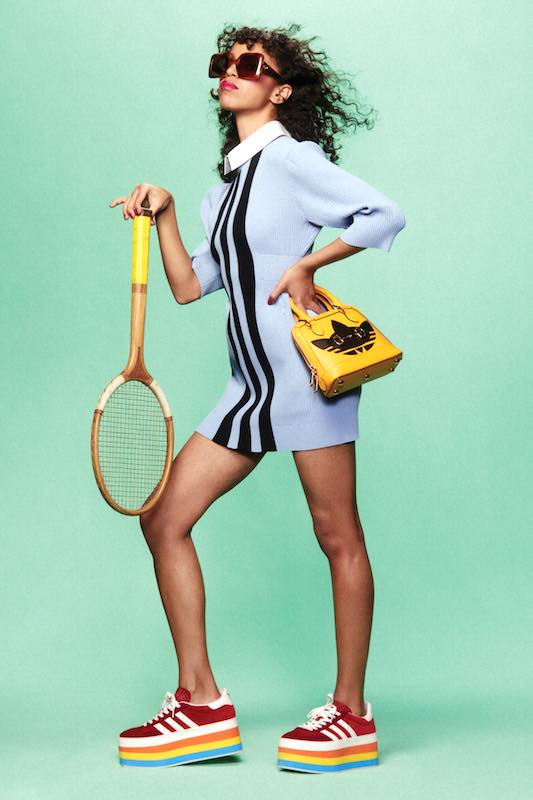 Take Gucci and Adidas, for example. Here, we have a high-fashion mashup between a couture brand and a vintage label in a collaboration of pop culture combined with ultra-high fashion demanding equal respect for each of the divergent labels we present. The union merged both brands' well-known motifs, like Adidas' three-stripe design and Gucci's classic red and green color palette. The collection includes women's and menswear pieces across apparel, shoes, accessories, jewelry, and lifestyle.
The recent pairing of the Adidas trefoil and Gucci's distinguished GG monogram is an unexpected partnership between the two couture giants. One piece in particular in this ultra-exclusive athletic collection stands out—the ingenious Adidas x Gucci luxury umbrella. The hybrid "sun umbrella" is made in Italy and is inspired by Gucci's Creative Director Alessandro Michele's recollections of the 1980s and 1990s, which influenced the highly anticipated Adidas x Gucci collection. The nostalgically inspired multi-color palette is based on Adidas's legendary sportswear themes and ensembles. Gucci's signature silhouettes on the umbrella and the rest of the matching apparel collection seamlessly collide with the unified creative principles of Adidas, resulting in something ultra-luxe and wholly original. This collaborative accessory, with its interlocking Gucci' GG' insignia, artful red and green Adidas stripes, and the unique G-shaped handle made from fine birchwood, is equally as striking and gorgeous as the other tennis-inspired polos, sweater vests, and activewear in the newly released clothing line.

Not all of these high-fashion collaborations are limited to apparel. Karl Lagerfeld has teamed up with Esurf to present an exclusive electric surfboard designed by Sébastien Jondeau, Karl Lagerfeld's menswear ambassador for over 20 years. This original project directly results from Jondeau's passion for extreme sports and quality design. This singular product is an electric surfboard that will bear Karl Lagerfeld branding, the 21 Rue Saint Guillaume logo, an iconic red frame around the perimeter of the board, as well as Jondeau's signature. The project is the direct result of Jondeau's love for quality design and extreme athletics, especially water sports. The board can be ridden without any waves and can climb up to a speed of 64 km/hour. With a weight of approximately 10 kilos, the limited-edition surfboard has dimensions of 1.70 x 60 x 20 cm and has an autonomy of 45 min. Expect to pay upwards of $18.5k for this technological marvel.
Often, the fashion world's most regularly occurring and highest-grossing partnerships come in the form of sneaker collaborations. Sneakerheads are well recognized as some of the globe's most dedicated and passionate consumer collectors, and when high-end collaborations hit the market, the results are often stunning and lucrative.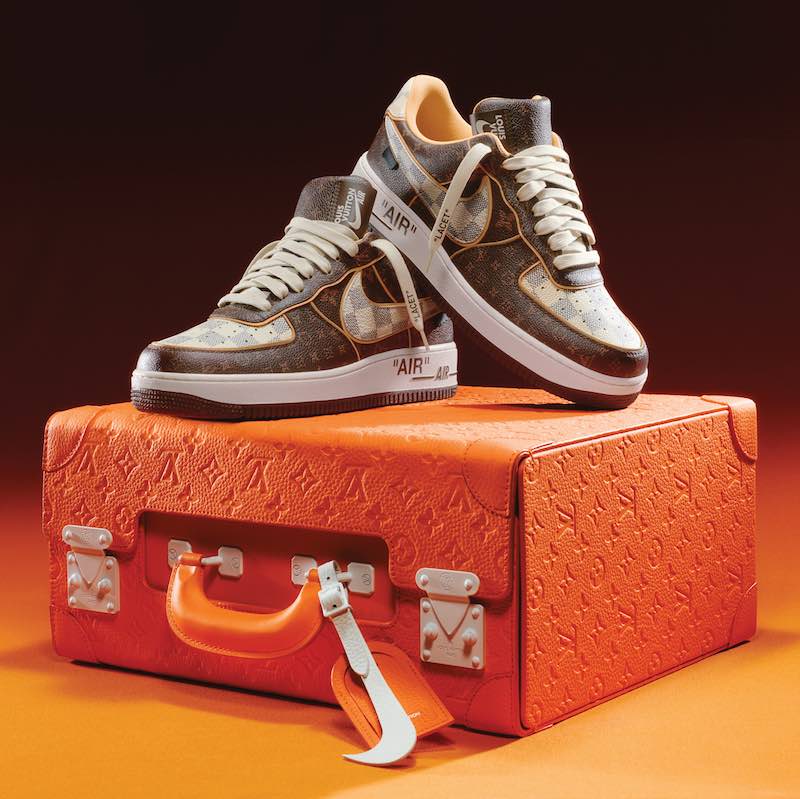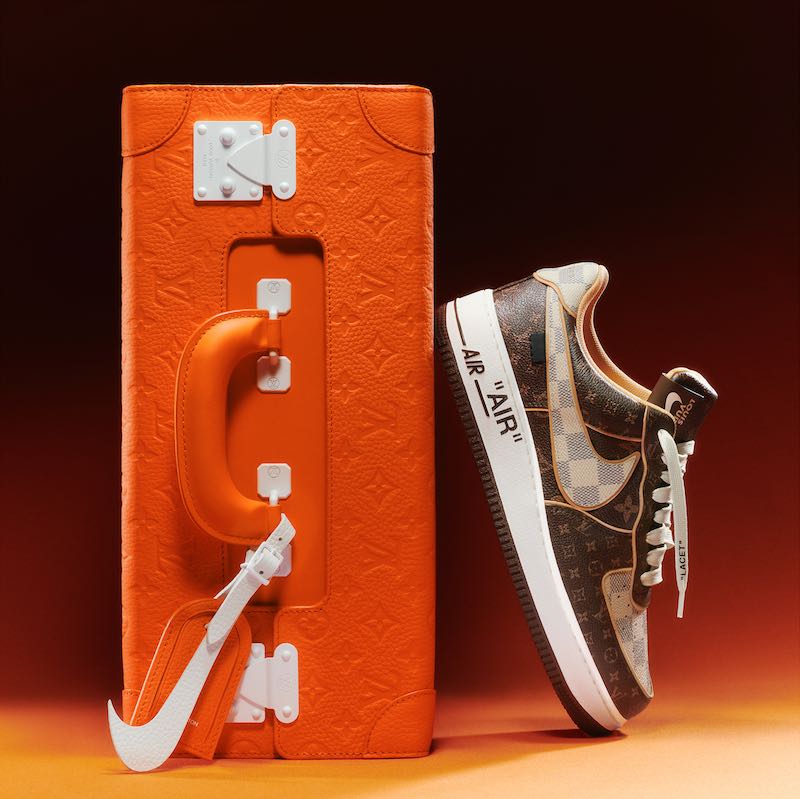 Louis Vuitton honors the legacy of its late menswear designer Virgil Abloh by teaming up with Nike to release nine editions of the coveted "Air Force 1" sneakers designed by Abloh. As with Louis Vuitton's and Nike's symbolic brands, the Air Force 1 also has its own culturally relevant fan club and is often regarded as the holy grail of urban footwear. Abloh designed 47 unique variations of the Air Force 1 for the exhibit, ranging from the elegantly classic all-white and all-black sneakers with LV's distinctive monogram to pairs with metal engraved leather fabric and multicolored suede. The luxury sneakers are individually manufactured within Louis Vuitton's Venetian atelier workshop to distinguish these Air Force 1's from the original Nike Air Force collection. Each shoe features Abloh's characteristic air-quote embellishment, which features the phrase "Lacet" on shoelaces along with the word "Air" on the sneaker's sole. The Louis Vuitton and Nike Air Force 1 by Virgil Abloh will cost between $2,000 and $2,500 for low-tops and mid-tops, respectively.
These highly regarded companies have seen fit to collaborate with one another, all in the name of fusing two very different but equally splendid worlds of vogue. Their recent collaborations make us reminisce about the past and look forward to the future.