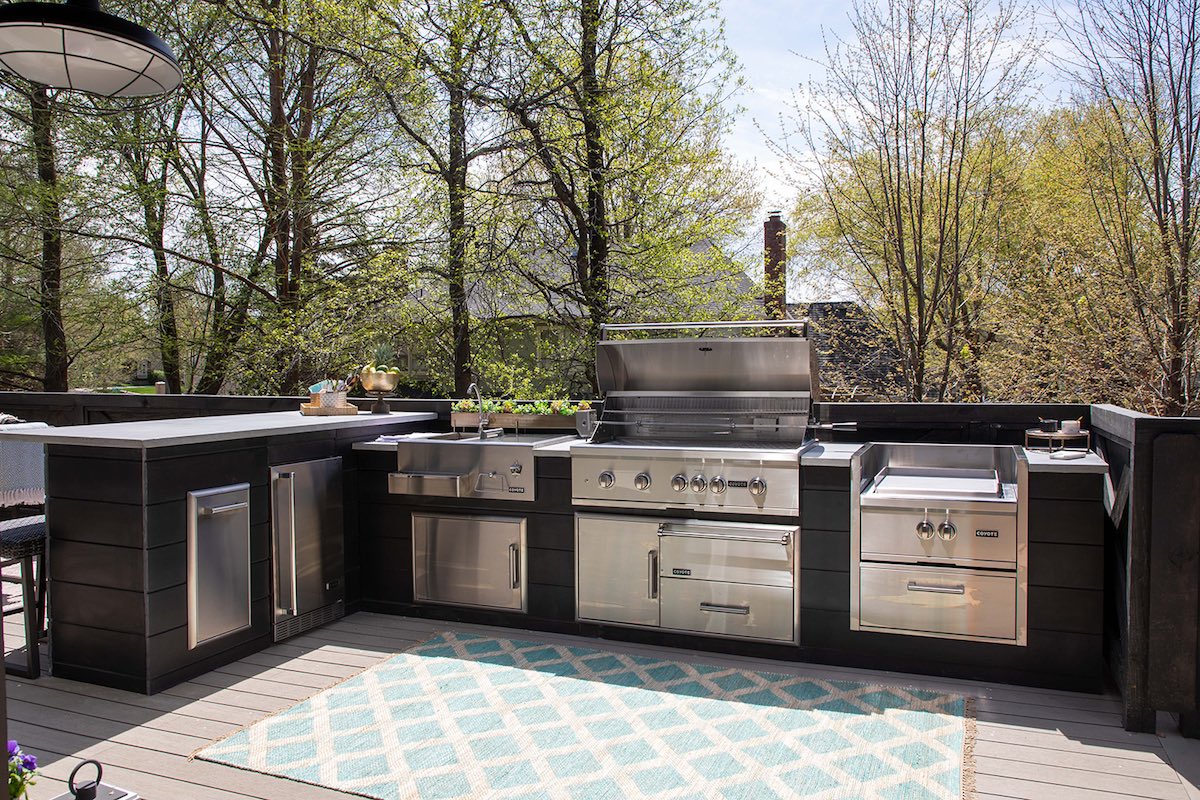 Summer is almost here, and everyone is spending as much time outdoors as possible. In an attempt to spend more time outside, and less time inside, many homeowners are opting to install an outdoor kitchen. An outdoor kitchen can be a fun addition to any home, but consider all of the requirements for building that kitchen.
Consider Ventilation and Clearance
Before building an outdoor kitchen, allow enough space around fires, grills, and cooking surfaces to keep flames from getting out of control. There are specific rules for clearances, so be sure to check your local codes. Ventilation is another important consideration. Ventilation doesn't just keep odor and smoke away from guests, it also moves smoke away so that it does not discolor, leave fumes, or leave grease in the kitchen. As ventilation pulls out heat, there is also less chance of a fire hazard. Again, check with property laws to ensure that the outdoor kitchen ventilation abides by zoning codes.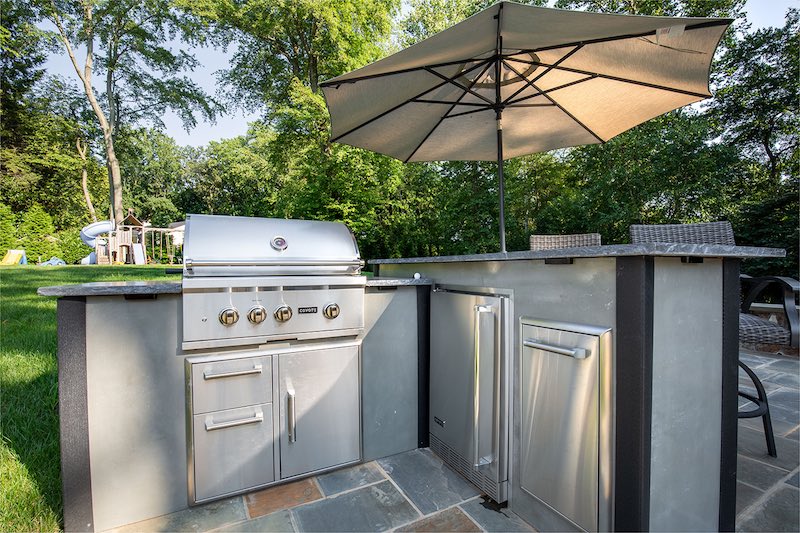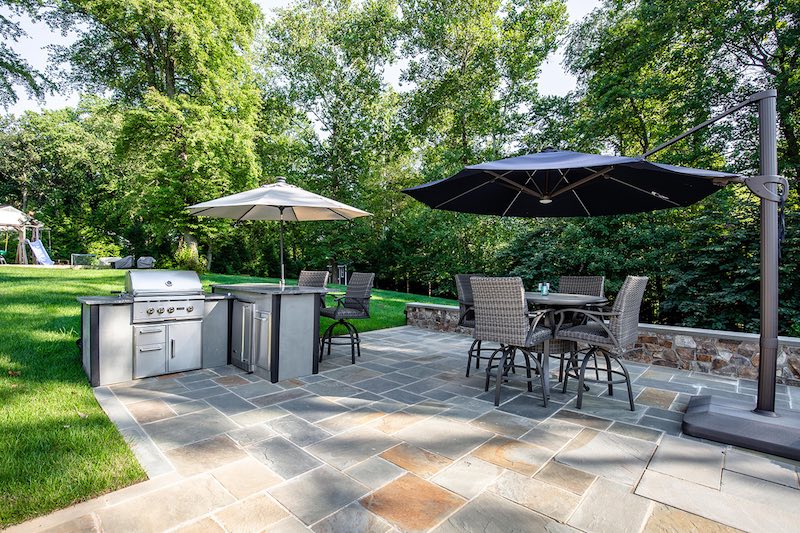 Insulated jackets also serve as protection against flammable materials. Insulated jackets are stainless steel buffers that keep the heat from the rest of the kitchen. They protect the grill undercarriage from weathering and rusting. Any island or grill area with flammable materials should have an insulated jacket.
Weight Limits for Outdoor Kitchens on Decks
For homeowners who want to build an outdoor kitchen on a deck, certain weight limits must be followed. A typical deck can hold 50 pounds per square foot. Homeowners also need to consider how water, gas, electricity, and drainage utilities can be connected.
Materials for Outdoor Kitchens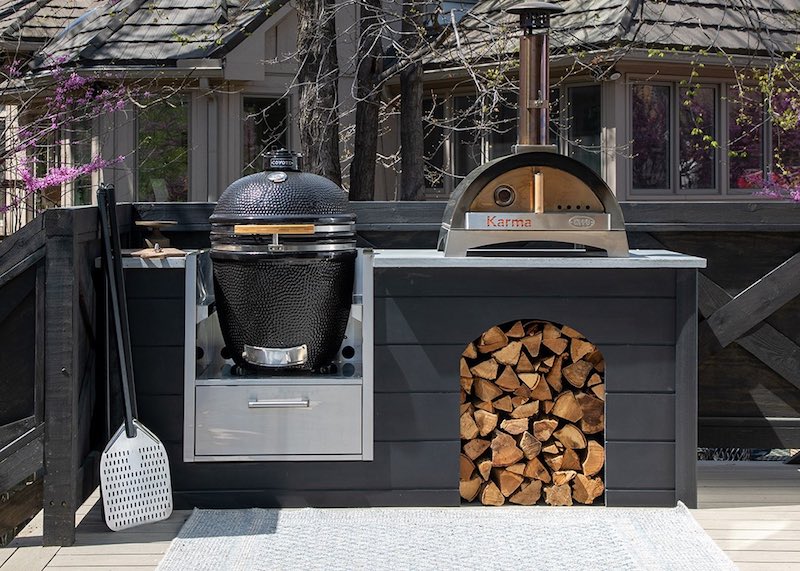 Always be sure to use materials that are made for the outdoors. Kitchen cabinets built for the outdoors are typically crafted out of wood, concrete, brick, or stone. Wood cabinets are always popular and beautiful, but they are not as hardy outdoors, and they are not fire resistant. Concrete, brick, and stone are durable and heat resistant. They come in many colors, but they are harder to install. Stainless steel is the most popular option for outdoor kitchens because it is beautiful, durable, and customizable. There is a chance of it rusting, but with a powder coat finish, this risk is small.
Kitchen countertops are often quartzite, concrete, soapstone, tile/stone, and granite. While they each have benefits and drawbacks, including price and durability, all of them can work beautifully in an outdoor space.
Appliances for an Outdoor Kitchen
Usually, the essential appliance in an outdoor kitchen is the grill. Choosing a grill can be difficult because of all of the options. Charcoal, gas, and propane are all options that cook food differently. The most convenient choice is usually a gas grill, while a charcoal grill gives all of the smoky taste of a real barbecue.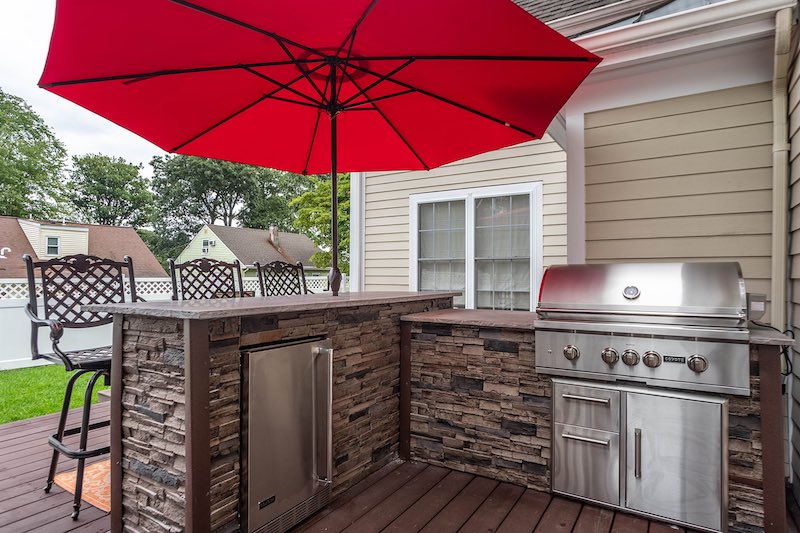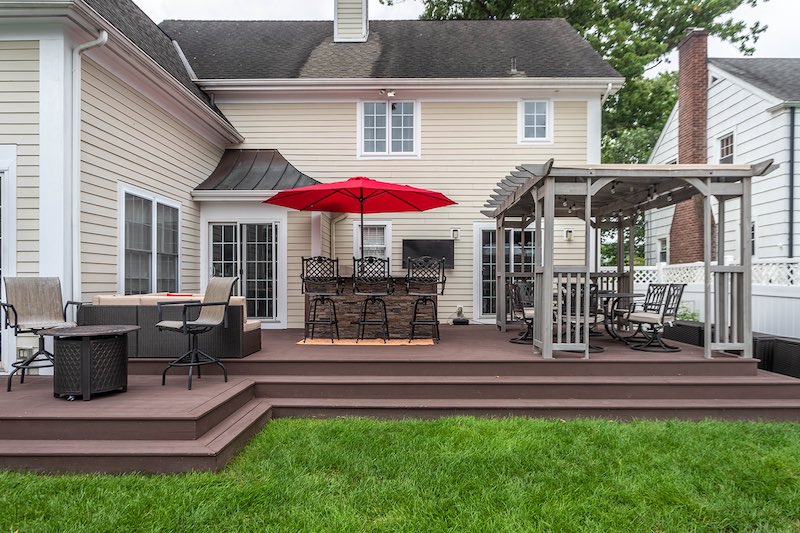 In addition to a grill, outdoor kitchens often have refrigerators to keep drinks cold and provide a place to keep food chilled until dinner time. Some kitchens also have warming trays, ice machines, and wine fridges. A cooktop or side burner for the grill is also a popular option. The most important factor in choosing appliances for the outdoor kitchen is to choose appliances that are made to go outside. These will be sturdier, safer, and longer lasting.
Adding a luxury kitchen to your outdoor space can be exciting. Plan carefully and consider the requirements before you begin this big project.