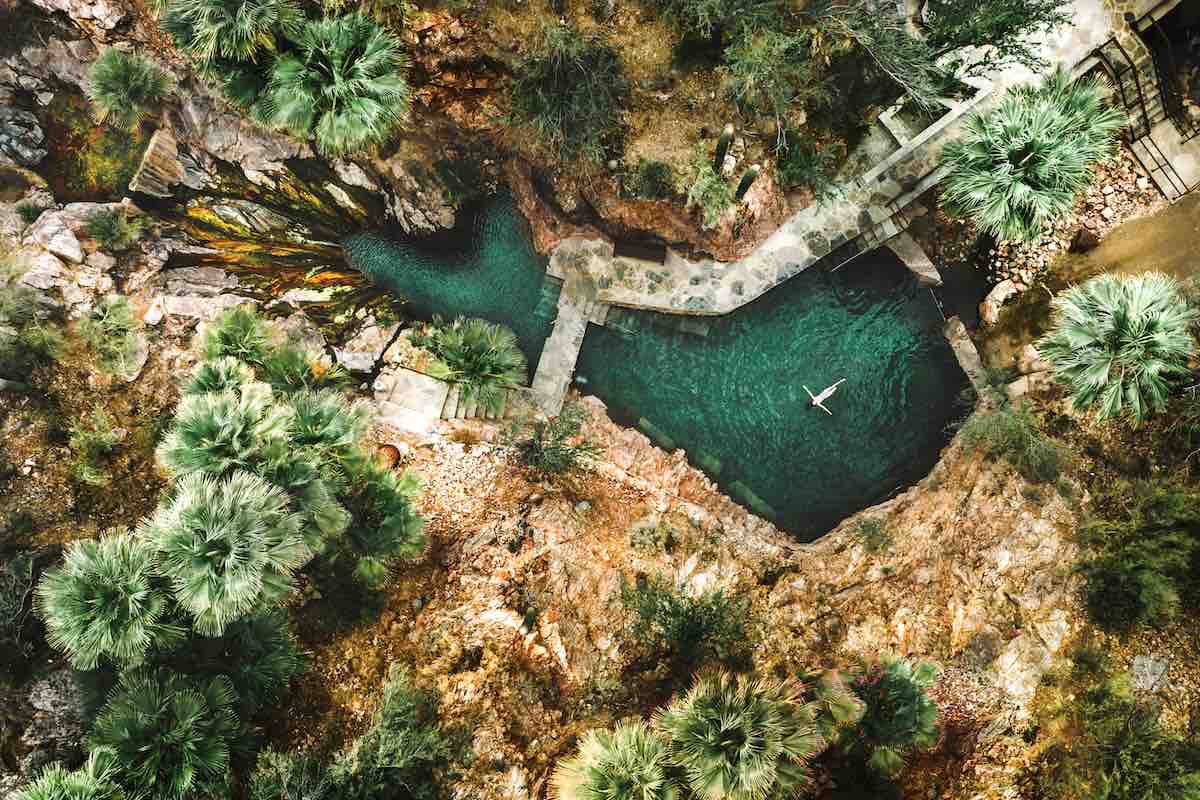 Sometimes it's well worth taking a break from the pressures of day-to-day life to treat yourself to some well-deserved rest and rejuvenation. We've carefully curated a collection of seven of the world's top wellness retreats and resorts. Travel with us to the magic of Arizona, Utah, and California and to our international picks in Mexico, Greece, New Zealand, and Bali.
CASTLE HOT SPRINGS – Morristown, Arizona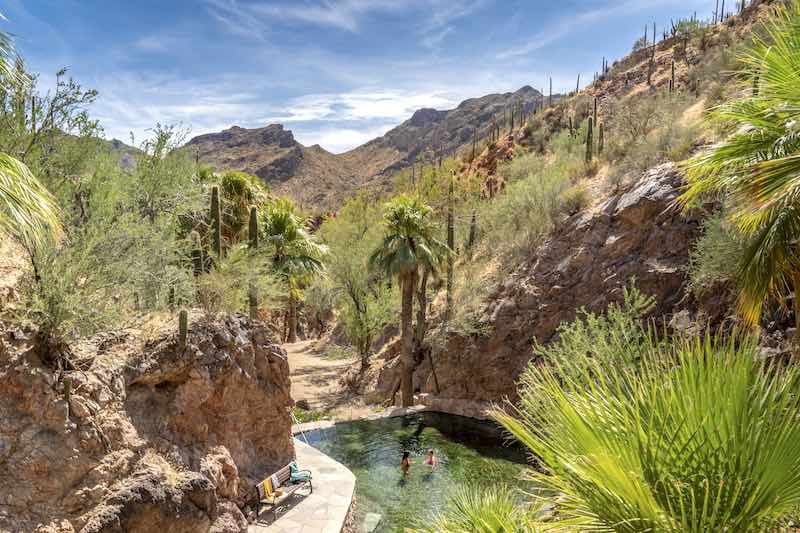 As you drive along a dusty, bumpy road toward this luxury resort, you may wonder, "Where is this leading?" The answer will soon become known as you arrive at a lush oasis tucked away in a quiet canyon in the Bradshaw Mountains. People have been journeying here since 1896 to enjoy the rejuvenating waters of the natural, mineral-rich hot springs, including wealthy families like the Vanderbilts, Wrigleys, and Astors. Today, guests still come to enjoy the hot springs, and so much more. After a meticulous renovation, the guest rooms, bungalows, and cottages now exemplify unparalleled luxury. Guests can also visit the full-service spa and wellness center, hit the hiking or biking trails, or tackle the challenging Via Ferrata climbing adventure. The onsite farm provides the freshest ingredients for the incredible farm-to-table cuisine. And since the resort is all-inclusive, relaxing is the only thing you'll have to think about.
AMANGIRI & CAMP SARIKA – Canyon Point, Utah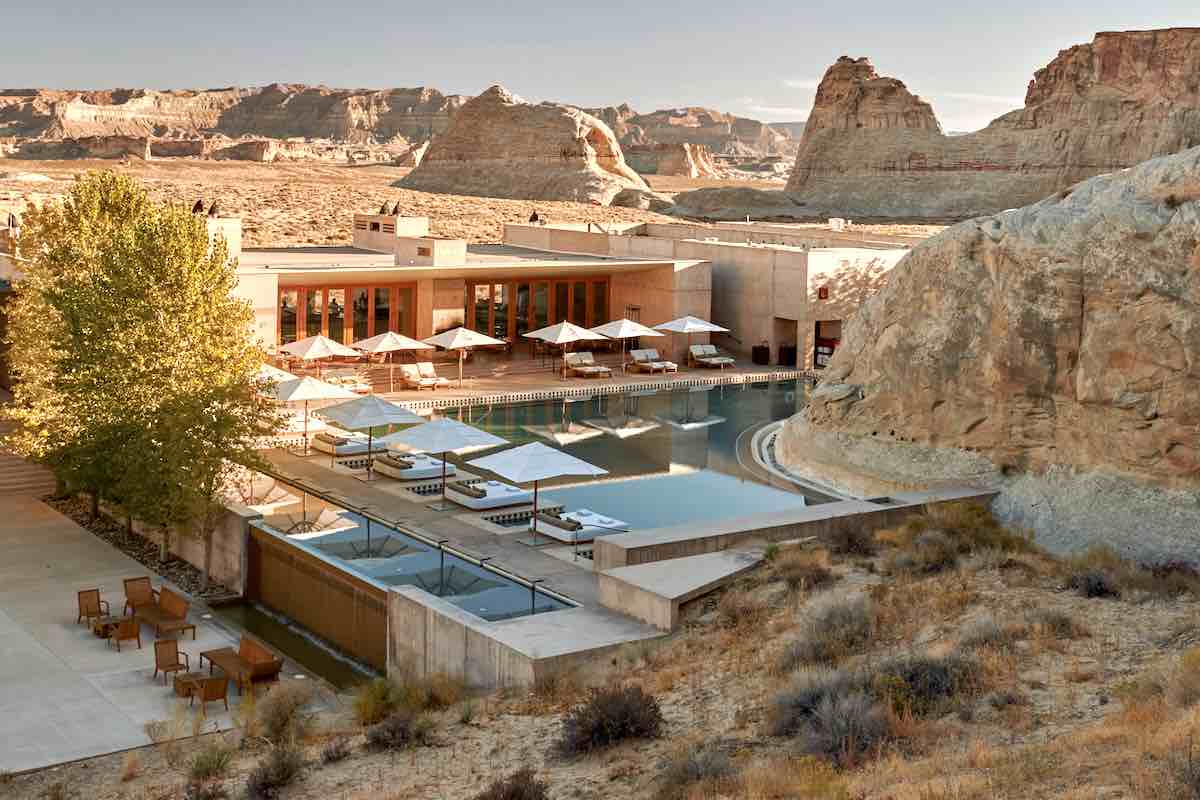 If the idea of basking in the peaceful seclusion of the red rock canyons and mesas of the Colorado Plateau speaks to your soul, here are two options you'll want to check out (or better yet, check in to). The suites and homes of Amangiri take a modernist approach to design to embrace the raw beauty of the desert. The Amangiri Suite, as an example, offers endless desert views along with a private lap pool, outdoor lounge, fire pit, and sky terrace. Camp Sarika at Amangiri, only a short hike away, invites you to indulge in an intimate, back-to-the-wild experience under a canvas-topped pavilion. Each of the ten pavilions has a private plunge pool centered around a shared lounge, restaurant, and pool area.
WALDORF ASTORIA MONARCH BEACH RESORT & CLUB – Dana Point, California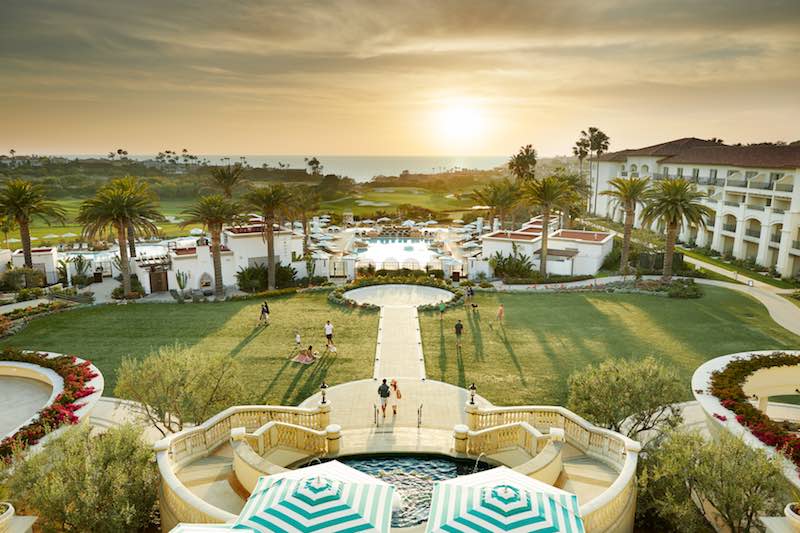 Now part of Waldorf Astoria, this luxurious wellness retreat is perched on a seaside bluff overlooking the Pacific. Its private beach club is one of the many ways to relax and rejuvenate here. The Waldorf Astoria Spa offers a full menu of massages, facials, and modern therapies designed for optimal living. Resort guests can also participate in more than 40 complimentary fitness classes each week, ranging from aerial yoga and cycling to kickboxing and beach yoga. The resort has three pools, including a family pool and an adults-only lap pool at the spa. Private cabanas elevate the experience of relaxing poolside. Guests can also explore the coastline on an e-bike, take a surfing lesson, a standup paddleboard tour, or play a round of oceanfront golf.
WaldorfAstoriaMonarchBeach.com
EUPHORIA RETREAT – Mystras, Greece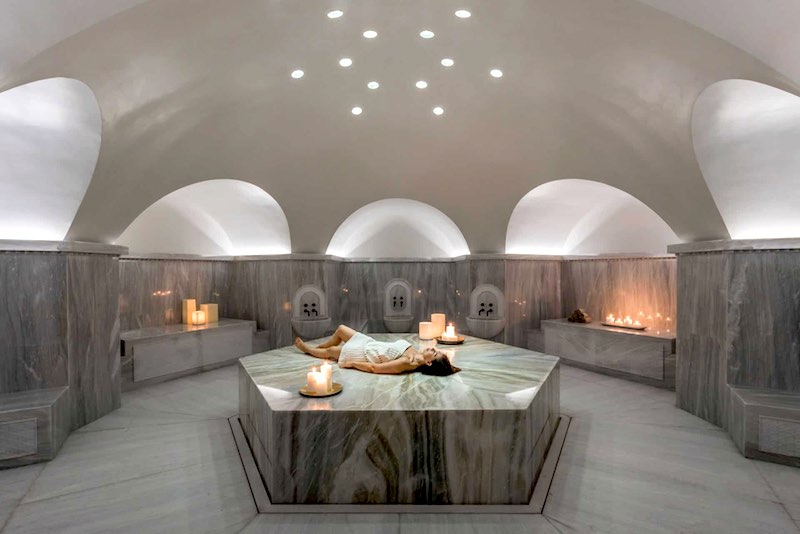 Located in the magnificent landscape of the Peloponnese region of southern Greece, Euphoria Retreat is a destination spa hotel and retreat that's ideal for a relaxing Greek getaway. For those ready to embark on a personal journey of transformation, the resort offers a series of programs that address the guest's specific needs, whether to relax and destress, enhance emotional and mental well-being, boost metabolic efficiency for weight management, or another goal. The iconography of the Byzantine era inspires the design of luxurious guest rooms, and no two rooms are the same. The lovingly refurbished 1830s Leoncini Mansion can also be booked for exclusive use. Nutritious meals, based on a healthy Mediterranean diet, are prepared to meet each guest's unique needs.
AMANSALA YOGA WELLNESS RESORT – Tulum, Mexico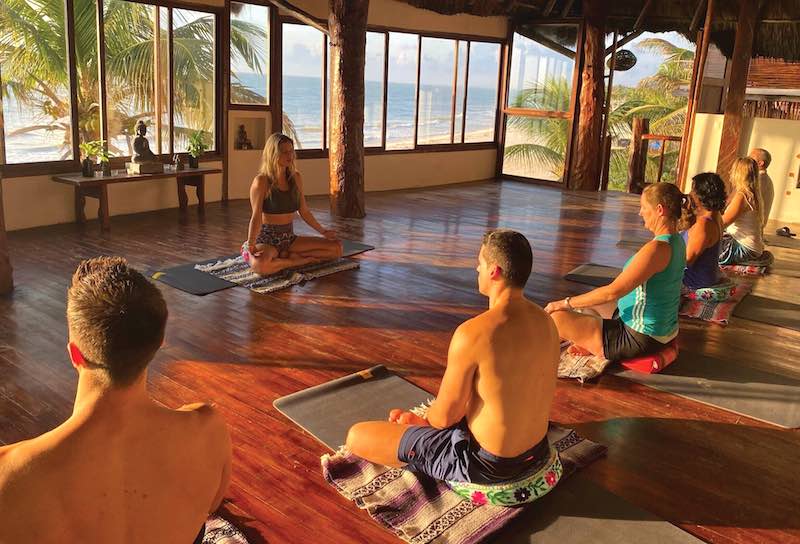 The Amansala is deemed "Authentically Tulum," a phrase that accurately captures its inviting bohemian beach vibe. Guests can kick back and relax in their choice of eco-chic guestrooms, casitas or houses, or choose one of the scheduled retreats. The Bikini Bootcamp is a six-day program that includes accommodations, meals, daily yoga sessions, workouts, and spa services. The Restore and Renew retreat includes accommodations, meals, daily meditative beach walks and yoga classes, Pilates or dance classes, spa services, and tours of local highlights. The Amansala Beach Club, located at the heart of Tulum Beach, offers healthy fresh food, great drinks, music, and the authentic Tulum vibes travelers come here to experience.
Shangri-La's Boracay Resort & Spa – Boracay Island, Philippines
Boracay, the small but lush island in the Philippines, has become so popular that the Philippines government has restricted the number of daily visitors to keep from overcrowding. Although there are several resorts on the island, Shangri-La's Boracay Resort & Spa was awarded one of the Best Resorts in Asia by Conde Nast Traveler in 2021. With world-class service amidst tranquil surroundings, this 5-star property has rooms with ocean views and villas with private pools and butlers. Work out at its large fitness center, play tennis, go kayaking and parasailing, and enjoy jet-skiing opportunities. Not exclusively for adults, the resort welcomes the entire family and has activities for kids and teens.
ONEWORLD AYURVEDA RESORT – Bali, Indonesia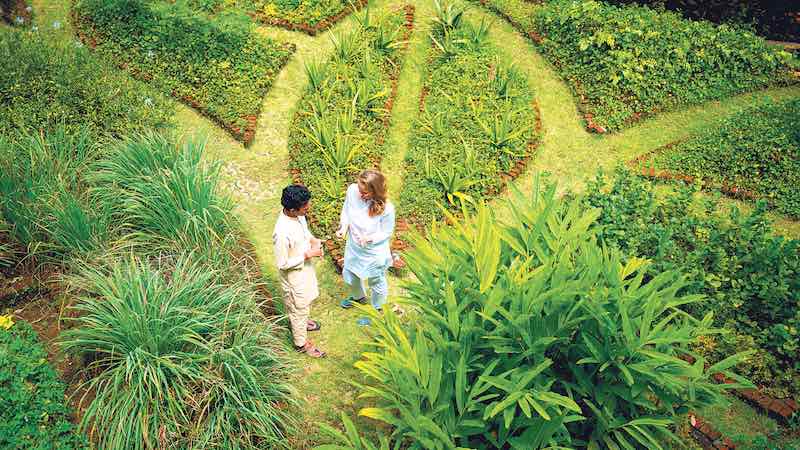 This southeast Asian wellness retreat specializes in authentic Panchakarma Detox programs. Panchakarma is a comprehensive healing experience based on the science of Ayurveda that is tailored to meet each person's health concerns. People seek a Panchakarma experience to restore balance and boost vitality with a deep detox, heal deep-seated anxiety, trauma and stress, reduce excess weight and learn how to keep it off, and rejuvenate and delay aging naturally. The process starts with an in-depth consultation by experienced doctors who will determine the best types of treatments for that individual. The resort's all-inclusive packages, which range from seven to 28 days, include accommodations, all meals, treatments, medicines, doctor consultations, yoga, meditation, rituals, guided walks, and cooking demonstrations.