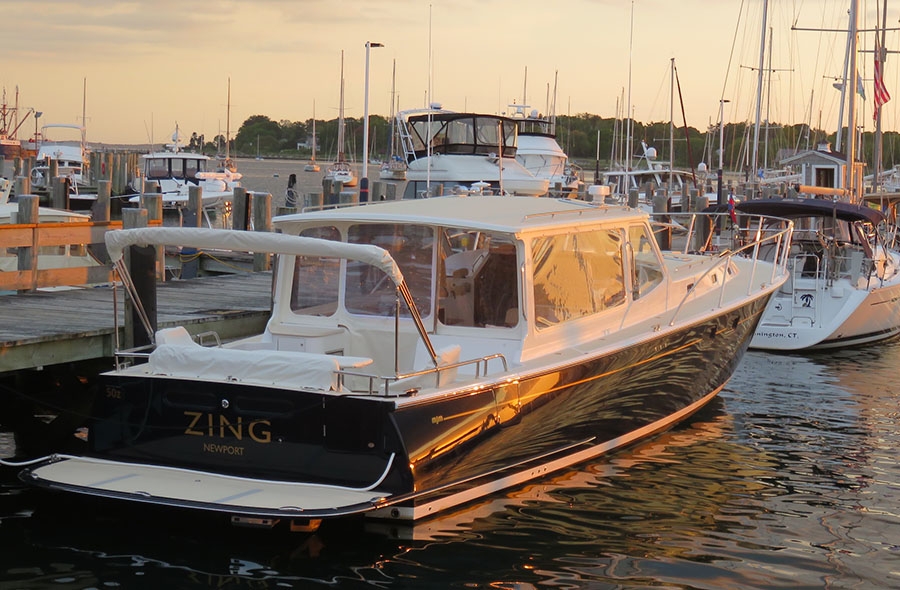 Manufacturing the worlds most advanced cruising yacht to the highest standards of speed, efficiency, and stability takes lots of technology and an uncompromising discipline.
The MJM Yachts 50z is a unique cruising yacht which incorporates many design and technological innovations that takes her to the top of the class. Her engineering and advanced manufacturing process achieves remarkable top end and cruising speeds, industry best fuel efficiency, and incredible ride stability, handling, and comfort.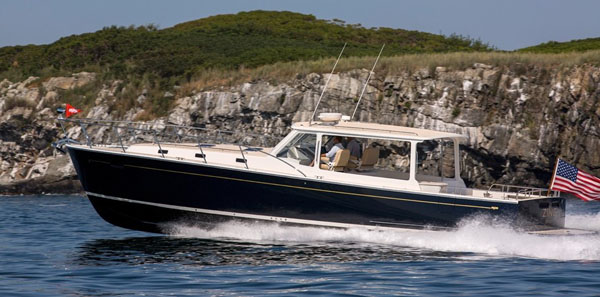 50z's hull is the creation of Doug Zurn, of Zurn Yacht Design, and achieves a remarkable degree of stability due in part to a sharp V-angle of entry at the bow. The forefoot incorporates rocker into its profile. This is where the keel on centerline curves upward before making its sharp ascent up to the stem. This prevents "bow steer" when driving down into the back of waves. Deadrise angles are approximately 45 degrees in this area of the hull, with sharp entry angles of 50-55 degrees. The combination of these two design elements ensure a very soft ride.
The physical manufacturing of her hull is the result of innovative technologies developed after years of building world class racing sailboats. The 50z delivers remarkable performance. Unlike any other production powerboat available, all MJM hulls are manufactured using a proprietary wet epoxy pre-preg, vacuum-molding and oven post-cure method that combines stronger, lighter epoxy, Kevlar, Eglass and Corecell. The result is a lower center of gravity that adds to dynamic stability, performance, and fuel efficiency. In simple terms, the 50z is a high-performance driving machine.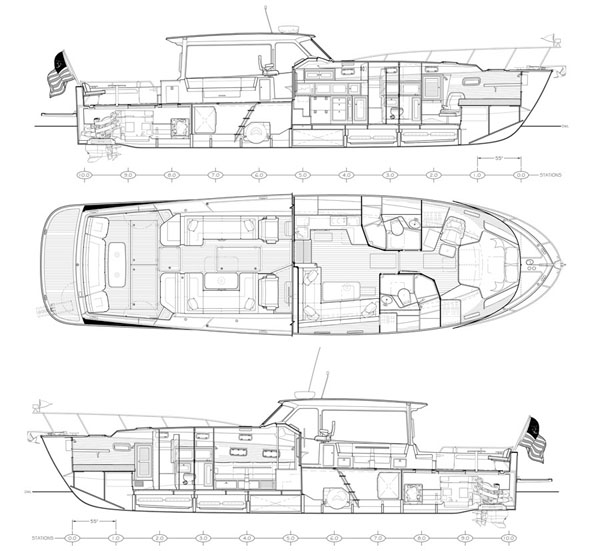 The MJM concept, exemplified by the 50z, was the vision of Bob Johnstone, best known as co-founder of J Boats, Inc., the world's leading performance sailboat manufacturer. His goal was to design and build the finest cruising motoryacht in the world, but it had to meet his very strict standards. These included being easy to handle, stable in the worst of sea conditions, and most of all, fast and extremely fuel efficient. The 50z attains all these goals. Her top speed with triple 435HP Volvo-Penta IPS 600's is an astonishing 40 knots. Her cruising speed is 35 knots, fully ten knots higher than the next competitor's boat. And how about efficiency? She only burns 50 gallons an hour at her 35 knot cruise speed; that's 0.7 nmpg for a three engine yacht. Other yachts in the 48-50 foot range barley attain that efficiency with twin engines at only 25 knots.
A surprising, non-intuitive fact is that triples on the 50z are more efficient than twins at the same speed. That's because fuel efficiency is a function of horsepower applied to overcome resistance at a given speed… even at displacement speeds under 10 knots. The explanation is that 3 sets of props do a better job of blowing bubbles under the hull to help release the grip of the water, than one or two do.
Another innovative leap forward for the 50z was being the first design worldwide to be offered with a Seakeeper gyro-stabilizer as standard equipment…. Since she was so inherently stable to begin with, the addition of the stabilizer offers an unparalleled level of comfort and luxury. The effectiveness of the gyro in reducing roll when underway is noticeable not just to those on board, but also on nearby boats.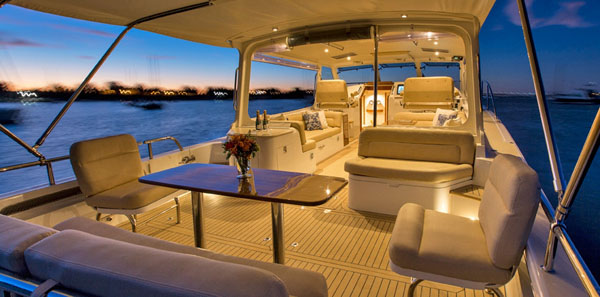 Although hull design, performance and fuel efficiency can't easily be determined when you first look at a yacht, the beauty and innovative layout and use of space is one of the first things most people immediately come to admire about the 50z. Her layout flows effortlessly from the ease of access with her two side doors aft at floating dock height, forward on a flush main deck to the helm area. The concept was that of a fly bridge on a much larger motoryacht; take the best features of visibility, fresh air and entertaining space and bring them down to main deck level. The result is a space, not unlike a large, convertible summer porch, with several living and socializing areas. The 50z can be used in many ways since this area can be protected from the elements with HVAC, or fully open with roll up Strataglass sides or sliding safety glass.
Luxury cruising yachts are about comfort and having everything you need, where you need it. The MJM Yachts 50z is the highest evolution.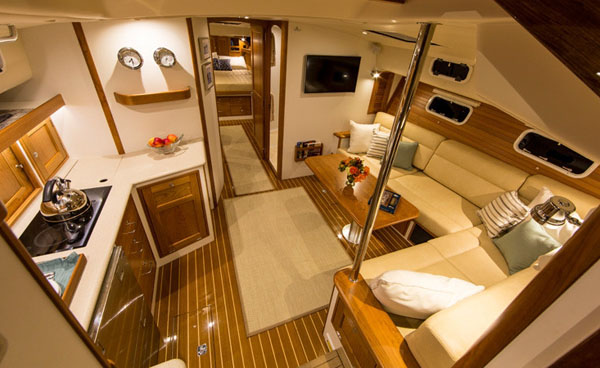 Going below is an entirely new experience in this class of motoryacht. It's more intime like a cruising sailboat saloon. Differing from most motoryachts, you pass through a sailboat style companion way to enter the great cabin. Here the design allows for a clean view of the hull sides adding to a sense of space and appreciation of being on a real seagoing boat. The design also calls for 50% more hull ports and opening hatches than is normally found… to bath the space in natural light, highlighting the elegant cherry wood panels and cabinetry, and the beauty of the teak and holly sole.